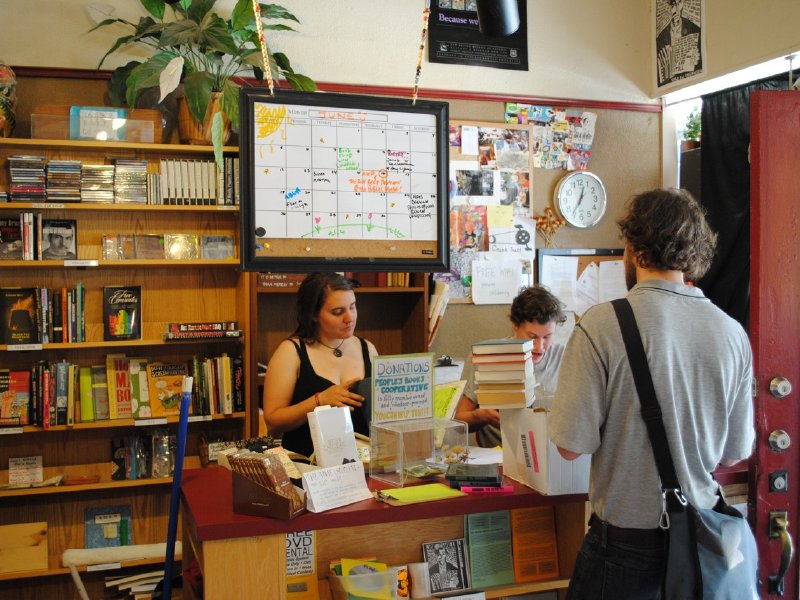 Democratically run People's Books provides alternative lit, space
People's Books Cooperative, 2122 E. Locust St., has been selling books for a long time. It became a community-owned cooperative in 2007, but previous owner Chris Chiu opened the progressive bookseller on Farwell Avenue in 1974.
"I had a good time for 30 years. It was a lot of hard work," says Chiu. The cooperative runs on donated labor and Chiu can still be found nearly every day volunteering his time at the bookstore he loves.
People's sells social justice oriented books, with sections on education, progressive philosophy, cultural studies, Marxism and socialism and much more.
"People's doesn't offer the status quo. The book selections are different than any other bookstore I've ever been in. Scandinavian fiction, Latino/a fiction, there's a taste of everything," says Emma Schroeder, another People's volunteer.
People's Books Cooperative and A Broader Vocabulary Cooperative, which is located in the basement of People's, are hosting the Midwest promotional tour for AK Press, which is an international worker-run publishing company. The event will be at the Riverwest Public House on Thursday, June 16, from 7 p.m. to 10 p.m. and will include music by the Rust Belt Demons, a Racine working class punk band.
Wisconsin has many cooperatively run businesses such as rural electric associations and farmer collectives and, like all legal cooperatives, People's is organized according to bylaws maintained by its members as provided for by the Wisconsin Cooperative Association Act.
According to its bylaws, People's mission is, "to provide books that stimulate the intellect and spirit in a way that supports the community in building a just and sustainable society. The cooperative will serve as an example for other cooperatives and be governed in an open and democratic manner."
In other words, People's doesn't sell books only to make money.
But the cooperative does make a profit, which is put back into the store and used to pay one part-time employee. This employee has the title of operations director, and there have been two of them in the cooperative's history. Current operations director Seth Schuster started at the co-op as a volunteer in summer 2008. He then became the volunteer coordinator and he's been the only paid employee of the cooperative since April 2010.
Schuster says that People's sells books in order to provide the community with a free and open space.
"The goal of the co-op is to provide literature on social change, lit that offers alternative ideologies, lifestyles," Schuster says. "But we are a public space, we'd like to be the community's space," he says.
Bookshelves on casters can be pushed to the walls, opening up the one-room store to various political, activist and community groups for meetings. Currently, the Milwaukee chapter of Move to Amend, which is a group dedicated to overturning a U.S. Supreme Court decision providing corporations equal treatment as real people under the law, meets in the bookstore every Monday. The graduate employee union at the University of Wisconsin-Milwaukee used to rent the store's basement for its offices.
The now basement-based A Broader Vocabulary assumed the identity and mission of Bay View's defunct feminist bookstore Broad Vocabulary, reincorporating as a cooperative in 2009. A Broader Vocabulary has "a great community that comes out to support them whenever they're open," says Jim Draeger.
Draeger was the first operations director of People's. In fact, he's the reason there's a bookselling cooperative in Milwaukee at all.
Draeger first stopped into Chiu's store in 2005 after moving to Milwaukee for graduate school. "I was searching for a book by Baudrillard for a class and no one else had it. There was a sign in the window that the store was for sale, saying that Chiu wanted to clean up the Milwaukee River and bike across the country but couldn't do it while owning the store," Draeger says.
When Draeger finished school in 2007 he says he was directionless. "I had no job, I was going to move to a farm in Stevens Point," he says. Page 1 of 2 (view all on one page)
Next >>
Talkbacks
marcs | June 13, 2011 at 12:33 a.m. (report)
The UWM Bookstore in the Student Union is own and operated by the University of Wisconsin-Milwaukee. Do not confuse us with the off campus Panther Bookstore that is owned by Nebraska Book Company. Sinse 1956 all procedes from sales at the UWM Bookstore have been returned to the university. Employees of the UWM Bookstore are public employees. Most part time employees are UWM students and most full time employees are members of AFSCME/WSEU Local 82.
Facebook Comments
Disclaimer: Please note that Facebook comments are posted through Facebook and cannot be approved, edited or declined by OnMilwaukee.com. The opinions expressed in Facebook comments do not necessarily reflect those of OnMilwaukee.com or its staff.