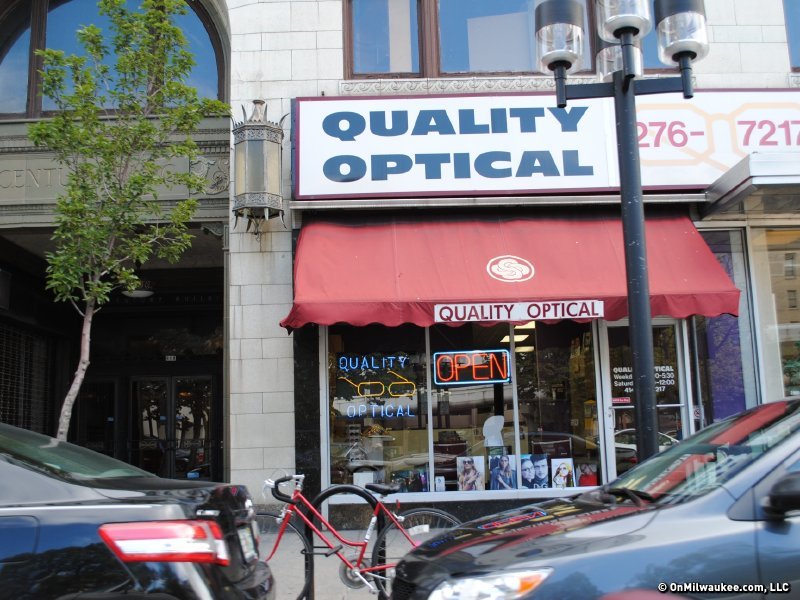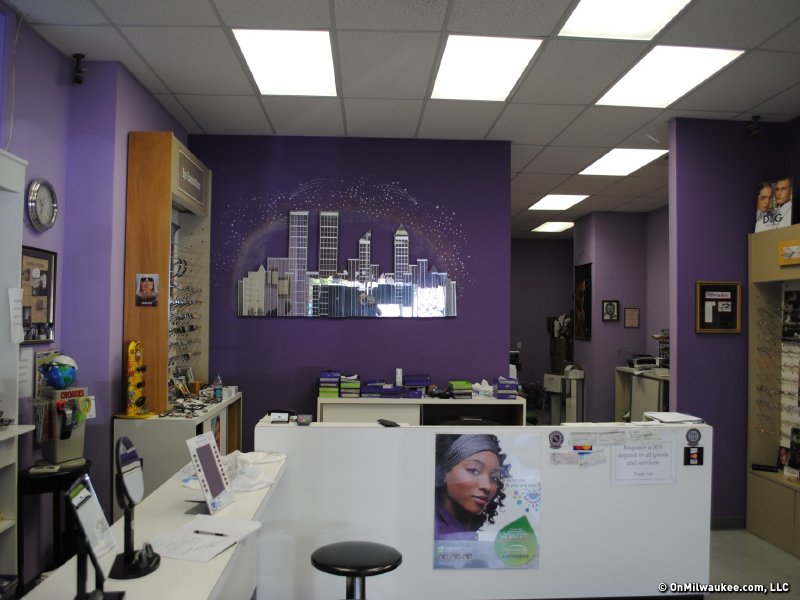 41-year-old Quality Optical focuses on the future
According to Penny Zaworski, what sets Quality Optical Service, 806 N. Old World 3rd St., apart from the rest is "detailed attention to personal service." Zaworski has owned and operated the Downtown destination for 16 years.

Zaworski says the customers keep her coming to work. Loyal customers who first came in and experienced her dad's service won't let their children and grandchildren go anywhere else. She likes how these second- and third-generation customers continue to come in and tell stories.

Quality Optical has also built a reputation for vintage and unusual frames, which brings in customers from all over the city. However, the late '40s and '50s era frames that Quality Optical used to have cases and cases of has dwindled.

"The 'cat eyes' were always popular. But many of these had 12-carat gold frames, places were buying these up just to melt them down, and there's no way an average person could afford frames like that now anyway," Zaworski says.

They still have the parts to fix all the vintage frames -- as well as any others -- and this remains a big part of their business.

"We still have stuff that nobody else has -- not cookie cutter chain stuff," says Zaworski.

More unusual items still include many old-school '70s frames (that really were made in the 1970s), such as aviators and the thick plastic frames which seem ever-popular in hipster culture. Main-line brands include Ed Hardy, Cazal, Versace, Polo, D&G and DKNY. Plus, Quality Optical has a number of different suppliers for their specialty frames.

In addition to a lot of the originals, Quality carries some manufacturer replicas, and will order others. They are starting to carry a lot more frames from Europe. "These have different textures and colors, and are often edgier. But are we going to continue in that direction? We'll see who continues making the cooler, edgier stuff," says Zaworski.

According to Zaworski, people aren't buying two or three pairs of glasses like they used to. With the economy in yet another slump in its perpetual pattern, things just aren't what they were 20 and 30 years ago, but since Quality Optical repairs frames, they often get a frame-only sale -- and a new repeat customer.

"I fix stuff nobody else will fix. Chain optical stores won't often repair frames, telling their customers they need to buy new," Zaworski says.

Quality Optical also does re-cuts, which means they will cut lenses to fit into a new frame.

Quality Optical offers one-hour service, sells contacts and glasses for sports and work as well. And then there's the $10.95 board, lined with brand new frames that are overstocks and manufacturer close-outs.

For the past five years, Josh Zydzik has worked every day except Tuesdays and Sundays at Quality Optical. Somewhat jokingly, he says that he's "forced to work here" and when he's not at Quality Optical, Zydzik likes to be golfing or shopping.

Zaworski is his mom.

Including Zydzik, Quality Optical Service has three full-time and one part-time employee. Optometrist Mark Konyn is available for appointments at Quality Optical on Fridays. He's been with Quality for five years.

Everyone at Quality Optical is upbeat and seems to enjoy their work. The good-natured ribbing between family members Zaworski and Zydzik extends to the other employees, which helps create a pleasant, family-like environment for the customers, too.

Quality Optical has always been family run. Zaworski's father, Walter Mamuzewski, opened Quality Optical 41 years ago. Her mom used to come in on Saturdays to do bills and other paperwork.

When Mamuzewski retired, Zaworski and her brother took over the optical shop. Her brother died of a brain aneurysm while at work in 2001. He had been complaining of a headache all that week. Zawaorski says that the day he died he really felt pain; he was acting out-of-sorts. He went into the back, where he died.

"I thought he was joking around with the counter workers in the hotel lobby, which he often would do. My brother was my best friend. We goofed around a lot; we worked together for years," Zaworski says.

But Zaworski and son Zydzik carry on, with help from employees like Sandy Balistreri.

"She's more family than (Zydzik) is," Zaworski says.

Balistreri has worked at Quality Optical for 11 years. She was apprenticed to Mamuzewski, who taught her everything he knows about optical lab work. "Dad taught Sandy all the tricks of the trade. She learned from the best," says Zaworski.

Originally located in the Hotel Wisconsin, Quality Optical moved when the hotel was converted to condominiums. Even though the current location is bigger, there are boxes of stuff under the counter. Zaworski says she will always miss the Hotel Wisconsin location because being among the hotel's employees and its long-term residents was like working in a big family.

"As the hotel started running down, so did my spot. It wasn't until I got to the new, bigger, brighter spot, and had room for everything, that I noticed how it had deteriorated," she says.

Operating against common business wisdom, which often turns out not to be all that common and not all that wise, Zaworski moved Quality Optical to its current location in 2003.

"I was told we wouldn't make it. You're not supposed to move from an established location, but business doubled the first year alone," Zaworski says.

With a 25-year lease, Zaworski says she's in for the long haul and even has a nine-year-old daughter who could get into the optical business one day.

"That would be cool, but I wouldn't tell her it's what she had to do," she says.

Quality Optical Service is open weekdays from 10 a.m. to 5:30 p.m., Saturdays from 9 a.m. to 12 p.m. and evenings by appointment.
Facebook Comments
Disclaimer: Please note that Facebook comments are posted through Facebook and cannot be approved, edited or declined by OnMilwaukee.com. The opinions expressed in Facebook comments do not necessarily reflect those of OnMilwaukee.com or its staff.