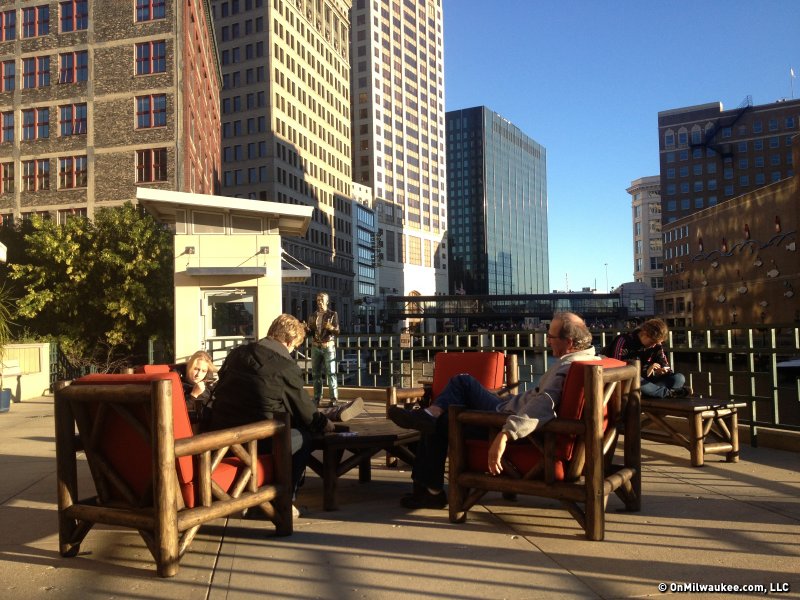 OnMilwaukee.com recommends, Sept. 28, 2013
Tired of wasting beauty products? Looking for a great place to get your golf on, or just an idea for a great holiday gift?
Beauty Spoon – Okay, look. I know this isn't a real problem, it's a first-world problem, but it still annoys me. Here's the deal: I use a really expensive conditioning treatment on my hair, and because it's so expensive, I only buy a very small amount. Inevitably, there's always some cream that gets trapped at the bottom of the jar and I can't get it out, but I don't want to throw it away, because ... money. Enter the Beauty Spoon. This handy little cosmetic appendage has an ergonomic handle and a long, thin stem that can get past the thin neck of the conditioner jar and allow me to use every last ounce of the cream I paid for. You can get a two-pack with a seven-inch and 10-inch tool for $9.99. It's sold at almost all local Walmarts and online as well. – Colleen Jurkiewicz
Harry & David gift baskets – It's getting to that time of year when we start thinking about the holidays and, especially for far-flung family and friends, gift baskets from a wide variety of sources are a great way to get started early on a gift that will be delivered right to their doorstep. Harryanddavid.com has tons to choose from and my favorite is the Crater Lake Gift Basket – even if I have no connection to the eponymous southern Oregon landmark. The basket, which sells for $49.95 has about a half dozen of those insanely perfect Royal Riviera pears, a block of white cheddar and some three-seed crackers and pepper and onion relish to go with it, a bag of addictive Totally Caramel Moose Munch popcorn, a box of lemon shortbread cookies, a bag of red liquorice and some toffees to finish it all off. Want your basket to more than just taste good? Remember that 25 percent of the profits on the $39.95 Pink Pear basket benefit the Noreen Fraser Foundation, which works to help women be proactive about getting screened for breast cancer. – Bobby Tanzilo
Currie Park Golf Course – Judging by the comments of the several players I've been paired with this year at Currie – and from my own experience years ago as an out-of-towner – the improvement of the conditions at Currie are the most noticeable. The course plays from 6,111 yards from the whites and 6,444 yards from the blue tees, and either set is manageable for even average players. The par 3, 16th really only changes as you're hitting a downhill right to left shot from 205 yards from the blue as opposed to straight ahead from 171 yards on the white tee box. Again, looking at the card, you'd think Currie is a pushover, but that's not the case. True – there are plenty of birdie and par opportunities out there – but there are several holes that can jump up and put a big number on the card. The finishing holes on either side are quirky, long uphill holes that require a properly placed tee shot. The short par 5 ninth (474 yards from the white) favors a shot to the right side of the fairway, leading to a blind mid-iron up over the hill. The 344 yard 18th is straight uphill, and requires blind precision. These are two tough holes for players who aren't well versed in not only their own club's yardages, but how to factor in sidehill and uphill lies and what that does to the swing and the ball flight.
The green on the short par 4, 15th can get you, too. The dogleg right allows you to really cut it and hit a driver near the green (303 yards from the white) but you've got to hit the approach just right, because the severely sloping green can leave you looking at a 3-putt very easily. The same can be said for the severe green on another short par 4, the 368-yard sixth hole.
Despite my issues with the construct of the 9th hole, it is one of my favorites mainly because it's one of the few very short par 5s around that gives average players a real chance at birdie. This is especially true depending on the weather, as they might push the men's back tees up to the forward tee box at just 381 yards. It's always nice to putt for eagle!
And, as we head into fall, Currie doesn't seem to present some of the same issues as other county courses with losing a ball under leaves. Definitely head out before it's too cold! - Jim Owczarski
Chilling out on the Bronze Fonz's furniture – A few weeks ago, I reported that furniture was going to be installed on the Riverwalk near the Bronze Fonz to create a quasi outdoor "living room." I finally spent some time lounging on the furniture, created by La Lune in Riverwest, and found the experience very relaxing and entertaining. It's a great place to people watch – particularly all those folks taking their photo with Fonzie – and if the sun is shining, reflecting diamonds on the river, it makes the day even happier. – Molly Snyder
yawccrxedatuaywvwdaezscubvsduuysv
Facebook Comments
Disclaimer: Please note that Facebook comments are posted through Facebook and cannot be approved, edited or declined by OnMilwaukee.com. The opinions expressed in Facebook comments do not necessarily reflect those of OnMilwaukee.com or its staff.