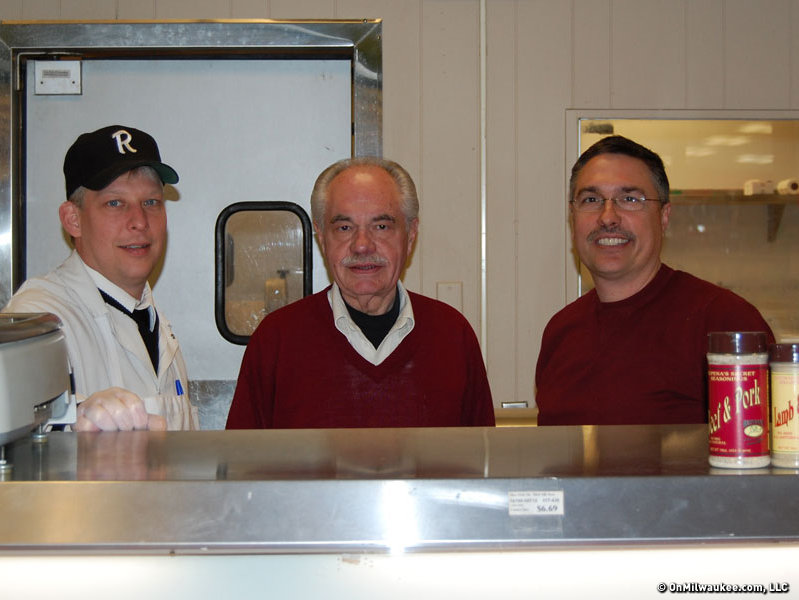 Service, variety and quality keep Rupena's strong
Though the store moved to its West Allis location in 1984, Rupena's Fine Foods, 7641 W. Beloit Rd., has been a fixture in Milwaukee for generations.
Today, up against the likes of Pick 'n Save -- the region's dominant grocer -- and specialty markets like Outpost Natural Foods, Whole Foods Market and Sendik's, the neighborhood market continues to serve its customers with personalized services and one of the best meat counters in the area.
John S. Rupena opened his first market in 1927, focusing mainly on fresh produce and meats. In the 1952, Rupena opened a new store on Center Street. The store wasn't big by today's standards -- it was roughly 75 percent of the current location's size -- but was considered huge for the time.
"It was state of the art," says Matt Rupena, the founder's grandson and vice president of the company. "It was the future of grocery stores, complete with terrazzo floors. It was very high end for that time."
No matter the location, meat has been the featured attraction for Rupena's, which specializes in unique offerings, not likely to be found at the major groceries.
"What sets us apart from other stores is our ability to carry some more obscure or ethnic products," Rupena says.
The original store catered to a large number of European immigrants making their home in Milwaukee. Germans, Poles, Slavs, Jews and Italians prepared their traditional, old-world recipes with meats from Rupena's.
While the influx of European immigrants has tapered off significantly in recent decades, Rupena is starting to see an increase in people looking to recapture the almost lost-art of old-world cooking.
"We're seeing a lot of customers who are learning grandma's recipes," says meat manager Jeff Cesarz. "That's a real great thing for us because we know that we and get them to come back and we can adjust to how they want it."
Rupena's will also custom make sausage for customers. Cesarz recently had a customer come in trying to find a Hungarian sausage similar to the kind made by her grandfather, which was less spicy than the links found in stores.
"I told her that she could bring in the recipe and we'd be glad to make it for her," he says. She was extremely happy because she couldn't get it anywhere."
You can also find things like veal, mock turkey legs, various types of freshly-ground and cased sausage and, for those with strong palates, fresh sarma (cabbage rolls) meat.
Lately, Cesarz has seen a growth in the sales of more traditional products like pot roasts and round steaks. As the economy worsens, wallets tighten and people, though not going out as much, still want to enjoy finer meals.
"There's more traditional cooking that we haven't seen in awhile," Cesarz says. "But people like the fancier cuts. They like the fancy products they find at restaurants, but they're finding they can cook at home and save a lot of money.
"That's real good for us."
There is an emphasis on freshness and quality. The hamburger meat and ground beef is ground daily, appealing at a time when consumers are becoming more health conscious. Rupena's beef offerings are all certified Angus. In addition, all the meat comes from regional producers.
"The meat we buy comes from the Midwest," Cesarz says. "We get our poultry from a company in Mequon. We've went the route a few times, going with bigger box providers, but we found that the quality we're looking for and that our customers are used to us providing, we can only get from a few sources. And that's fine with us."
The meat department is the main draw, but Rupena's does offer a full line of groceries with competitive prices. Rupena also offers its own line of spices for steaks, pork, poultry and fish.
"The meat is our main draw, but the groceries are here as an added value," Rupena says. "People do a lot of shopping here. We're a neighborhood store, which you hardly see anymore.
"The difference is, we're a neighborhood store but our offerings draw people from all over."
Today, Rupena's is trying to reach out to a new customer base with a location in the Milwaukee Public Market. The new spot is a slimmed-down version of the full-service deli and meat counter found in West Allis, and is still trying to find its niche among the Downtown crowd.
Rupena's moved into the space last November and has seen business grow bit-by-bit since. With summer approaching, manager Gary Meier is hoping to see the heavy lunch crowd start buying more fresh meat during grilling season.
Like the West Allis location, all the hamburger meat sold Downtown is ground fresh daily. The steaks and chops are also hand-cut.
"It's a lot of trial and error," Meier says. "We're trying to make sure we maintain the same level of quality and presentation."
Along with customer service and quality, Rupena's is also proud of its level of family involvement and loyalty from customers and employees. Many of the people stocking the shelves, cutting meat and working the registers have been with the company for nearly 20 years.
And the family, Rupena says, is still very "hands on." His father, John W. Rupena still owns the buisness and his brother, John A. Rupena serves as president. His sister, Maria Rupena-Karczewski, also plays a big role.
"We're not corporate folks sitting up in the office," Rupena says. "We know our customers -- alot of them by name, most of them by face.
"I like that. It's a great thing."
In a tough economy, Rupena isn't looking to put anybody out of business. He's looking to hold his own and continue offering unique items that have drawn Milwaukeeans to the market for more than 80 years.
"We don't like to toot our own horn," Rupena says. "We like to do things well. It's a struggle in this economic environment. But we're still here."
Talkbacks
High_Life_Man | March 26, 2009 at 9:42 a.m. (report)
The cheeseburgers they sell at the Public Market are terrible.
MilwaukeeCity | March 25, 2009 at 11:56 p.m. (report)
My grandmother used to always talk about this place, however when she mentioned it she would pronounce it "rufenas" I don't know if it was polish thing but that's how she always said it.
MILWIRISH | March 25, 2009 at 11:16 p.m. (report)
our family shopped in the store on center street. my grandmother told stories of getting extra goods during rationing periods. rupenas took care of thier regular customers.
Facebook Comments
Disclaimer: Please note that Facebook comments are posted through Facebook and cannot be approved, edited or declined by OnMilwaukee.com. The opinions expressed in Facebook comments do not necessarily reflect those of OnMilwaukee.com or its staff.