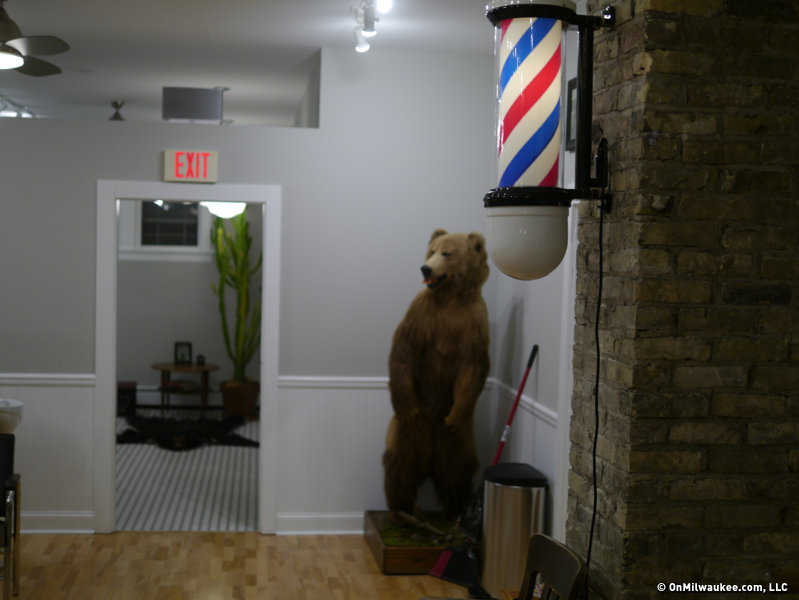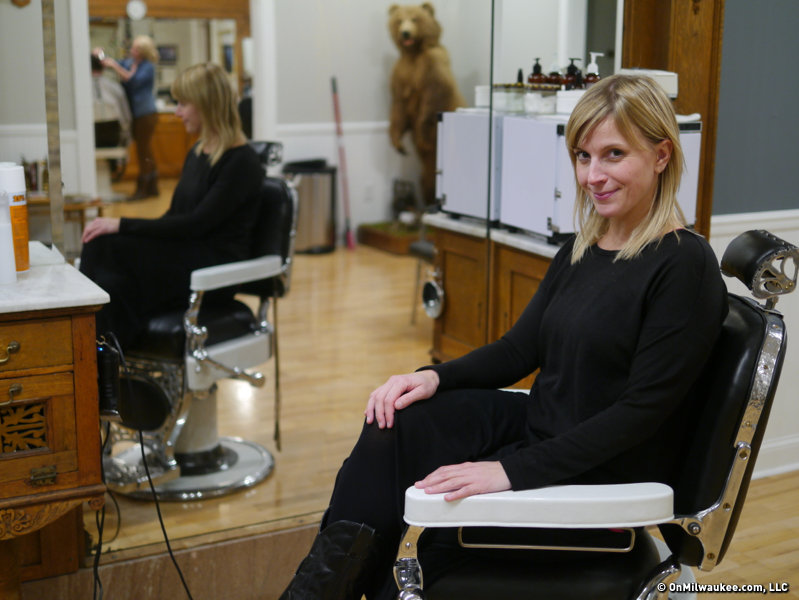 Stag Barbershop adds chairs, room to grow
It only took three years for Jess Stern, the owner of Bay View's Stag Barbershop, to outgrow her shop.
Fortunately, the adjacent retail space directly to her north became available, and it was perfectly configured already, having been a barbershop decades earlier. Some of the original hardware, like the wall-length mirror, was still in place.
What started as a three chair shop has now grown to six. It's doubled in size, but with more taxidermy, a back room and the same retro kitsch that graces in original spot at 3064 S. Delaware Ave.
It all feels rather seamless, actually, not like two spaces crammed into one.
Stern's reason for expansion was simple:
"Our clientele has grown a ton," says Stern, who still manages to cut hair while managing her increasing staff of five, going on six.
"I envisioned opening another shop at some point, but not (an expansion) in three years."
Indeed, it's all happened faster than she expected. She says her new challenges with this addition include both training new barbers, but also keeping up with the customer service side of the business.
"We're all about customer service," she says. "I love cutting hair, and barbering is my passion, but I'm trying to balance (the managerial part). It's hard to step back from the chair because that's what I love so much."
Stern says her customers have responded well to the new addition, which continues the aesthetic of the original shop. "They love it," she says with a smile. "They love the mirror and the 1920s antique barber pole."
And everyone talks about the bear, a real stuffed animal standing not-so-menacingly in the corner.
The extra room has allowed Stern to think a little bigger about her business.
Beyond haircuts and shaves, Stern is expanding her merchandise and men's accessories lines, but she is also planning on offering straight-razor clinics, too.
In all, it's a lot to take in for Stern, whose efforts have received quite a bit of national publicity lately. Stag has been featured in Details Magazine as one of the 16 barbershops in America. She also was included in "America's Lost Treasures" on the National Geographic Channel, and in a commercial for Kohl's.
What's causing all this attention?
Says Stern, "We cut hair really well and our customer service is really top-notch, but we do a lot of social media and marketing, and we cater to men in a certain way that we only do haircuts and shaves."
Stern says the straight razor shave side of her business continues to grow, too.
"We're sticking to the basics and focusing on them," she says. "When you focus on something, you'll succeed.
Facebook Comments
Disclaimer: Please note that Facebook comments are posted through Facebook and cannot be approved, edited or declined by OnMilwaukee.com. The opinions expressed in Facebook comments do not necessarily reflect those of OnMilwaukee.com or its staff.