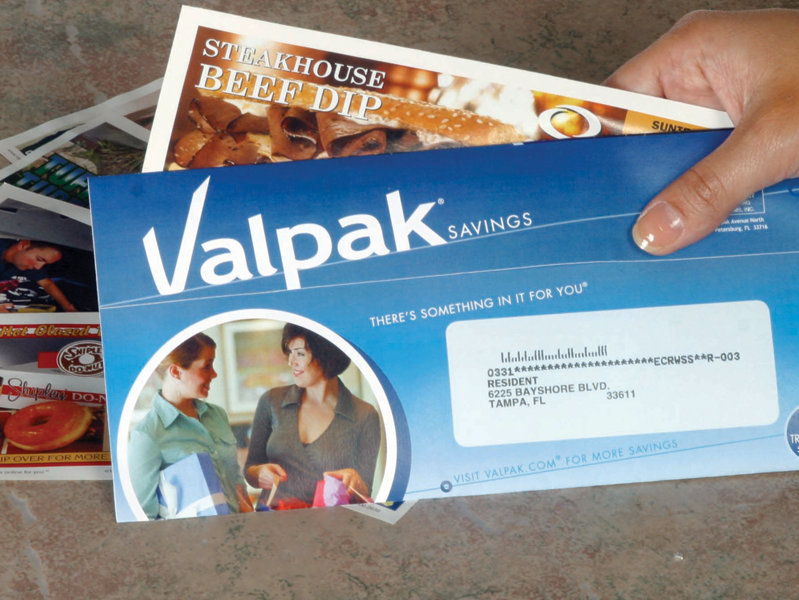 Valpak stays relevant in the digital age
Depending on the type of consumer you are, you may do different things with the familiar blue Valpak envelope you receive in the mail every four weeks.
Either you toss it as junk mail, use a pizza coupon here and there, or go on a shopping spree with the discounts you just unearthed. The company, started by former Wisconsinite and entrepreneur, Terry Loebel, is betting you at least give its offers a good, hard look.
And if you don't open that envelope, Valpak is hoping to hit you online or through your mobile device. While direct mail isn't a new concept -- Valpak began in 1968 -- the company has found a recipe for success, and locally, it's all being run from an industrial park in Franklin.
The company uses a database that is targeted, as opposed to saturated. It handpicks the homes that its ads are delivered to, right down to the mail carrier. In other words, your co-worker's Valpak envelope might look very different than yours.
The Valpak franchise in Franklin was the first in the company, currently headed up by Bill Schrack, and he bought it from the founders eight years ago. Locally, Schrack says his franchise targets household incomes with a higher than average discretionary income. Overall, Valpak has about 200 active franchises in the United States and Canada and has been active online since 1995.
All of the physical printing and assembly of the envelopes are done in Florida, then mailed out locally. "I have two 53-foot trailers that are packed with envelopes," says Schrack.
But mail costs more than it used to, "and it will continue to go up," says Schrack. That means that margins are smaller -- "much smaller," he says.
That said, buying an ad through Valpak is neither especially expensive or inexpensive. Schrack says it costs about $30 to advertise to 1,000 customers, which is right on par with other types of advertising.
Because of this, Valpak has embraced new platforms, like mobile and the Web. It operates other online properties and works closely with Google. The entire organization is owned by Cox Media Group out of Atlanta. Schrak says its app has been downloaded more than 87,000 times.
"It's part of our overall service," says Shrack, adding that any customer who buys direct mail advertising is automatically included in its electronic versions.
And, for some of the mom-and-pop businesses that have yet to embrace the Web, "we've become their marketing firm," says Schrak. "We find a fair number of our clients have no desire to be a part of Facebook or Twitter."
Will there be a time when the printed blue envelope either ceases to exist or becomes an afterthought to the digital side? Shrack says he doesn't anticipate that happening.
"We have a number of economists on staff to help us decide how we should invest our cash -- we know that (print) will continue to decrease, however as a package, we are the third-largest user of the United States Postal Service. We work very hard to keep these guys in business.
"If people want digital, we're also going to give them print. If people want print, we're also going to give them digital."
Talkbacks
rriter | Sept. 8, 2010 at 12:37 p.m. (report)
I love when Valpak comes to my house! There's always lots of great stuff that my family can use and it saves us money to boot! And who doesn't like to save a few bucks nowadays? You can always rely on the fact that they've built their envelope with reliable businesses too. Keep them coming!
dpc | Sept. 7, 2010 at 9:47 p.m. (report)
What a terrible company. I have tried unsuccessfully to get them to stop sending me junk mail. Just a total waste of paper, diesel fuel, and time. I welcome the shift toward targeted online advertising if it will eliminate the scourge of junk mail.
Facebook Comments
Disclaimer: Please note that Facebook comments are posted through Facebook and cannot be approved, edited or declined by OnMilwaukee.com. The opinions expressed in Facebook comments do not necessarily reflect those of OnMilwaukee.com or its staff.