#WeWant: Packers playoff edition
Our beloved Green Bay Packers are making a run in the NFL playoffs. Cheer them on in today's game against the Dallas Cowboys.
Here are a few things you need to have to cheer them on this and every week.
Wear it: Original Cheesehead hat
Who doesn't love the classic, wedge-shaped foam Cheesehead hat? (Ed note: OnMilwaukee senior writer Molly Snyder doesn't.) If nothing else Packers-related gets your green-and-gold blood pumping, this timelessly iconic piece of memorabilia – first conceived in South Milwaukee by Ralph Bruno and now produced by local company Foamation, Inc. – is a solid, dependable and always-appreciated Green Bay fan item, with a pretty interesting history. This year, Foamation relocated its operation from St. Francis to Milwaukee – at 1120 S. Barclay St., near Rockwell Automation – and sells not only its Original Cheesehead hat ($12.50-$19.75, depending on size), but also a range of other cheesy foam products. – Jimmy Carlton
I'm a blue and gold guy, I'll admit it. Go
Marquette
! So, I don't own a ton of green and gold attire. I love the Pack, but like blue. So, I migrate to the very cool
ACME old school stuff
. It's great. Remember, our Green Bay Packers were the Acme Packers way back in the day – taking their name from the Acme Packing Company. So, I'll be wearing this Green Bay Packers Classic Dri-Fit Touch T-Shirt for the game this weekend. Go Pack! –
Jeff Sherman
If there's a Packer party going on for the play-offs, it's only appropriate that it should include some delicious Wisconsin cheese. And what's better than a Packers themed cheese board, complete with a spiffy collection of cheese knives for serving them? –
Lori Fredrich
Keep your drinks colder longer and in style with the Krazy Kover by Kolder. Each Krazy Kover can stretch to fit anything from your 12 ounce bottle of beer to your 20 ounce bottle of water to your 2 liter bottle of pop. The 100% acrylic wool bottle holder is a great way to show your Packers pride. – Carolynn Buser
Dog gone it: Packers dog jersey
This Packers team has had a turbulent, up-and-down season and, to be honest, any player whose uniform you wanted you probably already have – all the big stars have been on the team for years. Instead, get your pup on the bandwagon with a Packers pet jersey. I have a friend who called her dog Lacy, which made for an easy petwear decision, but if your little muffin isn't named after a Green Bay player, you can always get a generic team jersey. That hopeful, longing look your dog is giving you during every game isn't because it wants all the Buffalo Chicken dip you're eating; it's because s/he wants to be a fan and represent Packer Nation too. At the Packers Pro Shop, these pet mesh jerseys are just $21.95. – Jimmy Carlton
Use it: Beard Brigade Beard Oil
If your man's face is as hirsute as Packers fullback Aaron Ripkowski, he could use a soothing, moisturizing, conditioning, styling and sheening beard oil. One of the best out there is a Milwaukee-made facial-hair oil called Redbeard's Spice ($14.99), which would be perfect for Ripkowski, from Beard Brigade Co. – Jimmy Carlton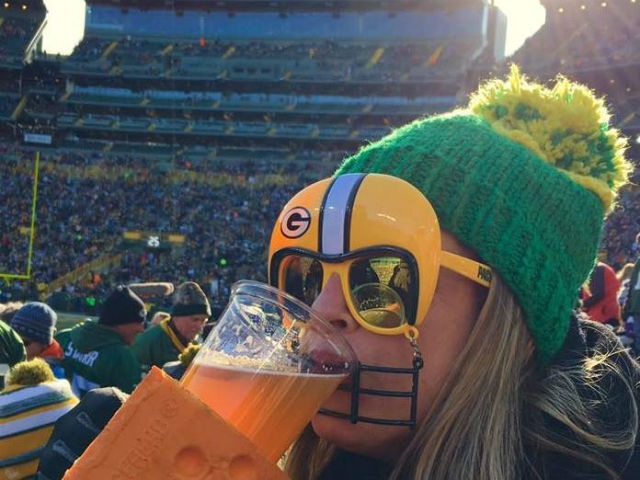 The sun is shining on you – as well as the Green Bay Packers. No better way to shade yourself from the brightness that is Lambeau, or your living room, than these novelty shades complete with facemask. I will say, they provided a great win on Christmas Eve, so get some now! – Carolynn Buser
She needs it: Women's Green Bay Packers Klew Green Big Logo Ugly Sweater Dress
That's quite the mouthful of a name, which is fitting because this is quite the article of clothing. Adorably attention-grabbing, vibrantly in-your-face and made with 100 percent acrylic knit material that is flattering but comfortable and necessarily warm, this Klew ugly sweater dress makes the Lady Packer Fan in your life the life of the party, whether tailgating in the Lambeau parking lot or on the couch at a friend's house. Don't just make a fashion statement; make a fashion exclamation about the team you love. It's a top seller in the NFL Shop and retails for $74.99. – Jimmy Carlton
Start the day with it: Green Bay Packers MVP Toaster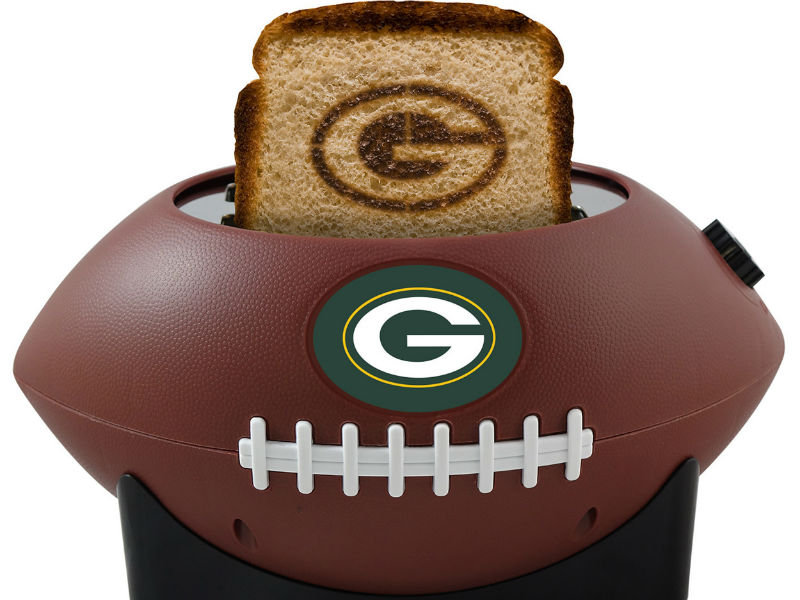 Breakfast is the most important meal of the day. And for some Wisconsinites, the Packers are the most important thing in their lives. For those people, the ProToast MVP Toaster is a must-have. It's a pebble-grain-finished, football-shaped, two-slice toaster that is adorned with team logos and brands a Green Bay 'G' on every piece of bread. The toaster works on bread, waffles, English muffins and toaster pastries, but you could probably squash a brat bun in there, too. Available at the Packers Pro Shop for $29.96. – Jimmy Carlton
Facebook Comments
Disclaimer: Please note that Facebook comments are posted through Facebook and cannot be approved, edited or declined by OnMilwaukee.com. The opinions expressed in Facebook comments do not necessarily reflect those of OnMilwaukee.com or its staff.