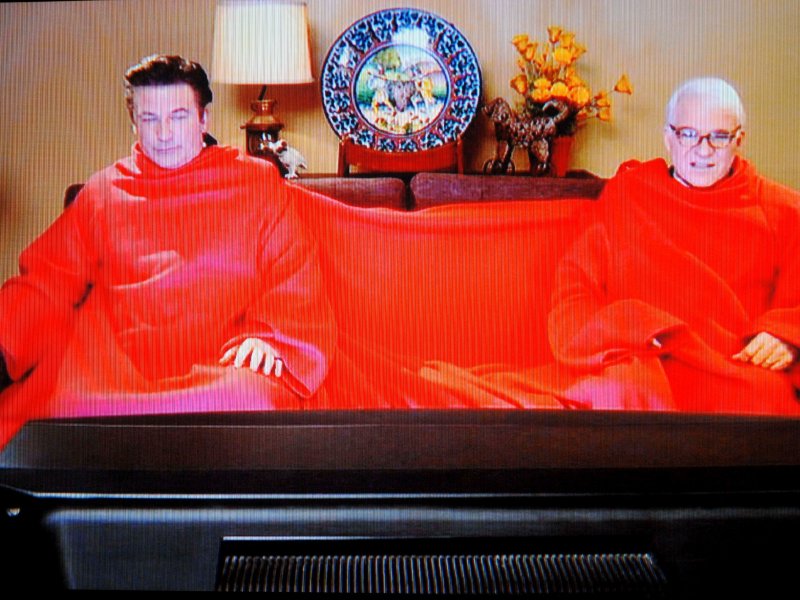 OnMedia: Four ways to improve the Oscar telecast
It's always amazed me that the movie industry can't produce a truly fine TV show. And Sunday's Oscar Awards hasn't changed my mind.
There were some great moments -- from Steve Martin's ad libs to Sandra Bullock's Best Actress acceptance speech: "Did I really earn this, or did I just wear y'all down?"
Martin and co-host Alec Baldwin were funny throughout, but Martin had the best line after the screenwriter of "Precious" stumbled and fumbled through his acceptance speech.
"I wrote that speech for him," said Martin.
But as is routinely the case, the show was unnecessarily, almost arrogantly, long. It was scheduled to go on for three hours, already a half-hour or so too long. But Sunday's telecast stretched 33 minutes longer, moving past the 11 p.m. hour in the Central Time Zone.
Here's what I would've edited out of Sunday's show:
1. That dance number. It only went on for about six minutes, but the interpretive dances designed to highlight the best original scores seemed twice that long. The dance had no connection to the movies. And, frankly, most of the scores are experienced as background music by movie-goers, not as something recognizable.
2. The speeches telling best actor and actress nominees how great they are. That was about 16 minutes of buttering up folks who don't need buttering up, followed by a presenter going down the list of names one more time.
3. The awards for shorts. I know, I know, lots of great directors got their starts doing shorts. But the vast number of Oscar viewers have little opportunity to view them. These are insider awards that shouldn't be eating up nine minutes of valuable primetime real estate.
4. Think about the ending. Moviemakers spend a lot of time planning for the ending of their films. But with all the fluff and baloney stuffed into the Oscar telecast, the climactic moment of the TV show appeared jammed together.
Last night's best picture award, the final Oscar handed out, featured 10 nominees for the first time since 1943. But a hurried Tom Hanks didn't even have time to do a quick run-through of who was nominated, almost slipping in the fact that "The Hurt Locker" had upset "Avatar," just seconds after Kathryn Bigelow won best director honors for her Iraq war movie.
The show closed with a line from Martin that may not have been ad-libbed. "The show is so long that Avatar now takes place in the past."
Cutting last night's dancing, shorts and testimonials would have been enough to bring the show in on time and made the surprise best picture win seem more than an afterthought.
On TV: NBC says it didn't juice the laugh track for Sarah Palin stand-up comedy debut on Jay Leno's "Tonight Show" last week, despite a report to contrary rom an audience member published by the Daily Kos.
NBC says "America's Got Talent," with Howie Mandel replacing David Hasselhoff, will be back on Channel 4 starting June 1. "Last Comic Standing," hosted by Craig Robinson, launches its summer season on June 7.
ABC says "The Bachelorette" will return May 24, at 8 p.m., following the final performance show of "Dancing with the Stars." This run, featuring failed "The Bachelor" contestant Ali Fedotowsky, will move to 7 p.m the following Monday, and will be followed by the summer season of "True Beauty."
There's no confirmation, but Star Magazine is reporting that Brooke Burke will join Tom Bergeron as "Dancing with the Stars" co-host.
"Community" gets a pickup: The cast and crew of NBC's "Community" got the word on Friday that the sitcom will get a second season, along with two other Thursday night shows, "The Office" and "30 Rock."
Amy Poehler's "Parks and Recreation" already got word that it would be back for another season.
"Community" was created by Milwaukee Dan Harmon, a veteran of ComedySportz, and features Marquette grad Danny Pudi.
Here's how the cast found out:
Facebook Comments
Disclaimer: Please note that Facebook comments are posted through Facebook and cannot be approved, edited or declined by OnMilwaukee.com. The opinions expressed in Facebook comments do not necessarily reflect those of OnMilwaukee.com or its staff.