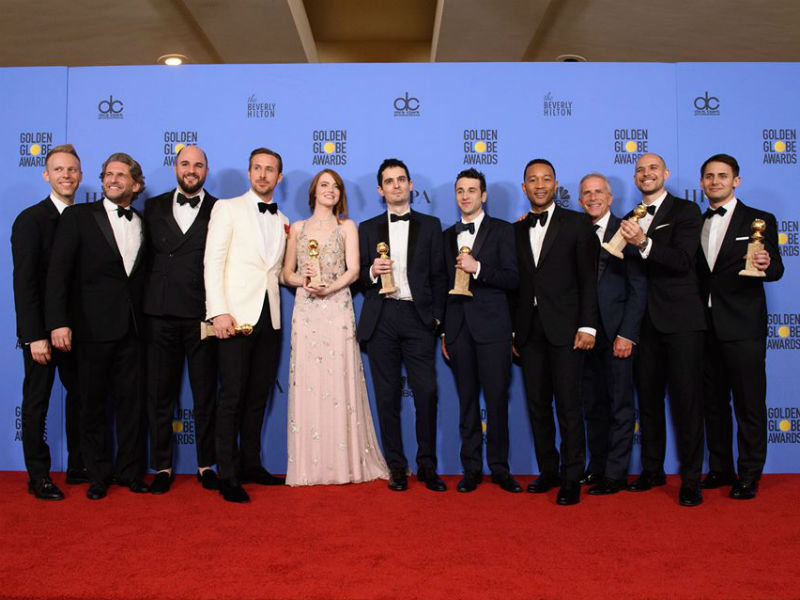 The real winners and losers of the 2017 Golden Globes
Last night, the Golden Globes officially kicked off awards season, announcing its bizarre yet not bizarre enough to be all that interesting (boy, that show felt long) winners.
But who really won and lost at Sunday night's ceremony? Let's break it down.
What do you say about that, Denzel?
January 9, 2017
Winner: "La La Land"
How could the winningest movie in Golden Globes history not be a winner? There's obviously been a lot of love for Damien Chazelle's sweet L.A. confection in these early Oscar season months, and last night only solidified that, with "La La Land" scoring a record-setting seven awards – including Best Picture - Musical/Comedy – and winning in every category it was nominated. Entering the night as the frontrunner, there was a lot of potential for "La La Land" to trip up – especially with the unpredictable, celeb-obsessed HFPA in control and "Deadpool" lurking. Instead, the results only waltzed the musical further into the lead.
Winner: "Moonlight"
For about two hours and 56 minutes of last night's telecast, "Moonlight" was an unfortunate loser. Mahershala Ali – who's been winning up and down the circuit so far – lost the first award of the evening, Best Supporting Actor to Aaron Taylor-Johnson's generically menacing bad guy in "Nocturnal Animals, and things didn't particular improve from there. The indie drama kept losing throughout the night, the intro for Barry Jenkins during the Best Director nominations got messed up and as the end neared, I was getting concerned "Moonlight" might get "Carol"-ed by the Oscars.
And then it won Best Picture - Drama, the biggest award of the night, over "Manchester by the Sea" (the closest Oscar competition also nominated) and the Gibson career resurrection narrative of "Hacksaw Ridge" that was gaining steam over the past week. Suddenly, "Moonlight" went from life support to maintaining contender status. On the other hand ...
Loser: "Manchester by the Sea"
Despite coming into the night with strong HFPA buzz on its side, the final results for "Manchester by the Sea" were about as sad as ... well, "Manchester by the Sea." Losing to "La La Land" in the Best Director and Best Screenplay categories shouldn't be too devastating considering the buzzsaw the musical was running last night, but falling to "Moonlight" for Best Picture - Drama is a bad look. Luckily ...
Winner: Casey Affleck
At least "Manchester" got a win from Casey Affleck. The actor's been the frontrunner since January, when his terrific turn as a grieving slacker janitor made its debut at Sundance, and concerns about maintaining his momentum have been popping up. Also popping up: a big, boisterous turn from Denzel Washington in "Fences" that serves as a good foil for Affleck's small, subtle performance. But even with the typically starry-eyed HFPA in control Sunday night, Washington wasn't able to put a pothole in Affleck's road to gold. He's still the one to beat. That being said ...
Loser: Casey Affleck's speech
The most concerning person on Casey Affleck's path to Oscar is ... Casey Affleck himself. Looking like he was just pulled off the set of "The Revenant 2," the actor's speech was unmemorable, save for ending on an awkward Denzel Washington shout-out. These early award show speeches aren't just about grabbing your trophy, thanking the family and agents, and then bailing from the podium before the music drowns you out. They're about selling your movie's Very Important Ideas – and selling yourself as a voice to be heard on Hollywood's biggest stage. And Affleck didn't do that.
Winner: Viola Davis
Ever since it was announced she was campaigning for Best Supporting Actress, Viola Davis has been considered the frontrunner for her powerful performance in "Fences" – and Sunday just continued to prove that. In a category that'll likely look very similar Oscar night, Davis triumphed – though her best moment came later in the night while handing off an award to someone else. Given the task of introducing and paying tribute to Meryl Streep, Davis pulled out some kind of awesome one-woman show that could've won some awards of its own.
Loser: Natalie Portman
Going into the Golden Globes, we weren't expecting to learn all that much about the impending Best Actress brouhaha between the "Jackie" star and Emma Stone considering the two were in different categories. But while Stone won in her category, Portman went home surprisingly empty-handed, with Isabelle Huppert of "Elle" earning a surprise win. It wasn't a complete shock; the HFPA was already low on "Jackie," and foreign favorite Huppert winning over a foreign press branch makes sense. But it's a concerning look for a former lock.
And speaking of "Elle" ...
Winner: "Elle"
Name the movie that scored the second most awards last night. Nope, not "Fences." Not "Moonlight" either. That's right; Paul Verhoeven's provocative French rape thriller came away as one of night's biggest winners. Your parents are probably going to want to see it now, and ... yeah, let them see that one on their own.
Loser: Actually learning anything about the Oscars
So after writing all of that above, what does any of this actually mean for the Oscars? Nothing! HFPA members don't vote for the Oscars. "La La Land" won big, but mostly against the likes of "Deadpool" and "War Dogs," not its actual Academy Award rivals. Natalie Portman and Emma Stone weren't competing in the same category. "Elle" can't even be nominated for Best Foreign Film at the Oscars.
At last year's awards, "The Revenant" and "The Martian" won big; the year before, it was "Boyhood" and "The Grand Budapest Hotel." Spoiler alert: didn't end great for those movies a month later. There's only buzz – and buzzed celebrities – to be gained at the Golden Globes.
Page 1 of 2 (view all on one page)
Next >>
Facebook Comments
Disclaimer: Please note that Facebook comments are posted through Facebook and cannot be approved, edited or declined by OnMilwaukee.com. The opinions expressed in Facebook comments do not necessarily reflect those of OnMilwaukee.com or its staff.