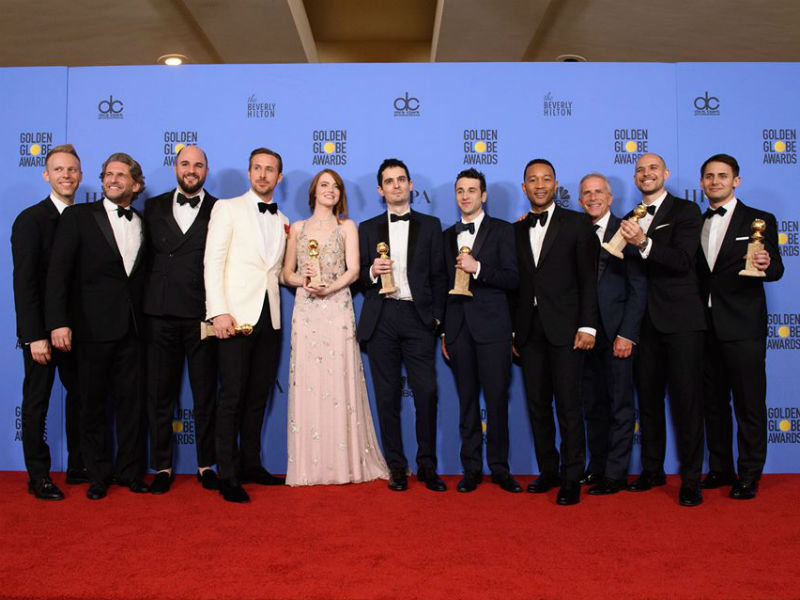 The real winners and losers of the 2017 Golden Globes
(page 2)
Winner: The "La La Land" intro
The intro video, spoofing on "La La Land," was energetic, accurate and fun. Jimmy Fallon's whispy singing voice matched the original recording (not sure who I'm most insulting there) and it had the "Stranger Things" kids rapping with floating waffles, so that's fun. Enjoy that clip, and "La La Land" for that matter, while you can before we have to sit through hundreds of these spoofs by the end of February, and we'll have found a way to make L.A. traffic annoying again – maybe even more so.
Loser: Jimmy Fallon
In the words of Fallon's own character, "Ew!" The intro must've exhausted the host's limited charms, because the rest of the night was a nightmare. His opening monologue was piled with Trump jokes that would've seemed limp even if he hadn't publicly crippled any future Trump gags with a hair tussle heard 'round the world. Things did not improve from there, relying on terrible puns, a Chris Rock impression, brief-but-not-brief-enough bursts into song and a final Cyprus Hill/"Chastain and the Redmayne" joke that simultaneously murdered rap music and the art of comedy in one brutal blow. RIP, you two. You were so young.
Winner: Wiig and Carell's intro
The comedy duo's droll bit involving their first memories with animated films (not as sweet as it sounds) was easily the night's funniest moment. Shortly after, the cries of "Why aren't they hosting?" thankfully drowned out the sounds of Fallon's desperate flop sweat pouring onto the stage.
Winner: "The Night Manager"
Remember "The Night Manager," that Hugh Laurie/Tom Hiddleston AMC drama was pushing during the ad breaks of shows people actually watch? Well, the HFPA did, handing it three awards and making it the most awarded television show of the night. Take that, "Stranger Things" kids; should've been more British.
Loser: Tom Hiddleston
You could almost see the good speech trying to work its way out of Tom Hiddleston's mouth as he accepted the award for Best Actor in a TV Mini-Series or Movie (over the likes of Courtney B. Vance of "The People vs. O.J." and the "Night Of" power team of Riz Ahmed and John Turturro, no less). There was earnestly noble stuff about charity and aiding the South Sudan ... all ending with the accidental punchline of, "Doctors who do important things liked my show, so that's cool." Any thoughts on that, Christian Slater?
This GIF of Christian Slater's reaction is EVERYTHING. #GoldenGlobes https://t.co/c461R7mNZB pic.twitter.com/9RCirqMraQ

— GIPHY (@giphy) January 9, 2017
Agreed.
Winner: Meryl Streep
If the president-elect felt the need to complain about it the next morning, you know it was a good speech. Admittedly, it didn't start that way, with a scratchy-throated Meryl prattling off all of the performers' birth information like she quick Wikipedia-ed everyone during dinner and then tossing some needlessly aggressive shade at football and MMA (which I'm sure is playing well with this morning's debate). But eventually she brought it together, sending a strong message before ending on a lovely Carrie Fisher tribute. It's a shame that the thesis of "free arts and free press are good things, and also, hey, maybe be nice to people" is controversial, but if there's one person who couldn't give fewer f*cks, it's Meryl "America's Fun Mom" Streep.
The actual most annoying part of this whole "controversy," though? I've been preaching for years that current-era Meryl is a little overrated (that "Iron Lady" Oscar, *side-eye*), and now I'm going to have to add a "but not because of the Donald Trump" addendum to every time I argue that. Plus, with the buzz and the message it'd send, she's definitely getting an Oscar nomination now – so the very deserving Ruth Negga probably isn't. So thanks Trump.
Loser: "Hidden Fences"
ICYMI: Someone should tell the Golden Globes there is no movie called 'Hidden Fences' pic.twitter.com/9ybUjxxNBG

— GQ Magazine (@GQMagazine) January 9, 2017
"Hidden Figures" is a movie. "Fences" is also a movie. "Hidden Fences" ... is not anything. But that didn't stop Jenna Bush from bringing up the non-existent mental typo while interviewing "Hidden Figures" producer and composer Pharrell Williams, or Michael Keaton from doing the same while announcing Octavia Spencer for Best Supporting Actress. Maybe it's a future sequel to "Philomania," starring Adele Dazeem.
Loser: The crowd
The Golden Globes are notorious for being a loud, drunk kegger for celebs, but even the famous people on stage seemed irritated by the crowd not shutting the hell up, as several presenters either spoke up about it or had to wait for at least a dull roar to get their words in. Behave yourselves, Hollywood – and if you're not, at least make it fun and do or say something entertainingly dumb.
Loser: The play-off music
There's no good way to handle the play-off music at awards shows – ask the Oscars with their thank you crawl. But last night seemed more distractingly awful than usual. There were your standard-issue rude blaring reminders to get off the stage ... but then "The Crown," the winner of TV's biggest award," got suddenly played off by literal beat drop, and an understandably emotional and excited Isabelle Huppert was played off by the "Rocky" theme – only to be left confused standing at the mic, possibly still saying stuff? We'll never know. I know it was a long night – or at least felt that way – but give these people their moment.
Winner: Love
Ryan Reynolds and Andrew Garfield may have lost last night, but they won each other's hearts apparently.
We see you, Ryan Reynolds and Andrew Garfield. #GoldenGlobes pic.twitter.com/lNP0M3JJPq

— Vulture (@vulture) January 9, 2017
After all the suffering Garfield went through between "Hacksaw Ridge" and "Silence," he deserves a make-out session with the world's hottest actor.

<< Back

Page 2 of 2 (view all on one page)


Facebook Comments
Disclaimer: Please note that Facebook comments are posted through Facebook and cannot be approved, edited or declined by OnMilwaukee.com. The opinions expressed in Facebook comments do not necessarily reflect those of OnMilwaukee.com or its staff.