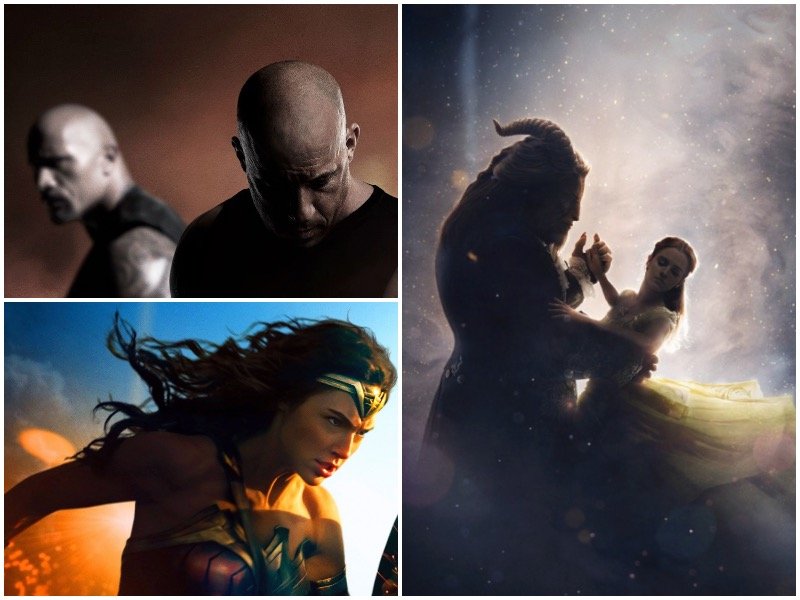 17 movies to look forward to in 2017
There are a lot of reasons to be excited for 2017, but at the top of the list – or at least right below "It's not 2016" – is the number of exciting, potential-rich movies coming out in the next 359 days.
There's a new Paul Thomas Anderson and Daniel Day Lewis collaboration – about fashion in the 1950s, no less, so it'll look ever better than usual. There's a new "Kong" and a new "Planet of the Apes" installment. Terrance Malick will step back behind the camera for another new movie, while Oscar-winning screenwriter extraordinaire Aaron Sorkin will step behind a camera for the first time. Luc Besson will return to "Fifth Element"-level kooky sci-fi with "Valerian," while Ridley Scott will return to "Alien" (for real this time; none of this wishy-washy "Prometheus" nonsense) with "Covenant." Beloved books old ("Murder on the Orient Express") and new ("The Dark Tower") will hit the big screen.
Did you like Kate McKinnon in "Ghostbusters"? Well, she's got a new dark comedy about a dead male stripper with Scarlett Johansson, Ilana Glazer and Demi Moore (?). And speaking of pitch black comedy, if you liked "The Lobster," Colin Farrell and its writer-director are teaming back up for the just joyful sounding "The Killing of a Sacred Deer." There's a new "Kingsman" and a new "Cloverfield" episode and a new Sofia Coppola film and a movie where Gerard Butler has to save the world from a massive climate change storm AND save the president from assassination IN THE SAME MOVIE.
And none of those made my list.
So yeah, if 2017 is ringing in the end of days, at least we'll be going out with some solid movies to be excited about. And here are the 17 I'm most excited for.
1. "Baby Driver"
While Edgar Wright has a pretty firm grasp on critics and film nerds' hearts, he's never quite had that big blockbuster hit that deservedly upgraded him a beloved household name. Part of it is that his style is far too particular to be sanded down of its delightful manic quirks and slid into a conventional blockbuster brand (as we learned with "Ant-Man"); that he usually has his fun in genre movie sandboxes – zombies, sci-fi, video games, buddy cop actioners – doesn't help either.
But perhaps "Baby Driver" will be the one that breaks through into a hit. His latest follows a young getaway driver ("Divergent" series survivor Ansel Elgort) who wants to leave his life of crime for the girl of his dreams. Oh, and he has tinnitus, so he uses music to drown out the ringing during missions, resulting in a crazy action musical numbers ad … yeah, this probably won't make any money either. But the cast is loaded – Jon Hamm, Jamie Foxx, Kevin Spacey – and if anybody can make an crime thriller action musical romance not only work but sing off the screen, it's Wright, who cares more about every element of filmmaking (sound, editing, framing) than any other working director. (Release date: Aug. 11)
2. "The LEGO Batman Movie"
I've had enough grumpy Batmen in my life. After seeing his parents get killed in every single reboot – just in case you forgot the other five times – grimacing at the world while doing CrossFit and now casually murdering henchmen, I'm starting to miss the days of the old goofy Adam West version.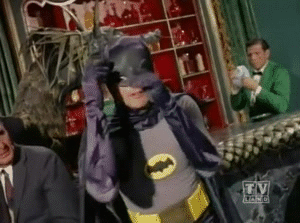 Uh, maybe not. But "The LEGO Batman Movie" seems to be the perfect next step up from that old school cornball, lovingly parodying and mocking Dark Knight (voiced by Gob Bluth himself, Will Arnett) and his very, very, very serious superhero-dom in that awesomely creative and colorful LEGO style. The original "LEGO Movie" was a surprise smash, mixing a rapidfire sense of humor and ingenuity with a bit of heart. Hopefully this one-off sequel clicks just as well instead of being the cinematic equivalent of stepping barefoot on a lost LEGO brick. (Release date: Feb. 10)
3. "John Wick: Chapter Two"
The original "John Wick" was a perfectly lean, mean, Keanu Reeves headshot-delivering machine, delivering perfectly choreographed and captured action sequences dripping with cool and surrounded on all sides, just out of frame, by a world of hitmen and their secret codes and operations. A lot of blockbusters are all about creating universes and world-building; "John Wick" did it easily, all with a simple story about a guy getting revenge for his dead dog by putting bullets in craniums.
It'd be easy for the upcoming sequel to blow it up, "Die Hard"-style, into something bigger – and not better – but it seems "Chapter Two" has the right idea, giving us just a bit more of this secret world of assassins and Mr. Wick's very unsuccessful retirement away from it all. A bunch of familiar, un-headshotted faces from the first film are returning – Ian McShane, Lance Reddick – but the most important one is behind the camera: Chad Stahelski, a stuntman-turned-director whose knowledge from his former career helped make the action scenes in the first film pop with cool and clarity. Expect more sweet gun fights – and, better yet, expect the dog to live this time! (Release date: Feb. 10)
4. "A Cure for Wellness"
January and February have earned a reputation for being terrible months for movies, typically a burial ground for projects the studios know suck and have no faith in. Over the past few years, however, that's been changing. Last February, for instance, brought us "Hail, Caesar!", "The Witch" and a small flick called "Deadpool." The year before, the first two months offered up "Kingsman" and "Paddington."
It's a happy trend (a time of year with no good movies to see isn't good for anyone – especially movies) one that seems to be continuing this year. "John Wick: Chapter Two" and "LEGO Batman" are both February releases, and if you're a horror buff, Halloween is coming early.
"Get Out," Jordan Peele's directorial debut about a black man trapped in the Stepford suburb (featuring the terrific Daniel Kaluuya of the "Fifteen Million Merits" episode of "Black Mirror"), will wrap up the month on a high, and horrific, note. But the one I'm most looking forward to comes a week earlier: "A Cure for Wellness." I've been asking for years for Gore Verbinski to head back to horror – "The Ring" is a true horror legend, minus the sequels and spoofing – and now he's finally doing it. And "A Cure for Wellness" looks exactly like what I'd hope to see from his return, telling a tale of a man (Dane DeHaan) hunting for his boss in the most gorgeously gothic and grim of wellness centers. It looks eerie and disturbing as hell – the perfect cure for having to see "Fifty Shades Darker" the weekend before. (Release date: Feb. 17)
5. "Guardians of the Galaxy: Vol. 2"
I could fill up about a third of this list with just Marvel's upcoming slate of superhero flicks. The big screen's best version of the webslinger will get his own movie with July's "Spider-Man: Homecoming," while "Thor: Ragnarok" will bring Thor, Hulk and Doctor Strange together under the wonderfully kooky eye of director Taiki Waititi ("What We Do In the Shadows"). And that's not even mentioning the grim and gritty-looking "Logan," which did the impossible and made me interested in yet another freaking Hugh Jackman Wolverine movie.
But I'll set my focus on my favorite of the bunch, "Guardians of the Galaxy: Vol. 2." The whole gang is back, and judging by the trailer, their fun wit from the first film – possibly my favorite of the Marvel Cinematic Universe – hasn't gone anywhere either. Director James Gunn is back too, and he looks like he's having a blast creating weird alien creatures and nifty gizmos for his ragtag band of heroes to play with. But above all: Baby Groot?
Tonight, the world will implode in on itself but UNTIL THEN I will distract myself by staring happily at this: pic.twitter.com/Wk8mozV2vf

— Anne T. Donahue (@annetdonahue) October 19, 2016
Baby Groot. (Release date: May 5)
6. "Wonder Woman"
DC is going to have to do a lot of apologizing before I can forgive them for the 2016 dung-filled duo of "BvS" and "Suicide Squad" – probably involving some self-flagellation. "Wonder Woman," however, looks like a good start – a really good start, actually.
Pretty much everyone agrees that Gal Gadot's Wonder Woman was one of the few bright spots of "BvS" – mostly by being the only one who seemed happy to be there – and now we get a whole movie of her being a badass. The rest of the cast surrounding her (Chris Pine, Robin Wright) is great, and it's about damn time a woman got a solo superhero flick – one directed by a woman, Patty Jenkins, at that too. The setting is intriguing too, heading back in time to World War I, a generally untapped story well for Hollywood overall – much less comic book superhero movies.
And most importantly, it looks … fun? Like, there are colors and everything? It's almost enough to make me excited for November's "Justice League." Well … almost. (Release date: June 2)
7. "Blade Runner 2049"
Denis Villenueve is one of Hollywood's hottest directors, coming off the terrific pair of thrillers "Sicario" and "Arrival" – the latter possibly earning him a Best Picture and Best Director nomination later this month. So what does he do for a third act? Revisit one of the most beloved sci-fi cult movies of all time with "Blade Runner 2049." That's all.
There were a lot of concerns coming into this update, from the general idea that this sequel is just a cheap cash-in on a popular '80s sci-fi title (see: "Robocop," "Total Recall") to remembering that other time Harrison Ford revisited a popular character from his past (no, not the good one; the other one. Yeah, THAT one) to the fact Jared Leto is apparently going to show up. But those worries were somewhat alleviated by the rest of the impressive cast list, complete with Ryan Gosling, Mackenzie Davis, Robin Wright and many, many more. Then they were completely alleviated by the newly released trailer, filled with gorgeous, haunting imagery.
And with that, we went from wondering if "Blade Runner 2049" might at least not suck to wondering if it might just surpass its predecessor. (Release date: Oct. 6)
8. "Coco"
I've been hard on Pixar in the past few years, complaining about doing sequels of its popular brand names rather than making the original movies it made its name on. And yes, 2017 will bring us "Cars 3" – apparently directed by Zack Snyder. But, in November, it will also bring us "Coco," an original story about a 12-year-old boy discovering a century-old mystery.
Yes, that's a very vague plot description – and we don't even have a trailer yet. But the few details there are – that it's original, that it's inspired by Dia de los Muertos and that it comes from director Lee Unkrich, who directed the very good Pixar sequel "Toy Story 3" – all sound exciting. And did I mention it's original? As in not just a sequel? Because it's not just a sequel – and the last time Pixar did that, it was "Inside Out," and I cried for days (fact check: It was actually "The Good Dinosaur," which I cried about for different reasons). (Release date: Nov. 22)
Page 1 of 2 (view all on one page)
Next >>
Facebook Comments
Disclaimer: Please note that Facebook comments are posted through Facebook and cannot be approved, edited or declined by OnMilwaukee.com. The opinions expressed in Facebook comments do not necessarily reflect those of OnMilwaukee.com or its staff.