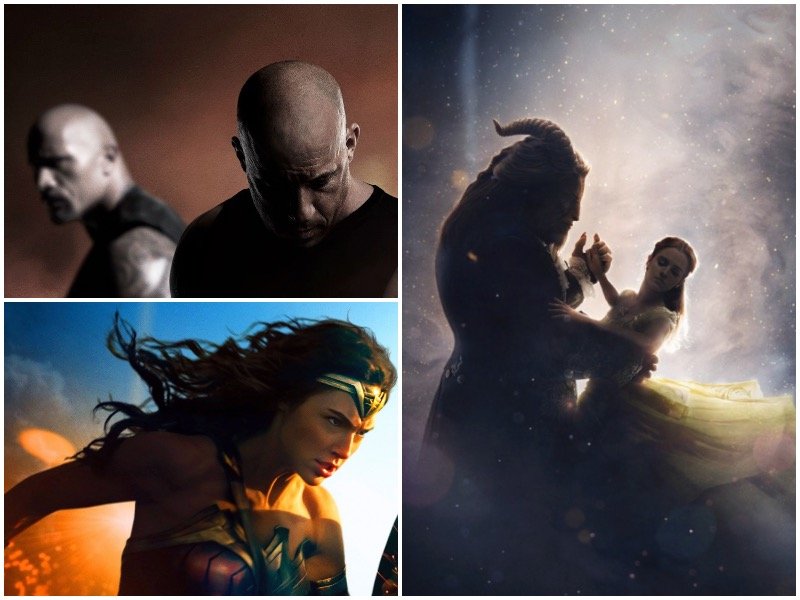 17 movies to look forward to in 2017
(page 2)
9. "Logan Lucky"
Two years ago, director Steven Soderbergh announced he was retiring. Lucky for us, he's terrible at retiring. In case it wasn't enough that he spent those years directing two seasons of the critically-lauded "The Knick" and playing cinematographer for "Magic Mike XXL," he's cutting his non-retirement retirement short this year with the new film "Logan Lucky."
Yes, that's not a great name – especially in a year with a movie called "Logan" coming out; so confusing – but it has a great cast, featuring Adam Driver, Daniel Craig, Katherine Waterston, Channing Tatum and Hillary Swank (remember her!?). It also has a great premise, about two brothers planning a heist during a NASCAR race. And do I really need to remind anyone about Soderbergh's impressive, delightful expertise with star-studded heist movies. (Release date: Oct. 13)
10. "Star Wars: Episode VIII"
Duh.
OK, my editor tells me I have to write more about why you should be excited about "Episode VIII" … but duh. We don't have a trailer. We don't have a real plot synopsis yet. We don't even have the subtitle yet.
But of course I'm excited for "Episode VIII." I may gripe about "The Force Awakens" sometimes, but few movies have set a table as well as Abrams' chapter. I am so excited to see what our new, already beloved gang of characters will get up to in the next installment – especially with Rian Johnson ("Looper") behind the script and camera, probably ensuring we're getting something fresh this time. And in case all of that wasn't enough, it'll mark Carrie Fisher's final on-screen, in-person performance as Princess Leia, so of course we'll have to pay a final tribute.
So yeah … duh. (Release date: Dec. 15)
11. "Beauty and the Beast"
Another "no duh" choice – and I'm not even that huge of a "Beauty and the Beast" fan. I'm not even that high on Disney's business strategy of cannibalizing all of their animated classics into live-action movies ("Cinderella" is the only one I'd really stump for). But the new "Beauty and the Beast" looks simply gorgeous, beautifully transferring the award-winning animation into real life and perfectly filling out the cast. Emma Watson hasn't done much on screen since "Harry Potter," but she's an ideal fit for Belle. And who's going to argue with a cast filled with legends like Ian McKellen, Kevin Kline, Emma Thompson, Stanley Tucci and Audra McDonald – along with terrific new stars like Luke Stevens and Gugu Mbatha-Raw?
I am! I will argue until my deathbed that Dan Stevens – who plays The Beast under a bunch of CGI and voice alterations – would've been a perfect Gaston rather than Luke Evans, who's too obviously dark and brooding. You are wasting a perfectly good Dan Stevens, Disney … unless, of course, I get proven wrong when the movie comes out March 17. But what does Disney know … (Release date: March 17)
12. "Annihilation"
Even before last year's "Ex Machina," Alex Garland was already one of the more exciting names in sci-fi/genre filmmaking, writing the screenplays for "28 Days Later," "Sunshine" and "Dredd." Then he made his sleek and deviously smart robot directorial debut, and the only thing we wanted more than a whole movie of Oscar Isaac dancing was more of Garland's sci-fi visions.
That's exactly what 2017 will offer with "Annihilation," Garland's adaptation of Jeff VanderMeer's novel about a crew of scientists going on a secret expedition where the laws of nature don't apply. Because those always go so well.
At least this one looks like it will go well for viewers, because the cast is superb – featuring Natalie Portman, a hopefully dancing Oscar Isaac, Tessa Thompson, Jennifer Jason Leigh and Gina Rodriguez – and the early images from the shoot look incredible. Unfortunately, that's all we have to go on right now, but everything we've seen and know so far sounds terrific – and knowing Garland, there's probably even more exciting stuff going on hidden under the surface. (Release date: TBA)
13. "The Fate of the Furious"
At some point, the "Fast and the Furious" franchise will come back down to Earth, have a disappointing new installment and remind us that its origins come from a dopey street racing movie from the director of the J.Lo/cookies movie. "The Fate of the Furious," however, would not appear to be that point.
New series director F. Gary Gray ("Straight Outta Compton") appears to have settled in nicely to the crazy '80s-style cartoon action hijinks the franchise has embraced over the past few installments. I mean, they freaking battle a submarine this time (finally: The "Fast and the Furious"/"K-19: The Widowmaker" crossover I've been looking for!). Plus, the story, about Dom betraying his family (impossible!) for Charlize Theron (oh, OK, fair enough), is an intriguing direction to steer the series.
The only problem: Why is this movie not officially called "The F8 of the Furious"? I take everything back: This is clearly the most disappointing sequel since the "Step Up" franchise went with "Step Up: Revolution" for the title of its fourth film instead of "Step Up 4 Your Rights." (Release date: April 14)
14. "Okja"
There are so many reasons to be excited for "Okja." The movie is the latest from Korean director Bong Joon-ho – aka the guy behind the crazed yet perfect tone of "Snowpiercer" – and it's a monster movie, something he's already proven to be great at with the terrific "The Host" (not the Stephenie Meyer one). The cast is outstanding, featuring Jake Gyllenhaal, Tilda Swinton, Giancarlo Esposito, Paul Dano, Steven Yuen and more. I failed to mention Gyllenhaal will apparently be dressed like this. He should never wear anything else.
Everything here sounds incredible. There's just one word that worries me: Netflix. Now, Netflix is, in general, a good thing, but if I'm going to see a new movie – especially one featuring a giant creature – I want to be able to see it on the big screen. But since Netflix has mostly abandoned its theatrical distribution interest, "Okja" will be stuck on TVs and computer screens – and easily forgotten and overlooked amongst its plethora of other streaming options.
Make no mistake: I'm thrilled for a new movie from Bong Joon-ho, and I guess if Netflix is the best place that'll let him make it the way he wants, awesome. But I'm concerned the small screen won't do justice – cinematically or economically – to his big screen ideas. (Release date: TBA)
15. "Dunkirk"
Do most Americans know what Dunkirk was? I like to think of myself as a pretty intelligent, well-educated person, but when I first heard the name "Dunkirk" – "the event that shaped our world," according to the marketing – my brain could only summon a "file not found" page. It's a powerful story – of Allied troops during World War II surrounded by the Nazis, seemingly dooming them and the entire British cause, only for most of them to be miraculously evacuated – but since it was before U.S. involvement (Pearl Harbor would happen a year and a half later) it's a side note for most American non-history majors.
So how do you get us Americans into theaters? The fact that Christopher Nolan – the man who helped shape the modern blockbuster – is behind the camera definitely edges "Dunkirk" into must-see territory, his grand visuals looking like they're making a smooth transition from sci-fi ("Interstellar") to war movie. Having Tom Hardy, Cillian Murphy and Mark Rylance pop up certainly helps too.
All of that – plus a good war story that's mostly unknown here in the colonies – adds up to a likely winner at the box office. But just to be sure, let's cast Harry Styles. Why not. (Release date: July 21)
16. "Under the Silver Lake"
"It Follows" isn't even two years old, but it's already earned horror movie classic status, an unsettling little creep-out that's as smart as it is scary. So, naturally, I'd have a keen eye on whatever writer-director David Robert Mitchell (not to be confused with David Cameron Mitchell, who also has a new movie in 2017) did next.
Luckily, we haven't had to wait too long, as his follow-up, "Under the Silver Lake," is expected this year. Details are slim; all we basically know is that it's a modern neo-noir crime story set in Los Angeles, and that it stars soon-to-be Oscar nominee Andrew Garfield, Jimmi Simpson ("Westworld") and Riley Keough ("Mad Max: Fury Road"). And all of that sounds terrific – especially matching Mitchell's hypnotic, often '80s-influenced dazed and dreamy style with an L.A. noir story. There's already the makings of a potential masterpiece here. (Release date: TBA)
17. "The Death of Stalin"/"Three Billboards Outside Ebbing, Missouri"
Dammit, I'm at the last pick? But both "The Death of Stalin" and "Three Billboards Outside Ebbing, Missouri" sound terrific. Damn me and my arbitrary listicle limits…

Do I pick "The Death of Stalin," a black poltical comedy which mashes up Armando Iannucci – the profane genius behind "In the Loop" and "Veep" – with the chaos of the Soviet Union before and after the death of the infamous dictator? In case that wasn't enough, it's got a killer cast, featuring Jeffrey Tambor and Steve Buscemi, just to name a few. Plus, judging by the new year's first week, I can't imagine a satire about Russian politics being remotely timely. Nope, not at all.

Or do I pick the weirdly titled "Three Billboard Outside Ebbing, Missouri"? Missouri may seem a long way from Soviet Russia, but "Ebbing" is also a dark comedy, as a mom of an unsolved murder victim goes to war with the town's ineffective sheriff (it's a comedy, I swear!). The blackly comic award-winning mind at work in this case is Martin McDonagh of "In Bruges" fame, who's nabbed himself a pretty terrific cast of his own, featuring Frances McDormand, Woody Harrelson, Sam Rockwell, Peter Dinklage, John Hawkes and "Manchester By the Sea" breakout Lucas Hedges.

You know what? I pick them both. (Release dates: TBA)

<< Back

Page 2 of 2 (view all on one page)


Facebook Comments
Disclaimer: Please note that Facebook comments are posted through Facebook and cannot be approved, edited or declined by OnMilwaukee.com. The opinions expressed in Facebook comments do not necessarily reflect those of OnMilwaukee.com or its staff.