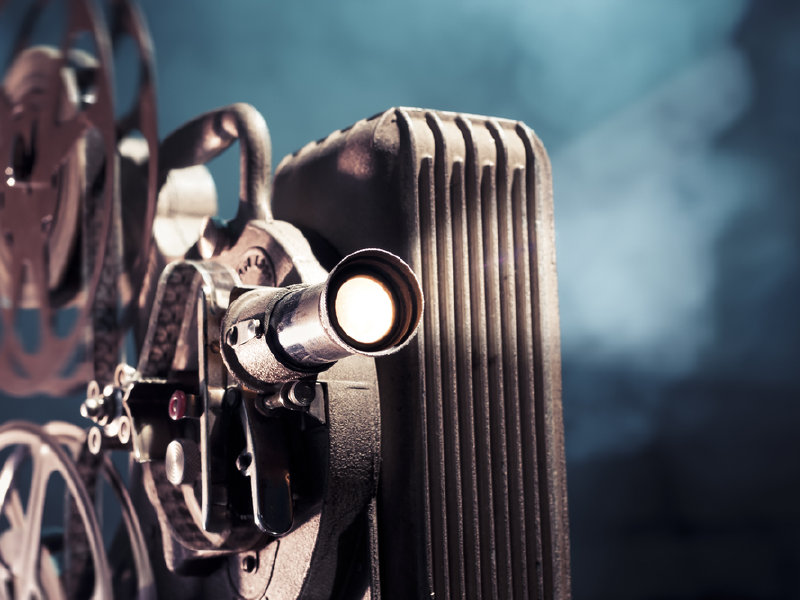 Classic and recent films offer entertainment, great stories
One thing about the movie theater is that the venue itself provides the opportunity for a collective viewing experience unlike anything else.
Many entertainment lovers may attempt to build a home theater, and it can be nice and fulfilling -- that's why I enjoy writing Blu-ray reviews and talk about some of the most viewed shows on television. But to appreciate a full media experience of sights, smells and sounds … we need to get out of the house once in a while.
With that in mind, Milwaukee-based Marcus Theatres has created the Theatre Entertainment Network that offers viewing alternatives from the main box office regulars we have come to expect.
Classical art showcases, and Oscar-nominated films dominate the schedule for this first month of 2014. At the core of each of these is a great story.
Here's a list of the performances and classic movies Marcus has scheduled for January at 29 participating cinemas.
For details on show times and ticket prices, visit theatreentertainmentnetwork.com.
Jan. 13-16: "An American in Paris" (1951)
"The 1951 musical stars Gene Kelly as American World War II veteran Jerry Mulligan as an exuberant expatriate in Paris. Trying to make it as a painter, Jerry is soon "discovered" by an influential heiress with an interest in more than Jerry's art. Oblivious to her feelings, Jerry falls in love with Lise (Leslie Caron), a woman engaged to his friend. This lavish musical won the Best Picture Oscar in 1951 with its straightforward story, gorgeous dance sequences and beautiful, frequently melancholic Gershwin score."
Jan. 13-16: "Out of Africa" (1985)
"The film is a study of the life of Danish noblewoman Karen Blixen, from her marriage and departure for Kenya in 1913, until her return to Denmark 18 years later. While struggling to maintain a coffee plantation through imminent disaster, striving to improve relations with local natives, civil unrest and a cheating husband, Karen turns to Denys Finch-Hatton, a noted hunter and adventurer, for friendship. Giving way to love, Karen's feelings are not reciprocated and through a series of life events, she realizes that her time in Africa is over. Starring Robert Redford and Meryl Streep, the film won seven Academy Awards, including Best Picture and Best Director (Sydney Pollack). "
Jan. 13-16: "Gladiator" (2000)
"Following the decisive victory of a long war on the Roman frontier, loyal Roman general Maximus Decimus Meridius has fallen into favor by the Roman emperor, Marcus Aurelius. Old and dying, the emperor names Maximus as his successor to the throne, despite his son Commodus' right to rule. Once told, Commodus kills his father, stakes his claim to the throne and orders the death of Maximus and his family. Betrayed by the young and ambitious Caesar, Maximus survives but is soon sold into slavery and forced to fight as a gladiator. Winning the adoration of fans along the way, he makes his way to the Colosseum where he intends to exact his revenge on Commodus. Starring Russell Crowe and Joaquin Phoenix, the film won five Oscars, including Best Picture and Best Actor in a Leading Role."
Jan. 14: Bolshoi Ballet: "Spartacus"
"Captured by the Roman army, Spartacus and Phrygia are condemned to slavery. After becoming a gladiator, Spartacus foments a legendary rebellion. This grandiose epic is one Khachaturian's most famous works, featuring the ever-popular Adagio and has been considered one of the greatest ballets in the Bolshoi repertoire since the 1960s. Yuri Grigorovich's powerful and athletic production with its spectacular choreography and scenery remains the most critically acclaimed version of all."
Jan. 20-23: "Gigi" (1958)
"In this delightful turn-of-the 20th century Cinderella story, Gigi is a youthful courtesan-in-training enjoying a platonic friendship with a rich playboy, Gaston. As their unlikely love blossoms, Gigi must come to grips with her fate and Gaston must decide if he's able to give her everything she wants, and more. Based on the 1944 novella by Colette, the film won nine Academy Awards including Best Picture and Best Director (Vincente Minnelli). Starring Leslie Caron as Gigi and Louis Jourdan as Gaston."
Jan. 20-Jan. 23: "Driving Miss Daisy" (1989)
"When wealthy Miss Daisy (Jessica Tandy), a 72-year old white Jewish widowed schoolteacher from Atlanta, Georgia, wrecks her car, her son (Dan Aykroyd) hires Hoke Coleburn (Morgan Freeman) to be her driver. Initially rejecting the arrangement, Miss Daisy eventually relents and the two develop an unlikely long-lasting friendship. Exposing the racism and prejudice that permeated American society at the time, the film takes place during a time of radical change. The film won four Academy Awards, including Best Picture and Best Actress."
Jan. 20-Jan. 23: "A Beautiful Mind" (2002)
"Based on the life of John Nash, a Nobel Laureate in Economics, the film begins in the early years of the young prodigy. A mathematical genius, Nash finds himself on a harrowing journey of self-discovery as he struggles to decipher what is real and what is not. Further spiraling, Nash's paranoid schizophrenia causes him to endure extreme delusional episodes that threaten to splinter the lives of his family. Starring Russell Crowe, Ed Harris, Jennifer Connelly and Paul Bettany, the film won four Oscars, including Best Picture, Best Supporting Actress and Best Director (Ron Howard)."
Jan. 27-30: "The Sting" (1975)
Johnny Hooker (Robert Redford) and Henry Gondorff (Paul Newman) are two professional grifters who assemble a gang of fellow con artists in an elaborate "sting" to destroy murderous mob boss, Doyle Lonnegan (Robert Shaw). Twists and surprises follow Hooker and Gondorff as they quickly realize that you can't cheat an honest man and that you shouldn't accept anything at face value. The film picked up seven Academy Awards, including Best Picture and Best Director (George Roy Hill)."
Jan. 27-30: "Schindler's List" (1993)
"The film presents the indelible true story of the enigmatic Oskar Schindler, a Nazi Czech businessman, womanizer and war profiteer who lost his fortune, but saved the lives of 1,100 mostly Polish-Jewish refugees during the Holocaust by employing them in his factories. It is the triumph of one man who made a difference, and the drama of those who survived one of the darkest chapters in human history because of what he did. The film is a testament to the good in all of us and the power of human compassion. Directed by Steven Spielberg, the film, which won seven Academy Awards, stars Liam Neeson as Schindler."
The proceeds from all showings of "Schindler's List" will benefit the USC Shoah Foundation.
Jan. 27-30: "The Departed" (2006)
"Against the backdrop of organized crime in South Boston, Colin Sullivan (Matt Damon) is recruited by Irish mob boss Frank Costello (Jack Nicholson) who trains him to become a mole inside the Massachusetts State Police. Meanwhile, Billy Costigan (Leonardo DiCaprio) is pulled from the police academy and asked by Captain Queenan (Martin Sheen) and Staff Sergeant Dignam (Mark Wahlberg) to go undercover and infiltrate Costello's crew. While Billy quickly gains Costello's confidence, Colin struggles to maintain a clean image. As each man becomes deeply consumed by his double life, it soon becomes clear to both the mob and the police that there's a mole in their midst and Billy and Colin are suddenly in danger of being caught and exposed to the enemy, and each other. Directed by Martin Scorsese, the film won four Oscars for Best Picture, Best Director, Best Adapted Screenplay and Best Film Editing."
Jan. 28: Bolshoi Ballet: "Sleeping Beauty"
"Cursed at birth by the evil fairy Carabosse, Princess Aurora descends into a deep slumber on the day of her 16th birthday. Only the kiss of a prince will awaken her. With glorious music by Tchaikovsky, based on Charles Perrault's classic fairy tale, Sleeping Beauty has been hugely successful since its premiere in 1890. Marius Petipa's masterpiece is one of the most popular and accomplished choreographic works in the classical repertoire. The new version by Yuri Grigorovich will captivate fairy-tale lovers and the whole family during the holiday season."
Facebook Comments
Disclaimer: Please note that Facebook comments are posted through Facebook and cannot be approved, edited or declined by OnMilwaukee.com. The opinions expressed in Facebook comments do not necessarily reflect those of OnMilwaukee.com or its staff.