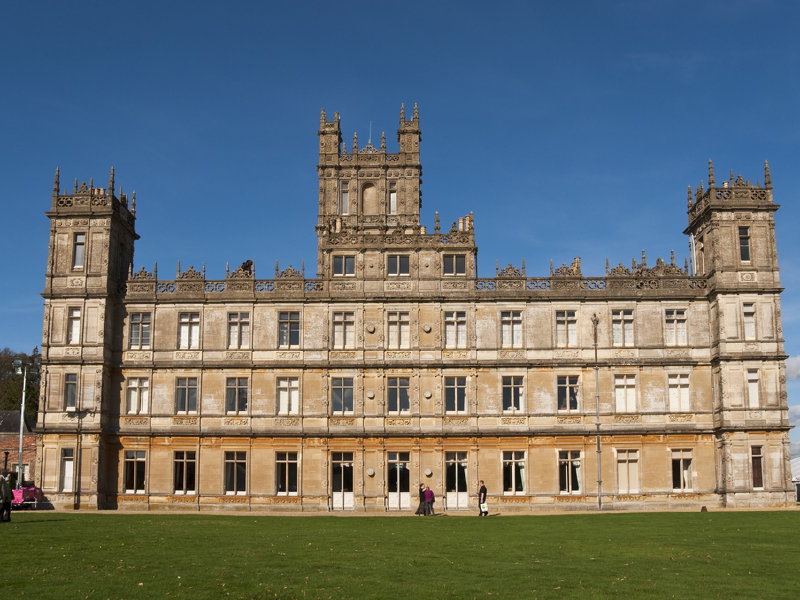 Three things to check out on TV this January
As we sit with a mix of warmer days and the impeding knowledge that it will get cooler outside before it gets warmer again, I say get out there and enjoy it.
Get your DVRs or VCRs (not sure how many of you still use them, but I'm sure it's probably more than four and you know who you are) ready and make sure not to miss these top three things to watch in January.
Don't be confused with a top list of shows to watch this season, what I offer here isn't that. However, I think these three will be worth the time taking a chance to see if you will like it:
No. 3: "Downton Abbey" – Sunday nights on PBS
We find a family dealing with high-end drama after World War I in this third season of ITV's drama as part of "Masterpiece Theater."
I'm not a huge fan of prime-time soap operas, which seems to describe this show, but I am a fan of good writing and great character development. This show has the latter in spades. "Downton Abbey" isn't meant for everyone, that's for certain. However, this show has found a solid following among people in the PBS core demographic, as well as others who just enjoy intrigue and drama within an era of historical significance.
No. 2: "The Following" – Monday, Jan. 21 on Fox
You can count this as being influenced by watching "X-Men First Class" this past week, but from everything I'm reading, the new show featuring Kevin Bacon seems worth checking out.
If a serial killer started a cult of followers and wreaked havoc on society, it will take this crack team from the FBI to track them down and stop the killing. Let's see if this mystery procedural will follow the cop show formula or make its own path.
No. 1: "The Americans" – Wednesday, Jan. 30 on FX
Not sure if you ever were a fan of "Felicity," but you get a chance to see Keri Russell pretend to be in a marriage to be in a sleeper cell. The situation is set in the suburbs in 1981, at the beginning of the Ronald Reagan era and the height of the cold war against Russia. The creator behind the show is a former CIA agent, so I'd expect some of this fictionalization to have some truth behind some of the core plot points.
SUPER BOWL: When CBS airs the Super Bowl on Feb. 3, it will be capping off more than seven hours of pre-game coverage on the network and more than 50 hours of coverage on its cable sports channel. Jim Nantz and Phil Simms will be the main par for the play-by-play during the game, as Nantz marks his third time as being the main person behind the mic.
Right now, the kickoff is set for around 5:30 p.m. on WDJT-TV Ch. 58.
SPEAKING OF SUPER: It kind of is sports coverage, and kind of isn't. At noon on Super Bowl Sunday, CBS will be offering a special highlighting host city New Orleans before the big game. Musician, composer and bandleader Wynton Marsalis will host the music-filled special "New Orleans: Let The Good Times Roll."
RATINGS: Although it ranked as the worst debut in the franchise, Monday's premier of "The Bachelor" pulled in 6.8 million viewers. Sean Lowe met 26 women who will be competing for his attention over the course of the season, including three Ashleys (who each spell the name a little differently).
Talkbacks
AndrewJ | Jan. 10, 2013 at 8:25 a.m. (report)
Great call on Justified. Been watching it since the beginning and it gets better every season. The premiere last night was excellent. I might now be swayed to try The Americans. I had decided to opt out because something just didn't click for me. Historically FX produces excellent programming: The Shield, Terriers, Justified, American Horror Story, Sons of Anarchy, Louie... all are/were above average if not must watch series. So I wouldn't be shocked if it's really good.
SteveKabelowsky | Jan. 9, 2013 at 3:13 p.m. (report)
PMD, good call. "Justified" is a great show. What I've seen from writers who have been given advanced screeners, is that this season is the best so far.
PMD | Jan. 9, 2013 at 1:52 p.m. (report)
Or you could watch Justified, easily one of the best shows on television (much better than overpraised shows like Homeland and Mad Men). The Following's first two episodes are pretty good. Unsettling and suspenseful.
Facebook Comments
Disclaimer: Please note that Facebook comments are posted through Facebook and cannot be approved, edited or declined by OnMilwaukee.com. The opinions expressed in Facebook comments do not necessarily reflect those of OnMilwaukee.com or its staff.