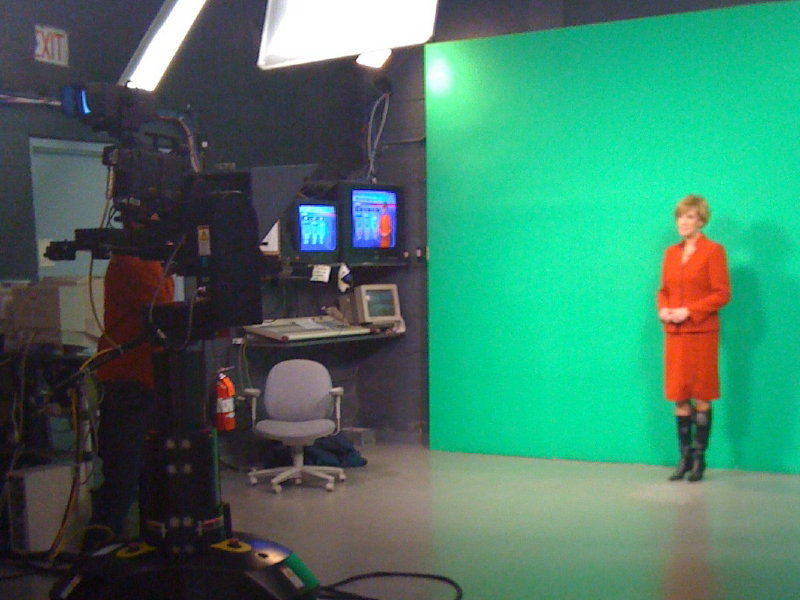 On Media: Channel 12 looks at a day in our lives
Channel 12 is undertaking what could be an interesting Internet experiment this week, trying to create a huge digital photo album of life in southeast Wisconsin on Feb. 12, 2010.
"We're always looking for ways to be more interactive with the community," said Steve Kabelowsky, digital executive producer at Milwaukee's ABC affiliate.
And after seeing a similar project by a sister station, WMUR-TV in Manchester, N.H., "I thought, 'Wouldn't it be great to get a slice of life here in southeast Wisconsin?'"
"That's what we're really trying to go for," he said of the project, dubbed "A Day in the Life."
"We just want it on one day," he explained. "It can be siting in front of the TV with the family, it's making your commute to work. Just your everyday activities."
Why Friday? Well, it is the 12th and this is Channel 12. But Kabelowsky sees Fridays as a perfect bridge between the work week and the weekend, offering a wider range of photo possibilities.
The effort is by no means limited to expert photographers. As Kabelowsky puts it, "anybody can pick up a digital camera these days, a cell phone. Just take a photo with that cell phone and send it in."
Kabelowsky is looking for video contributions, as well as still photos.
While the photos have to be snapped sometime on Friday, you have until mid-week to submit them.
Photos are being sought in several categories: families, landscapes, at work, community, pets, and sports. If you want to participate, you have to register at Channel 12's u Local web page.
The photos will be posted at Channel 12's Web site and could end up as part of a Channel 12 news report on the project airing Feb. 19.
Mancow gets the ax: Chicago's WLS-AM (890) has axed shock jock Erich "Mancow" Muller from its 9 to 11 am. shift. Muller's nationally syndicated morning show had a three-year run on WLUM-FM (102.1).
On TV: Kenosha-born Tony Mantuano, executive chef of Chicago's Spiaggia restaurant, is on the list of competitors in the second season of "Top Chef Masters," which starts April 7 at 10 p.m.
Continuing that story of a possible "Laverne & Shirley" movie, creator Garry Marshall tells "Extra" that he's working on getting Jennifer Garner and Jessica Biel in the title roles as a pair of Milwaukee gals. Originals Penny (Garry's sister) Marshall and Cindy Williams could have cameos.
Not everybody was watching the game on Sunday. Milwaukee Public TV's Super Bowl Sunday pledge drive tripled last year's numbers. The event pulled in $21,085 from a little more than twice the donors as 2009. Number one in pledges was "Big Band Years," which pulled in $9735 from 54 donors.
The Hollywood Reporter's Live Feed blog goes back to a story that's been floating around for a half-century that a 1957 airing of "Cinderella" starring Julie Andrews pulled in 107 million people, which would beat Sunday's Super Bowl. The story combines Nielsen's household rating with another company's estimate that the average house had 4.4 viewers watched that CBS broadcast. The Live Feed terms the estimate a "fairy tale."
Ellen DeGeneres has signed on to keep doing her daily talk show through the 2013-14 season. Her show airs at 2 p.m. weekdays on Channel 58.
Not your father's Snoopy: ABC aired "A Charlie Brown Valentine" Wednesday night, prompting Jimmy Kimmel to have some fun with the Peanuts gang.
Talkbacks
devidia | Feb. 11, 2010 at 4:25 p.m. (report)
I don't suppose I mind a "Laverne & Shirley" movie being made even though I was never a big fan of the TV show. I just hope it doesn't fall victim to the "Bad TV Show Remake" syndrome a la the awful "Wild Wild West" movie with Will Smith. Truly terrible.
Facebook Comments
Disclaimer: Please note that Facebook comments are posted through Facebook and cannot be approved, edited or declined by OnMilwaukee.com. The opinions expressed in Facebook comments do not necessarily reflect those of OnMilwaukee.com or its staff.