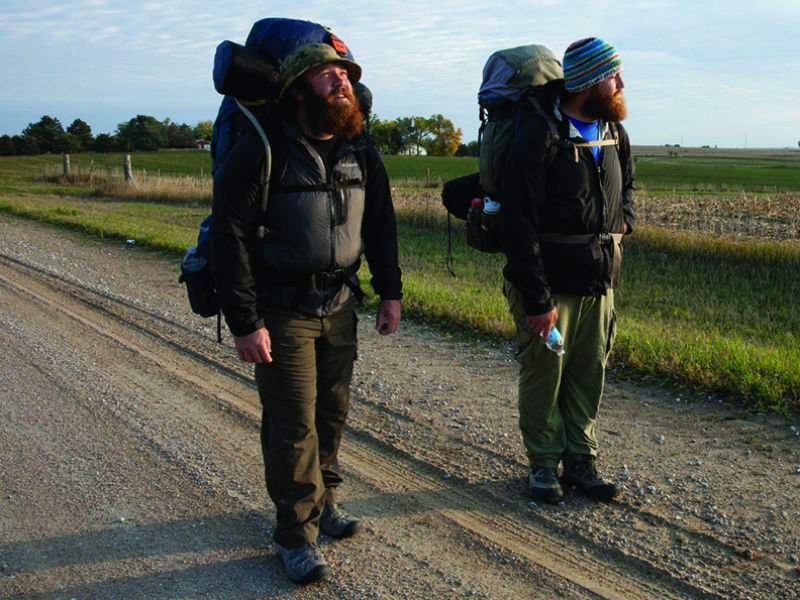 "Almost Sunrise" director talks bringing vets' trek back home to the big screen
On Aug. 28, 2013, starting at the Milwaukee County War Memorial, Iraq War veterans Anthony Anderson and Tom Voss took the first steps of an incredible walk of physical endurance and emotional healing. A little over five months, several pairs of shoes, two time zones and 2,700 miles later, the two men's quest achieved its final steps, arriving at their California destination with a nation cheering them on. But while their trek was finished, their own personal journeys – for their own healing and for the healing of others – were not.
Saturday night, their story will return to the city where it started with "Almost Sunrise," Michael Collins' documentary chronicle of their quest – both physical and emotional, at home and on the road. The movie serves as the centerpiece selection for this year's Milwaukee Film Festival, screening Saturday night at 7 p.m. at the Oriental Theatre, with a bonus encore the following morning at 10:30 a.m. – complete with a pre-film walk with some of the film's subjects, a post-screening panel on the concept of moral injury and, on Monday, a meditation session led by Voss.
Before all of that, however, we chatted with the film's director about the struggles of capturing the constantly moving and evolving journey on the road, capturing the internal story without settling on stereotypes and bringing the walk to the place it began.
OnMilwaukee: When did you first hear about Tom and Anthony's story?
Michael Collins: I heard about their story because they posted a video on IndieGogo. They were trying to raise $5,000 to cover their expenses when they walked across the country. I think that was somewhere around summer of 2013. I saw that video, and I had met Anthony once before when I was doing some volunteer work for a veterans organization. He was one of the vets that I had interviewed as a part of a video I was making, so I recognized him.
Basically, I was travelling around the country back in late 2012, doing some volunteer work, and I started learning about all the issues that veterans were facing and what their families were facing. That was when I just had the idea, "OK, I have to make my next film about veterans issues." And it was just good luck that I came across this IndieGogo campaign, because I wanted it to be a story. I want to make films that are character-driven. I didn't want to make it just about an issue. And when I saw that Anthony and Tom were going to walk across the country to heal themselves, but also to call attention to these larger issues, I thought, "Wow, this could sort of be the perfect vehicle to frame a whole movie around." And that's when I reached out to them.
How did you want to approach the story and the way the story evolved – especially with obviously having to go on the road?
For me, I always feel like the films that I love the most are when I can connect with character or characters – when there really is someone whose shoes you can literally walk in, someone who has an experience in life is different from yours that you have access to. I wanted to get to know these guys and their families as much as possible to understand where they were starting from.
It was very clear to me, from the beginning, that this was not just a physical journey, that this was a journey of healing, an emotional journey. So it was: How can I best establish that on screen, establish that space both physically and emotionally, right from the beginning. So it was important for me to spend some time with them before they started walking to learn a little bit about their backstory and then just to be present, to be there as an observer as they went on this journey – and to see where it took them.
How long did you end up filming in Wisconsin?
Before they started, we went out there a couple of times over the course of a month. But they were on the road for about five and a half months, and we were filming in Milwaukee the whole time. We would go out with them and meet them wherever they were for a week or ten days at a time, and then I would go to Milwaukee and check in with their families. Because they were also on a journey; even though it was Tom and Anthony who were walking, I wanted to make sure to capture what was going on at home.
So we were back and forth, between the road and Milwaukee, for that six-month period that they walked, but then in addition to that, I came back and checked in with them several more times over the next year and a half just to follow up. So the whole production, we were shooting for about a two-year period where we were always checking in.
What were the logistics of filming someone constantly on the move on the road?
At the time, I was based out of New York City, and so was my crew. We had to go back home, because we had to drop the footage, and we had to recharge ourselves – and also we didn't have a huge budget, so we couldn't stay out with them the whole time.
So logistically, we would just go back, try to capture all the footage, organize it on hard drives, make copies of it and, in that time, be working on the next shoot, planning it. We're shooting sort of a moving target. These guys are constantly on the move. We don't know how fast they're going to be going. We're trying to plan – "OK, if we fly into this city, is that going to be where they are?" – but we couldn't even plan that far in advance because they might get held up somewhere because of weather for an extra week, or they might move really fast. We very much had to play it by ear. We would have an idea of where our next shoot was going to be – and from a filmmaking point of view, if we knew they were going to be near some beautiful landscapes or some national park or something that would be cinematic, I would want to plan the next trip around that.
But unfortunately, we just didn't want to interfere with the walk. We weren't going to let our production dictate where they were or where we were going to meet them. It was really up to us to find out where they were going to be and get there. So we'd be flying into one airport, renting a car, following them for a week and then flying out of somewhere else – and kind of winging it along the way. Sometimes we'd be camping – which, with all of this equipment, was not always the best thing to do, because you need to go back to hotels and recharge batteries and do those things. So we figured out ways to rig up our minivan with chargers for all our batteries and that kind of stuff. So it was really interesting. It was challenging, but it was kind of fun. It kept it interesting.
Were there any moments where you'd come back to them, and they'd have had a breakthrough moment while you were gone?
Oh yeah. All the time. It would drive my crazy. Because you can't be with them the whole time – and again, I didn't want to be with them the whole time because I was very conscious about them having this experience that they set out to have, which I didn't want to effect too much by always just being present.
But for sure, there would be times where we would be filming for eight hours, and we would take a break and say, "Listen, we need to go get some lunch; we're going to take a half-hour and go over here." We'd go, and the second we got out of range, they would text and say, "Oh my God, you can't believe what just happened! Someone just pulled over, and they gave us this and said this," and they would have this incredible interaction – off camera. For sure it happened, and it's just a part of the process with this. The first few times, I'd get really frustrated and say I'm going to stay with them every minute that I'm here. But you can't; logistically, you just can't always be rolling.
Obviously, this topic is very sensitive – emotionally and politically. What was something you wanted to be careful of with telling this story?
I think, for us, it was to not perpetuate the stereotypes of the homecoming hero or the broken soldier who's a ticking time bomb. We wanted to represent these guys as the extremely complex individuals that they are and that every soldier is and that every military family is. These stereotypes just aren't true. So it was really making sure that we didn't play into that and that we were able to represent them accurately.
And also, we wanted it to be hopeful. We wanted it to be a story about looking forward. We didn't want it to be another film about what's wrong. Of course that's a part of it; we have to go through the darkness in order to get to the light. But for me, it was important that there was light, that this wasn't just a story that says, "Hey, this is what happened. This is how people break when you send them to war. This is everything wrong with the system." I think we understand at this point where we've gone wrong, and for me, it was about making a film that was hopeful, that was pointing toward solutions, that was inspiring. I always find that the films that move me to take action at the end are not the ones that leave me feeling devastated or hopeless. They're the ones that, yes, show me an issue that needs some attention, but also leaves you in a place where you feel inspired, uplifted and ready to move.
What do you hope people take away from "Almost Sunrise"?
I hope that they walk out with the feeling of connectedness if they're a civilian to the veteran community, to the military community – and the same in reverse. I hope that the veterans and military families that they're more connected to the rest of us. I would love for people to see all of these issues that veterans are facing as our responsibility, not as their responsibility, and to understand that what they've done, the jobs that they do, they're doing for us in our name, things that need to be done that we're not signing up for. It's an extraordinary service that they provide, extraordinary sacrifice, and the civilian population, we should understand that a little bit more. We should understand the depths and the gravity of the sacrifice that these individuals – and their families – are going through.
And I want there to be a space where we can have conversation. There's this divide that exists between the military and the civilian population, and I'm really excited just to create a space where people feel comfortable reaching out through that and talking to them and not feeling nervous – and where vets can also feel more comfortable sharing some of their story with people, if they want to. It's always about creating some awareness on an intellectual level about what's going on, but the most important thing for me is creating a connection on a heart level and understanding on a heart level.
What's it like bringing this story back to Milwaukee, back to the city it started?
I'll be honest with you: It's the most exciting thing that we could possibly be doing with this show. We went to so many communities, but we were only there for one day or two days because the guys were constantly moving. So to bring it back to Milwaukee – where they're from, where it all started, where we spent so much time – I mean, this is a film about individuals, yes, but it's also about places. It's about America, and it's about these guys from Milwaukee, so the city itself … it just means everything to us to bring it back.
Facebook Comments
Disclaimer: Please note that Facebook comments are posted through Facebook and cannot be approved, edited or declined by OnMilwaukee.com. The opinions expressed in Facebook comments do not necessarily reflect those of OnMilwaukee.com or its staff.