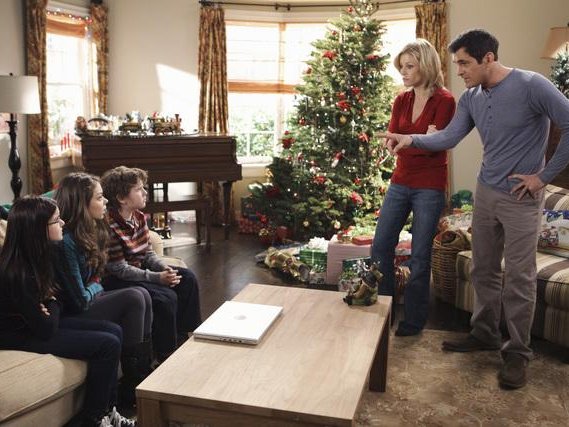 OnMedia: Some last-minute TV choices
We use television in different ways. Sometimes, it's most valuable as a backdrop to our chores.
Especially on a day like today, as we check the final preparations for the holiday off the list, TV can help move us through the day.
The big Christmas Eve TV picks, of course, are NBC's second seasonal airing of "It's a Wonderful Life" on Channel 4 at 7 p.m, and the "Christmas Story" marathon starting at 7 on TBS.
AMC has added a new marathon of 1952's "White Christmas," which began at 8 this morning and stretches until 3:15 a.m.
But here are two lesser picks to serve as a backdrop to your final holiday preparations, or a way to take a half-hour break in advance of tomorrow's Christmas crush.
Among my favorite TV sitcoms is the 1960 Christmas episode of "The Andy Griffith Show, airing at 7:30 tonight on TV Land. It repeats at 11 a.m. Friday.
Mayberry's version of "A Christmas Carol" features Elinor Donahue as Ellie Walker, the best of Andy's many women. Craggy character actor Will Wright does a touching turn as curmudgeonly Ben Weaver.
Just a couple weeks after its original airing, ABC is rerunning the Christmas episode of "Modern Family" at 8 p.m. on Channel 12.
The fine new sitcom blends the Christmas stories of its various families, with my favorite being traditionalist Jay (Ed O'Neill) Pritchett coming to terms with the new traditions being formed by his Colombian wife and step-son.
Those two episodes of two very funny shows span a half-century of television. But both share a warmth and humanity that's often lacking in sitcoms. It's fitting that they run back-to-back on Christmas Eve.
Some Christmas morning warmth: If you're looking for something to accompany the opening of all those presents on Christmas morning, WGN-TV is firing up the "Yule Log" from 7 to 10 a.m.
Or you could just put this on your laptop:
Facebook Comments
Disclaimer: Please note that Facebook comments are posted through Facebook and cannot be approved, edited or declined by OnMilwaukee.com. The opinions expressed in Facebook comments do not necessarily reflect those of OnMilwaukee.com or its staff.