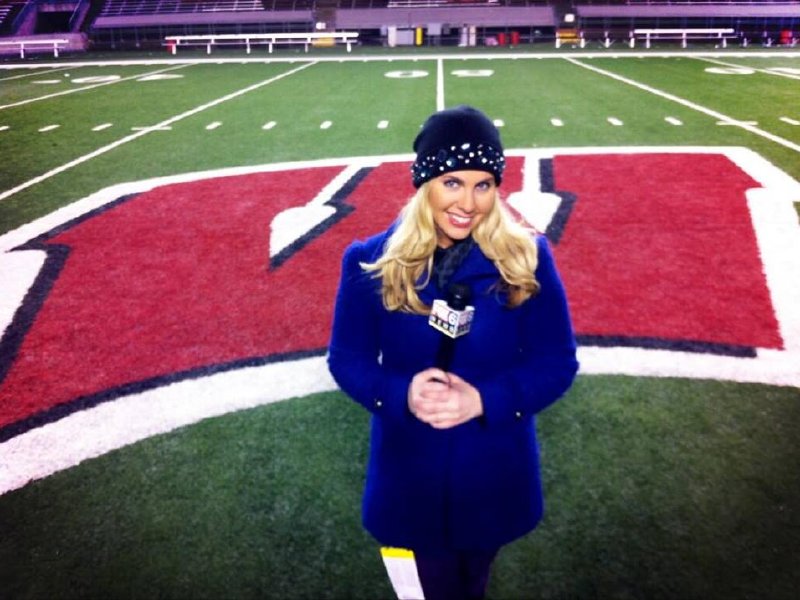 FOX6 sports anchor Courtney King moves on
You may have noticed someone has been missing from the WITI FOX6 sports broadcast, and now Courtney King confirms that she and the station have mutually parted ways.
"I was treated very well," King told OnMilwaukee.com from Miami. "I was treated with respect with my departure, which I appreciate very much. It's not always like that in this business for everyone. Sometimes things in life just don't work out. You want them to work out and sometimes they're just not."
King's trip to Miami was pre-planned, but those who follow her on Twitter may have noticed her posts from various parts of the country as she embarked on a 17-state, 18-day road trip following her departure from the station in early June.
"As much as it really hurts to not be in the Brewers press box anymore or out on the field or on the Sports Blitz, it really has been the best thing that has ever happened to me," she said. "It's made me realize what I want in my career and also out of life. After FOX6 and I parted ways I called a friend and said, 'Let's get out of Wisconsin' and I've been on the road pretty much ever since.
"I've appreciated this kind of time to reflect and see the country. In this business we sacrifice so much. We work holidays and weekends and we're inside during eth summer, so for me to have these past few weeks juts traveling the country and learning that people do fun stuff on the weekends was important for me to have that. I feel ready and refreshed to move on and go somewhere else and continue my career."
Though in Milwaukee for less than a year, the 25-year-old quickly ingratiated herself into the market alongside veteran anchors Tom Pipines and Tim Van Vooren, leading to many messages on social media asking her where she's been for the better part of the last month.
"I want to say how great the viewers have been as well, because I think people are starting to catch on," she said. "I really, really, really appreciate the support. And I appreciate everyone's support over the last year as well. So many people, even other media people, went out of their way to welcome me and help me. That's why it's that bittersweet feeling because it was home to me and such a wonderful place to be but it's time to move on. It is hard, but it will always be a wonderful time in my life. I'm very fortunate how it played out."
A native of the Chicago area who also worked in Indiana, King says she's looking forward to "leaving the nest of the Midwest" while also looking for more field-focused work.
She felt she was improving behind the desk at FOX6, but conceded it may have been "too little, too late" in that regard and that, in all honesty, such a role may be been too much too soon for a then 24-year-old. But it also clarified for her that her comfort zone was in the field.
"It very much a big internal dilemma," she said. "I was fighting so much to stay with (the team at FOX6) but it really had nothing to do with them – it just had to do with me.
"It just wasn't working out, I think the way we wanted it to."
King hopes to be back in front of a camera reporting sports by late summer, and she's open to all possibilities in the industry, including web-only and team-based reporting.
"I really do value the time there and I really learned a lot and I learned a lot about myself," she said. "Anyone that knows me knows I'm a little bit of a chatterbox and it's very much my personality to be talking and out in the field. I don't want to say that I don't like anchoring sports because when you do a good show, you feel awesome, but it is very much my personality to be on the field, at the games, and talking to someone. Moving forward, I don't want to say I don't want to anchor sports, but I'd love the field opportunities because it's what I enjoy."
datayezfdcveudcwtyawteud
Facebook Comments
Disclaimer: Please note that Facebook comments are posted through Facebook and cannot be approved, edited or declined by OnMilwaukee.com. The opinions expressed in Facebook comments do not necessarily reflect those of OnMilwaukee.com or its staff.