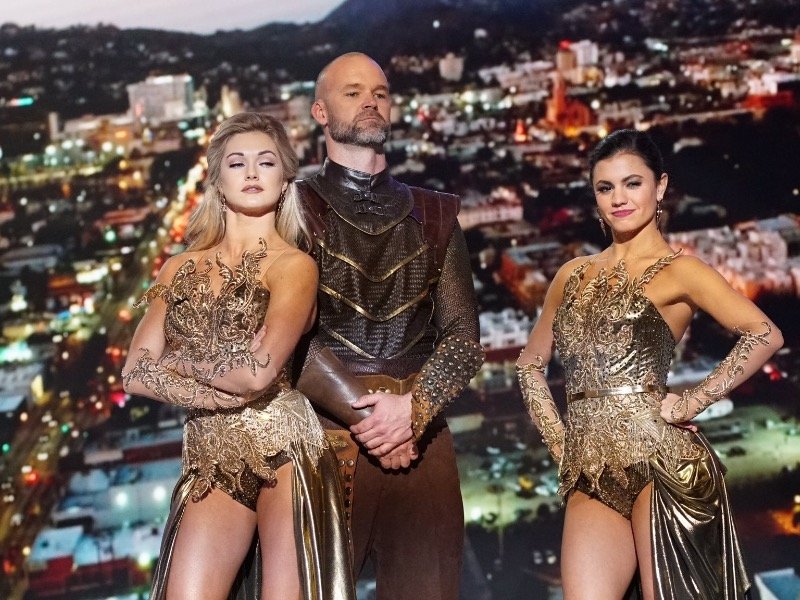 "Dancing with the Stars" recap: The final four is set
After weeks of impressively hanging on, Bing Bong Bonner Bolton was finally bucked off of "Dancing with the Stars." And even if you wanted to feel pity for the bull rider, Monday night's episode provided little to support the stiff stomper's case. He had what is often referred to in the business as a "bad night" – even without judge Len Goodman delivering a verbal chair shot to his back.
Yes, Len came off a bit harsh in his critique of Bolton. I believe he meant to say, "You've gone further than your abilities can take you," but instead said something more like, "YOU SHOULDN'T BE HERE," but all British and snobby and with tea and crumpets. And then somehow everything became MY fault as a voting American viewer! Whatever, Len; you guys voted for Brexit.
That being said ... Len wasn't wrong.
Bonner didn't belong on the same stage as everyone else last night – even David Ross. He might have been able to hit the poses and positions of the Argentine tango, but unfortunately this isn't a mannequin competition. As Bruno pointed out, there was no fluidity, no smoothness to the movements, and his steps, as always, looked stiff and clompy. And the less said about his late-night Cinemax-inspired trio dance, the better. A dancer with more charisma, swagger and smooth abilities might've been able to pull that story off – and might've gotten some actual dancing to do. Instead, I got sleazy flashbacks to the first episode when Bonner's hand got caught venturing where hands should not venture without permission.
The lone highlight of his night? A dance-free cameo at the end of Normani's number as her studly dream country dude. So maybe Monday night wasn't a complete loss for Bacon Butterburger (I will miss that running joke even if you won't).
And with that, "Dancing with the Stars" has its final four for this season, an impressive bunch of dancers (and also David Ross). Who's got the upper hand going into the show's final stretch? Who's in trouble? The judges had their say, but here's our take.
4. David Ross
Dances: Waltz and paso doble
Judges' score: 36 out of 40; 29 out of 40
Our score: David Ross is inarguably the worst dancer remaining on the show, but after last night, he – with a generous helping hand from partner Lindsay Arnold – also might be the savviest. Every part of that waltz was brilliant – except Ross' stilted footwork, of course, but that's what made the song choice and choreography genius. Instead of being a detriment, it only added to the sweet, previous father/daughter dance vibe of the routine. It played to his strengths – his affable everyman persona – and made his weaknesses an afterthought.
Unfortunately, his all-caps, bold font EPIC paso doble was the complete opposite, forcing the retired catcher to stomp and strain across the stage while keeping a fiery and intense grumpy face that looked like he kept stepping on LEGO pieces. Ross does best when he's light, easygoing and personality-heavy; this "Game of Groans" number was ... not that. Luckily for him, the dance came near the end when things are rushing, audience attention is waning and people just want results already, so maybe this epic fail will be forgotten.
As for another plus: Nobody farted in his face this week!
3. Rashad Jennings
Dances: Jive and Argentine tango
Judges' score: 36 out of 40; 39 out of 40
Our score: The football free agent might have peaked a few weeks back with his breathtaking contemporary number, but he's still churning out strong performances. His jive was a good bit of fun, an electric jolt of spirit and spunky energy that it feels like we haven't seen since his opening-week number. The footwork, as Len kept nitpicking, could use some work, but Jennings is a smooth enough dancer and performer that, to an untrained eye – hello! – he pulls it off.
That was even more the case with his trio Argentine tango, which managed to nail the sexy, steamy love triangle storyline that Bolton's routine so uncomfortably biffed on. Yes, again, the footwork could use a touch-up, but it was so good – so strong and nimble on those major lifts! – I can forgive both that and even the "menage a Shad" pun.
His competition – whether it's dance skills or fame status – will make it hard for Jennings to pull off the win. But his mirror ball trophy should hopefully come in the form of both the NFL and touring Broadway shows vying to hire him after this.
2. Simone Biles
Dances: Foxtrot and paso doble
Judges' score: 36 out of 40; 36 out of 40
Our score: If you only watched the training videos and behind-the-scenes bits from "Dancing with the Stars," you'd be baffled by the judges' quite harsh criticism of Biles' personality. She's so sweet and delightful in the video packages – and yet, during the dances, they're right: Something doesn't quite click. She's in the dancing uncanny valley. It's more perfection than passion – which makes sense coming from a world of gymnastics that's about physical efficiency more than emotional artistry. "Smiling doesn't win you gold medals," Simone noted during the judges' critiques. True – but we're fighting for a mirror ball, not a gold medal.
If Biles can crack through that wall and give the audience – and the judges – the earnest personality that pops and cracks off the stage, she's got this contest in the bag. And if she doesn't? Well, she'll still probably win. As I've said week in and week out, she's the biggest, most beloved name on the show (only one person has AMERICAN HERO on their resume) and her dances – a slight-but-bright foxtrot and a "Neon Demon"-esque paso doble – were clean and crisply danced. She'll be a deserving winner, but not the most. That title belongs to ...
1. Normani Kordei
Dances: Contemporary and jive
Judges' score: 40 out of 40; 39 out of 40
Our score: Last night brought out all the competitors' truest colors. Strengths were made apparent; flaws, even more so. There was none of the latter to be found, however, with Normani, who's proven over the last few weeks to be the best dancer and the best performer on the show. Her contemporary number was beautiful, her strong movements only surpassed by the strong emotion in her face and in the choreography (which was so good, I still got the story and emotions after missing the video package). A cyber-bullying routine could easily turn into one of those "SNL" high-school-theater skits, but instead it was moving and gorgeous.
She earned her perfect score – and should've earned a perfect night for that flirty, fun jive if Len wasn't such a lump of harrumph. It wouldn't be a proper country hoedown dance vibe if people aren't dancing on tables! Julianne Hough was on point with her overall thought on Normani's night: She showed an entire portfolio of performance ability – sharp and smooth, footwork and feeling.
In other words, she proved she should win.
Facebook Comments
Disclaimer: Please note that Facebook comments are posted through Facebook and cannot be approved, edited or declined by OnMilwaukee.com. The opinions expressed in Facebook comments do not necessarily reflect those of OnMilwaukee.com or its staff.