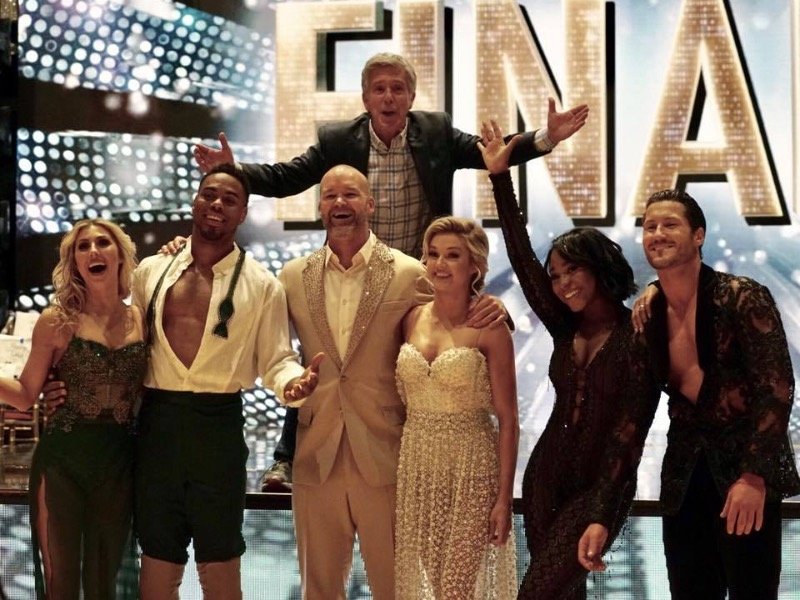 "Dancing with the Stars" recap: A change in the expected champion?
Just when I was feeling comfortable about my pick for this season's winner of "Dancing with the Stars."
After last week's episode – and especially after Simone Biles' surprising elimination – it seemed obvious who the winner should be: Normani Kordei. "Easily the best dancer and best overall performer on the show – and has been for weeks now," said some online pop culture expert who probably felt pretty confident about that statement at the time.
Save for some sort of gigantic nationwide power failure or the literal apocalypse, there was seemingly no way the Fifth Harmony songbird could come up short. She even busted out a weapons-grade charming grandma!
And yet, after part one of the show's two-night season finale (because no reality competition can die quickly), even after weeks of outstanding performances, Normani might've been tripped up right at the finish line. And not by her own feet – though for no lack of trying, thanks to a scary-looking ankle injury that we DEFINITELY DID NOT NEED A SLOW-MOTION CLOSE-UP REPLY OF, ABC! – but by Rashad Jennings and some fabulous final footing.
(PHOTO: Twitter/DancingABC)
It definitely shouldn't be David Ross, who was supposed to wind up in, at best, fourth place and will now hopefully peak at a surprising third. Listen, America, I know he's a fun and sweet dancer. I know he moves on the dance floor like you imagine your dad would – clunky and stiff, but totally full-hearted and into it to the point the flaws make it even more adorable. I know he's taken all sorts of comedic abuse, from a fart to the face to a lemon to the butt and, last night, a quick kick to his Cubbies. And if you live in Chicago or Boston, I know he helped your beloved sports teams not suck anymore.
But you should also know that he's just ... not ... that ... good.
Yes, his Viennese waltz was an improvement upon earlier in the season, and he's always charismatic on the floor, but his footwork was clunky, his knees were stiff and there was no smooth rise and fall. Lindsay and David have savvily dredged out the father-daughter dance a bunch down the home stretch, but by now, it's been seen before. Then his freestyle was a burst of fun that scored a perfect 40 from the judges – because who's gonna give a freestyle routine anything else, really? — but it was the least polished of all the numbers and, frankly, it was a return to the dance-less kitsch of the first episode when we should be able to show off more than that by now.
David's personality is definitely a winner, but if he wins (a tough trick considering he's five solid judge points behind the rest), it'll be almost solely because of that. And the show's called "Dancing with the Stars," not "Being Amiable with the Stars: Sequins Edition."
So that leaves a two-person race between Rashad and Normani. Let the debate begin.
Normani came into the evening hot to trot after weeks of almost perfection – and Monday night was more of the same, even with that ungodly twisted ankle that had me whispering comforting words to my own feeble joints. Still, her sharp and speedy quickstep showed little sign of lagging or limping – and considering her bodysuit costume, we would've seen it. In fact, as the judges pointed out, the only problem was how much we could see thanks to the tight outfit leaving any little gap or gaffe exposed. Lucky for her, there weren't many to find.
Add in a beautiful freestyle number – gracefully choreographed and even more gorgeously danced, with such flowing, confident movement and emotion – and Normani had a champion's evening.
(PHOTO: Twitter/Rashad Jennings)
But then again, so did Rashad, channeling some of his best performances since that all-timer contemporary piece a month ago – and at just the right time. Just ask any ladies who watched his Viennese waltz, which – save for what looked like an odd slip by his partner Emma on a final lift/toss – was a flowing, sensual, swoon-worthy star. I just know I got to take a brief intermission from "Dancing with the Stars" for the Nashville Predators game because all the females in my family needed to watch Rashad smoothly and sexily drag his hand across his chest on repeat like it was the Zapruder film. Even Ol' Man Len had to give him a 10 for that – part of his first perfect score for the night.
The other 40 would come less surprisingly in his freestyle, which already earned the title of best number of the night since it was to the tune of "Uptown Funk." Even if it wasn't scored to one of the decade's best pop songs, however, it was a funky fun way for Jennings to wrap up his "Dancing with the Stars" run, a burst of bright personality and electricity complete with a drumline solo to make the HBOB proud.
So who merits the mirror ball trophy tomorrow night when the results come in? I'll still lock my vote in for Normani; Fifth Harmony fans are a little more ravenous than a guy with no NFL team, and she's been more consistently excellent over this final run than Jennings, who was still getting nitpicked for some of his posturing just last week. But frankly, whoever wins will make for a deserving "Dancing with the Stars" champion.
Unless David Ross wins. That freaking W flag better stand for "womp womp" Tuesday night.
Final standings
Bronze: David Ross (Viennese waltz and freestyle; 33 and 40)
Silver: Rashad Jennings (Viennese waltz and freestyle; 40 and 40)
Mirror ball: Normani Kordei (Quickstep and freestyle: 38 and 40)
Facebook Comments
Disclaimer: Please note that Facebook comments are posted through Facebook and cannot be approved, edited or declined by OnMilwaukee.com. The opinions expressed in Facebook comments do not necessarily reflect those of OnMilwaukee.com or its staff.