"Dancing with the Stars" recap: The first dancer bites the dust
The theme was ballroom on Monday night's episode of "Dancing with the Stars," meaning it was a night of grace, a night of glamour and a night of elegance.
Nah, CUE THE INJURIES AND AWKWARD JOKES!
Just the second week into the contest, and everybody is already getting hurt, from Drew Scott pulling a hammy to Frankie Muniz having a broken back and Vanessa Lachey doing ... something gross and bloody to her big toe. Even Bruno got into the fun by almost wacky-wavy-inflatable-tube-man-ing Len several times during his critique of Lindsey Stirling's routine.
The one who can't feel her legs thanks to a decade of paralysis was somehow seemingly the healthiest dancer out there Monday night. And then there were the askew glances between the judges, whether at one another or at the very excitable audience, and awkward jokes (something about a pinky happened?) that hurt me as a viewer.
At least most of those uncomfortable jokes should be gone now that Barbara Corcoran is gone, the first one voted off this season. There was her odd joke asking Bruno where he's from, then the reoccurring bit involving a love affair with partner Keo that got old REAL fast. Muniz crumpling to the floor in pain during rehearsal? Yeah, that was also me hearing those jokes.
But at least, when it comes to the dance floor, she left on less of a joke of a routine, performing what Len called "a proper recognizable tango." Wow, OK, not exactly a rave there, but hey, progress is progress.
Now, between this season and last with Charo, let's give Keo an actual shot to win this thing with a competent dancer next year, could we, "Dancing with the Stars"?
As for the rest of the dancers, the judges had their say last night, but what did we think of Ballroom Night? Put on your best Mark Ballas face; it's time for our rankings!
Mark Ballas shows off @MarkBallas face! Nobody does it better! @DancingABC #DWTS pic.twitter.com/PLkIEjHbZK

— Good Morning America (@GMA) September 26, 2017
12. Drew Scott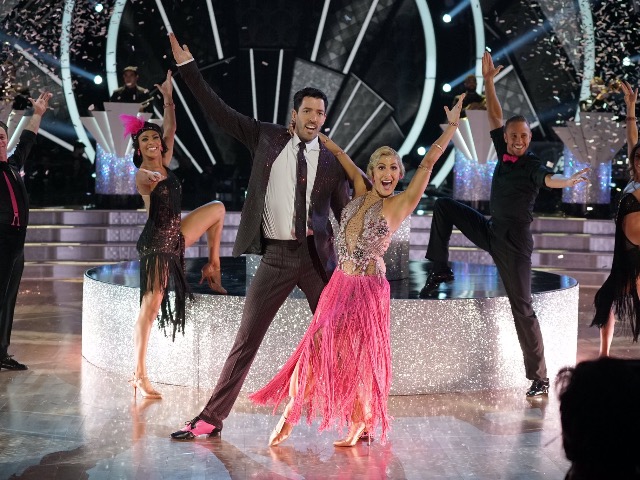 Dance: Quickstep
Judges score: 20 out of 30
Our score: Maybe it was fighting through the snagged hamstring, but the crowd really loved the Property Brother's quickstep, giving him easily one of the most rousing ovations of the night and baffling Len in the process ... and me, for that matter. To my idiot eye, Scott looked like a wooden marionette puppet bouncing across the floor – partly his fault for a lack of control and finesse but also partly just the fault of being a long, lanky dude. It was entertaining – WEE! CONFETTI! PLATFORMS! OTHER BETTER DANCERS! – but when everyone else is already impressing, is entertaining enough?
11. Terrell Owens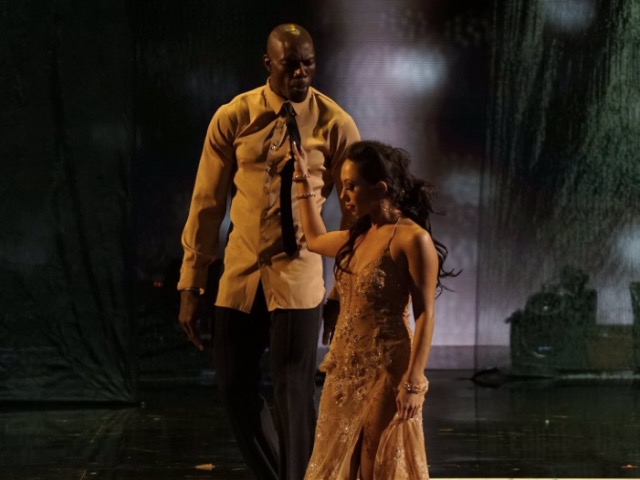 Dance: Foxtrot
Judges score: 20 out of 30
Our score: Now there's the T.O. I remember! The former wide receiver's clip package was filled with complaining: about the judges, about his scores, tossing Barbara under the bus, about Cheryl's teaching. It was like the year 2000 all over again. Now where's Jeff Garcia when you need him!?
Luckily for T.O., his actually dance helped erase a lot of that bickering from audiences' brains. It was certainly better from last week – even if, yeah, the scores were a little harsh – with steamy moves that you just knew Len would hate. And indeed he hated them – but I (and certainly Carrie Ann) enjoyed it. But was it enough to overcome his shortcomings, basement-scraping score and grumpy attitude? Maybe. But the bottom two at best still awaits again.
10. Nick Lachey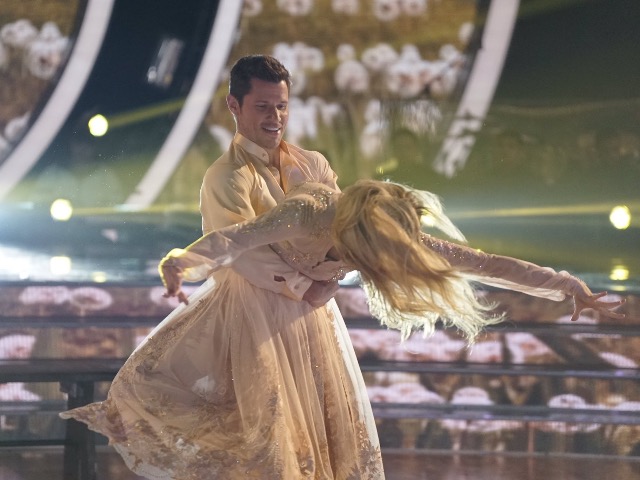 Dance: Foxtrot
Judges score: 19 out of 30
Our score: Despite all of ABC's efforts to make his storyline a star, am I only one who finds Nick Lachey kinda ... boring? Personality-wise, he's just bland, which becomes a major problem when his dancing follows his persona's lead. His foxtrot – danced to "Mandy" by Barry Manilow – was cute enough, but it lacked a smoothness and control, especially when you added a small wardrobe malfunction into the mix that caused some snagged steps. Carrie wanted him stretched out while Len called it fragile. I call it a gentle snore – and a problem for this season's favorite storyline.
9. Derek Fisher
Dance: Foxtrot
Judges score: 19 out of 30
Our score: The former Los Angeles Laker's routine was fine, delightfully colorful and cute if a little soft – too much so for the judges. But forget his dancing: GIMME MORE OF MAMA FISHER! Derek's mom was already an enchantment last week thanks to her reaction to learning her son would soon be hoofing on the show, but this week, she actually got to be on set and even serve as a fourth unofficial judge for his dance. AND SHE'S HARSH! Watch out, Len; she's coming for your job. Overall, the dance was nice, but it's the mom that locks him into another week.
8. Debbie Gibson
Dance: Quickstep
Judges score: 20 out of 30
Our score: Watching Debbie Gibson on the dance floor is giving me flashbacks – no, not to the '80s but to last season and Nancy Kerrigan. Both are solid dancers who are charming and sweet to watch ... but just maybe aren't spectacular enough to make it much further than halfway through the show. That was the thought racing through my head during Gibson's quickstep, a fun number but one lacking the control and precision for Len wanted and lacking much memorable for the audience. But hey, points for a nice performance – and bonus points for saying she wasn't going to use her injury problems as an excuse. SUCK IT UP, CELEBS!
7. Nikki Bella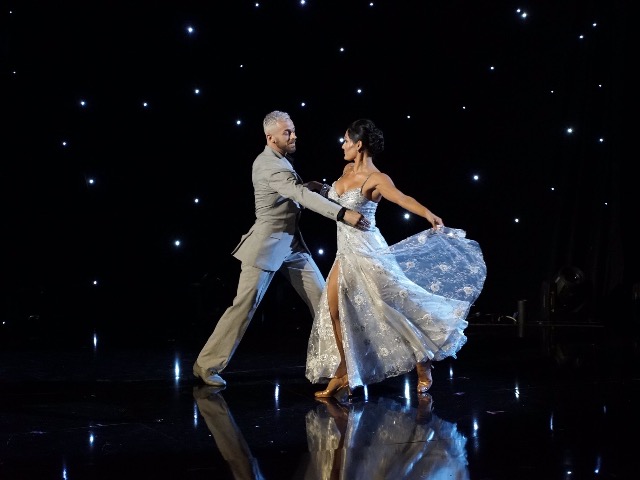 Dance: Waltz
Judges score: 21 out of 30
Our score: Aggressive Nikki Bella turned into graceful Nana Bella for tonight's waltz – to the tune of "Come Away With Me" as sung by ... somebody definitely not as good as Norah Jones – and the roleplay worked. It could've been smoother and you can never be in hold too much for Len, but she's quite impressive for a wrestler. She's scoring maybe a little low right now in my rankings, but between her high-profile personality and solid steps, I could see her as a dark horse finale candidate.
6. Frankie Muniz
Dance: Tango
Judges score: 23 out of 30
Our score: There's something still sweetly childish about Frankie Muniz on "Dancing with the Stars." Even while in his 30s, discussing his broken back, crumpling in pain like somebody twice his age and aggressively dancing a very dramatic tango, he still comes off like an innocent precocious kid. And while that almost certainly didn't help him score roles as he grew up post-"Malcolm in the Middle," I think it's helping him on "Dancing with the Stars" as it makes him very easy to root for.
Also making it easy to cheer him on: his dance moves, which were strikingly precise in last night's routine. I'm already seeing the judges' future complaint that they want to see more smooth soul or personality on the dance floor, but in the meantime, Agent Cody Banks is acing this mission.
5. Sasha Pieterse
Dance: Viennese waltz
Judges score: 23 out of 30
Our score: What's better than one pro teacher guiding your dance moves? Three pro teachers! That's what happened with the "Pretty Little Liars" star this week, as her parents dropped by the rehearsal studio with some words of encouragement – and some actual advise, considering they're expert competition dancers in their own right. Well damn!
As you'd hope, with the help of a barrage of teachers, Sasha improved greatly this week, less dead-in-the-face focusing on the dance steps and more emotional and more fun (though part of that might have been the camera seemed far away for much of the dance). But overall it was good – though Bruno doesn't want karate arms and LEN. WANTS. DANCES. IN. HOLD. Some A-grade grumpy Len last night.
4. Lindsey Stirling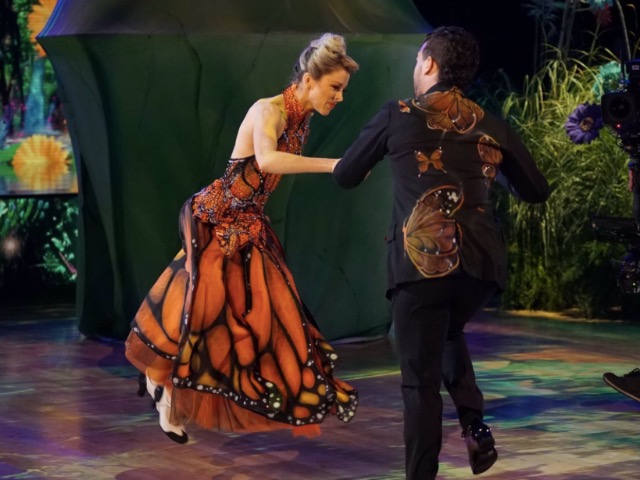 Dance: Quickstep
Judges score: 21 out of 30
Our score: Coming off of last week's killer first number, all eyes were on Lindsey if she could live up to that debut dance. And in case they weren't, partner Mark Ballas made sure all eyes were fixated on the screen with that bonkers-ly extravagant set, helping tell the quickstep story of the evolution of a shawl-wearing caterpillar into a butterfly. In fact, Mark's routine seemed to get more compliments than Lindsey's dancing – Carrie Ann brought up her neck, while Len wanted more maintained in the hold, OF COURSE – but she's still a chipper joy to watch bound across the dance floor. Maybe next episode Mark will tone down the theatrics a bit so Stirling's steps can shine – essentially since the competition's already getting tough.
3. Jordan Fisher
Dance: Viennese waltz
Judges score: 24 out of 30
Our score: I'm calling it: The "Hamilton" star is going to get Heather Morris-ed off this season. He's just too good right off the bat – with a professional background that's more dance-capable than most – and arguably not a big enough name. So enjoy him while you can; even if his Viennese waltz was occasionally a violent waltz – so overly sharp and aggressive in places that one grab on partner Lindsay looked more like a strangling – he's still one of the smoother, more precise dancers out on the floor. I'm already sad he's not going to make it to the finale.
2. Victoria Arlen
Dance: Tango
Judges score: 24 out of 30
Our score: Behold the power of fringy pants! Apparently last week, Arlen was nervous hitting the "Dancing with the Stars" stage, but then looked around, saw herself wearing those fringy pants and absolutely rocked out her routine.
There were no fringy pants this week, but Arlen still impressed – to the point that you keep forgetting SHE CAN'T FEEL HER FRIGGIN' LEGS. Given a Taylor Swift song (the so-bad-it's-almost-good "Look What You Made Me Do"), Arlen really performed the heck out of the dance and pulled off the steps, scoring a "super duper" from grumpy Len! Her head does come forward a bit during the dance, but that's not enough to stop the combined power of her emotional storyline, her joyful dancing and T-Swift – no fringy pants even necessary!
1. Vanessa Lachey
Dance: Foxtrot
Judges score: 24 out of 30
Our score: Well at least one half of the celeb couple clash storyline is living up to the hype. Through two dances, she's clearly demonstrated a knack for the dance floor, her smooth and sultry movement both precise and well performed – even when she's got a gross bloody toe to deal with. Plus, she's got the bubbly, cartoonish personality to go with it, making her a delight to watch. She may be the less famous Lachey competing this season, but she's by no means the lesser Lachey so far. She's the queen of the couple right now – and, at least two episodes in, of the entire cast.
Facebook Comments
Disclaimer: Please note that Facebook comments are posted through Facebook and cannot be approved, edited or declined by OnMilwaukee.com. The opinions expressed in Facebook comments do not necessarily reflect those of OnMilwaukee.com or its staff.