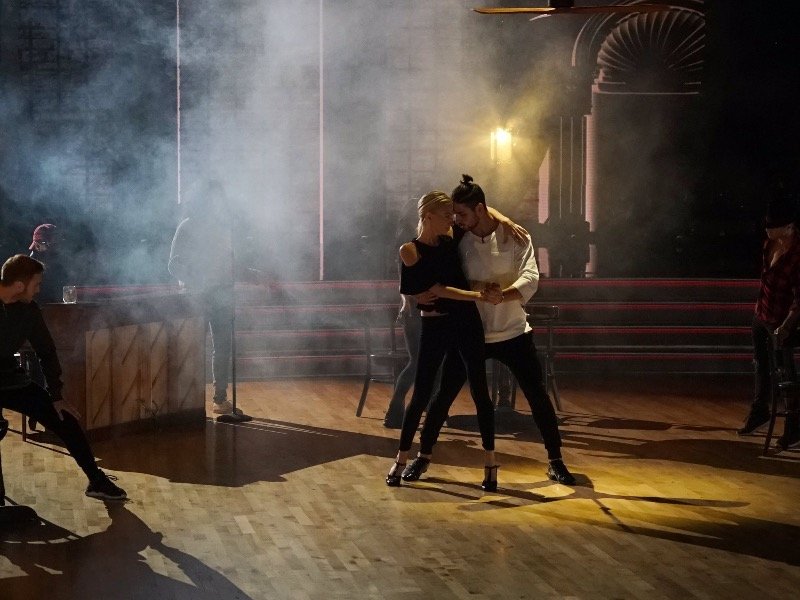 "Dancing with the Stars" recap: Another celeb sashays away on Latin Night
It was double trouble for "Dancing with the Stars" this week, giving the audience the grace of ballroom night Monday evening – or something resembling grace, between all of the bloody toes, sprained hammys and pinky jokes – before settling in for a steamy night of Latin dance.
Or maybe not that much trouble for these celebs, as even with back-to-back performance nights, the cast looked great. Last year, there were several struggling hot-steppers – Kattan, Mr. T, Charo – to burn through before the competition got too serious, while this year, everybody's already pretty solid. That makes for an entertaining night of dancing – but also already sad goodbyes, starting last night with the slightly surprisingly exit of Debbie Gibson.
I'm not devastated by Debbie's short stay on the show since, like Nancy Kerrigan last year, it seemed like her ceiling wasn't too much higher. She was good, no mistake, but she was just consistently that, never stellar – and with a packed 13-celeb crowd like this season started with, you've got to stand out. But she leaves with some lovely dances – including last night's Argentine tango – and also Len calling her a strumpet #LifeGoals.
As for the rest of the cast, how'd they handle the quick turnaround? Who's dancing on thin ice, and whose footwork is already on fire? The judges had their (sometimes incomprehensible) say, but here's our take on Latin Night on "Dancing with the Stars."
11. Nick Lachey
Dance: Argentine tango
Judge score: 19 out of 30
Our score: Lachey ended up in the bottom two Tuesday night, so clearly I'm not the only one who's finding him aggressively bland. He's just a boring bro dude who CAN'T REMEMBER HIS FIRST DATE! At least list off of some dates so you can at least prove you remember that you went on dates in the past. I'm trying to help.
His Argentine tango was at least better than forgetting his first date with Vanessa ... but not by a whole lot. Bruno and Carrie Ann seemed convinced by their performance, but I found myself in the rare condition of being on Team Len during the judges' critiques, wondering where the heat was in this supposedly hot dinner date dance. Seemed to me Peta's dress was doing most of the heavy lifting when it came to chemistry. I figured with the amount of attention given to the couples clash storyline, Lachey would have a while before he was in real danger. That time, however, seems to have already come.
10. Nikki Bella
Dance: Samba
Judges score: 18 out of 30
Our score: Ooh boy, nobody tell John Cena about how close Nikki Bella and partner Artem had to get for their samba Tuesday night ... well, actually, it wasn't that close (fair enough; I'd keep a bit of distance too from Cena's fiancee for my health's sake). It was actually Bella, however, who was struggling getting sexy for the samba – despite the best efforts of the wrestling diva's outfit and Artem's choreography. Bella wound up with the lowest score of the night, as Carrie Ann and the rest of the judges want her to stretch and finish her moves, but I have a feeling she should be safe – though having to go first during this jam-packed season is a real killer. Will people even remember the dance, much less remember to vote for her?
9. Terrell Owens
Dance: Samba
Judges score: 19 out of 30
Our score: Thankfully, "Dancing with the Stars" voters have short memories, as they quickly forgave his opening night stumbles and rewarded his steamy second shot by surprisingly voting him out of the bottom two. He's improving on the show – both as a dancer and as a personality (HE'S AN HGTV FAN; nobody tell him about the impending end of "Fixer Upper") – and that helps his cause. T.O.'s still a rough watch – he's still confined on the dance floor and stiff and clunky in places – and I still think his best time to be on this show was maybe five years ago. But he's survived longer than I would've imagined after that first dance.
8. Derek Fisher
Dance: Paso doble
Judges score: 19 out of 30
Our score: Considering the show's history with hot-stepping athletes – one just won last year, remember – I'm somewhat disappointed that the best dancer of the bunch this season is the one who can't feel her legs. Fisher's a better dancer than T.O., but he's not exactly flying much faster up my rankings – though he tried his damnedest in last night's paso doble. Too much so for Bruno, who wanted him to find the nuance and artistic in the performance rather than just one-note intensity. Overall, the dance didn't quite stick the landing, but it was pretty good – but Gibson was pretty good too, and see where that got her.
7. Drew Scott
Dance: Rumba
Judges score: 21 out of 30
Our score: I wouldn't have expected the performance to knock Bruno out of his chair would come from "Property Brother" Drew Scott, but here we are. Look what happens when you throw up a tend and spray tan away like you're finishing up a second coat on a flipped house! After two nights of dancing like a marionette come to life, the HGTV star found some smoothness, looking less out of his element here than ever before on the show and channeling his enjoyable enthusiasm into some slick moves (minus the lifts). It was a dance so shockingly solid that it almost killed Bruno – so at least he'll always have that.
6. Victoria Arlen
Dance: Rumba
Judges score: 20 out of 30
Our score: I'd say Victoria didn't have the best night rocking out a respectable if not quite riveting rumba that seemed maybe a bit more story than steps. But it was Arlen's birthday, complete with a cute pink cake AND some flowers and a nice note from Taylor Swift (seems pretty Old Taylor Swift of you, Tay Tay). So yeah, her night was just fine – and she should be just fine too.
5. Sasha Pieterse
Dance: Samba
Judges score: 22 out of 30
Our score: In just three episodes, Sasha's growth is already impressive – as a dancer and as a character on the show. Tuesday night's episode drew out some of her backstory, sadly talking about dealing with body issues in the cruel world of 21st century celebrity culture and battling a hormone imbalance that caused her to gain weight. It was a sympathetic story made even better by her dance, which was still a little stiff in the hips and feet but sparkled with personality throughout. The Sasha Pieterse that stared into the camera as though death was upon her would be amazed watching Tuesday's bright and flirty performance.
4. Vanessa Lachey
Dance: Salsa
Judges score: 23 out of 30
Our score: It was a mild step back for Vanessa Lachey Tuesday night – though it was probably was just the parachute pants. From the outfit to the long intro, the routine didn't do the former "TRL" host much help ... but she didn't need it. She's still incredibly smooth and silky on the dance floor, bringing her now signature fierce and fun energy to the salsa – though maybe too much energy on one spin where she lost balance. But she's still consistently one of the most effortlessly fluid dancers on the floor, as well as one of the most personable contestants off the it. You want to be her friend – even if friends don't let friends wear parachute pants on live television.
3. Jordan Fisher
Dance: Samba
Judges score: 24 out of 30
Our score: I'm running out of ways to say "Jordan Fisher is a very good and talented dancer – surprising no one because of his Broadway background." Even the judges seem stumped for words too, with Carrie Ann noting his dance Tuesday night was good enough to make you hungry for a cookie. I ... I don't know what that means, so I'll just let this GIF speak to my feelings on the "Hamilton" star's samba:
Mark Ballas shows off @MarkBallas face! Nobody does it better! @DancingABC #DWTS pic.twitter.com/PLkIEjHbZK

— Good Morning America (@GMA) September 26, 2017
It's still gonna suck when he gets voted off before the finale.
2. Lindsey Stirling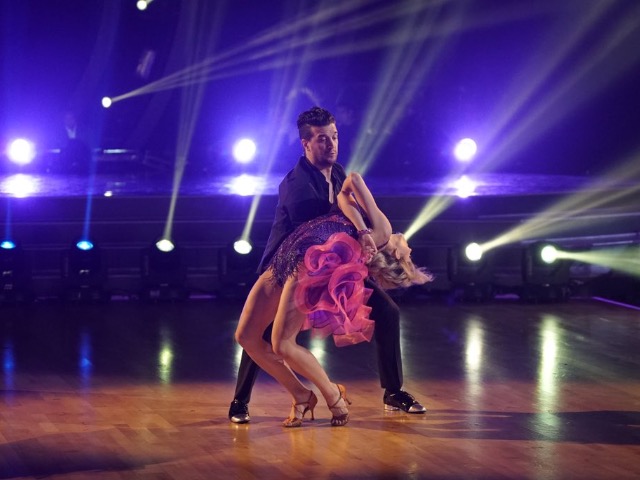 Dance: Salsa
Judges score: 24 out of 30
Our score: The audience was promised lots of booties from Stirling's salsa, and the spritely violinist did not disappoint. As is becoming standard, Lindsey delivered a impressively professional-looking dance – even including a kick behind the head that legitimately seemed like a move saved for the experts on the show. Ballas's routine helped out too, cutting the fat and cutting to the chase with a pure salsa that of course Len loved. And I did too; with her animated energy and actual skills on the floor, Stirling's easily one of the most fun dancers to watch each episode – AND THAT WAS BEFORE I DISCOVERED HER AND MARK JAMMING OUT TOGETHER!
Loved having @LindseyStirling get #SOBAD with us last night @TheHotelCafe 🖤🎻 #AlexanderJean ✨ pic.twitter.com/lGxQvTLoGm

— Alexander Jean (@_AlexanderJean_) September 21, 2017
1. Frankie Muniz
Dance: Cha cha
Judges score: 25 out of 30
Our score: More like Malcolm in the Lead, amirite (I'll leave now).
After impressing as a technician Monday night, Muniz completed a great double whammy on "Dancing with the Stars" this week by bringing out the personality I was afraid would be lost in his precise steps, swaggering all over a Bruno Mars routine and scoring the season's first nine in the process. He may only be a few years older than me, but he still seems like just an enthusiastic, precocious kid who's just having a gosh darn swell time hitting the dance floor – and is apparently pushing all his chips to the middle of the table for this show, judging by his pre-cha cha clip package going through his dance-happy daily routine. It'll be a good bet if he keeps up these strong steps.
Facebook Comments
Disclaimer: Please note that Facebook comments are posted through Facebook and cannot be approved, edited or declined by OnMilwaukee.com. The opinions expressed in Facebook comments do not necessarily reflect those of OnMilwaukee.com or its staff.