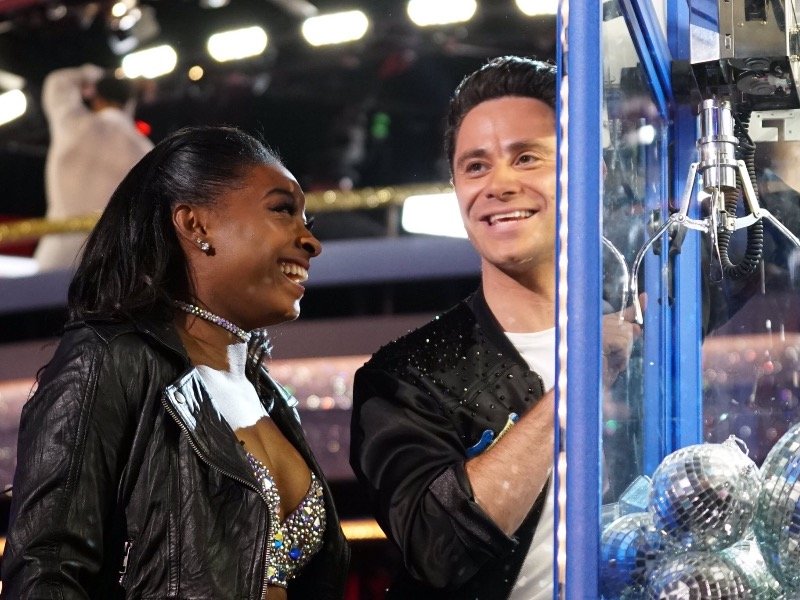 "Dancing with the Stars" recap: A shocker in the semifinals
Since Week 1 of this season of "Dancing with the Stars," I've picked Simone Biles to win. When there was a rare stumble, I made sure to note that, sure, rough week, but she's got this thing in the bag. In fact, let's check in on what I said last week about the gymnast's chances.
"If Biles can crack through that wall and give the audience – and the judges – the earnest personality that pops and cracks off the stage, she's got this contest in the bag. And if she doesn't? Well, she'll still probably win."
And this, dear readers, is why I am not a betting man.
Indeed, call her Zoe during her jive or Sophia for the rumba, but at the end of the night, host Tom Bergeron had to call her eliminated – shocking the judges who gave her a perfect night, with two 40s.
Then again, those were the same judges who railed last week on her only – and what likely ended up being critical – flaw: her struggle to bring her otherwise radiant personality to the dance floor. Make no mistake: She was a strong dancer, hitting the footwork and flips with snap, often no matter the style. But as I noted last week, her performances often landed into the emotional uncanny valley.
Even last night, though the judges absolutely raved about her increased personality and performance on stage, Biles still seemed just a bit stiff. She certainly opened her jive with sass, but as the footwork overtook the routine, her face went back to that stapled-on smile familiar to gymnastics but faulty during dance. Her rumba – dedicated to her Olympic journey – was infinitely better, but obviously it was too late. I guess having "American freaking hero" on your resume only gets you so far in a hoofing contest.
And that left only three heading into the season finale next Monday night. Who will win? Who should win? The judges have dished out their marks, but let's see where my final pick lands.
3. David Ross
Dances: Foxtrot and tango
Judges' score: 34 out of 40; 36 out of 40
Why he could win: Clearly the dancing dapper dad routine is working. Despite being one of the lowest-ranked competitors for weeks now, David Ross is now in the finale – without too many sniffs at the bottom two, either (though he did have that unfortunate sniff of his partner's bottom a few weeks ago – that's right, I've got more fart puns!). I suppose Cubs fans know something about dedication.
If Ross pulls off the upset next week, however, it won't just be because he's bringing in the Cubs crowd. It's because he and partner Lindsay Arnold have been remarkably savvy about this contest, leaning heavy into his personality – most notably his incredibly tender father-daughter dance last week, as well as his heartfelt foxtrot and tango last night. He's not the best dancer remaining – his foxtrot could've been smoother, and his tango was a little hunchy – but as judge Julianne Hough said every other sentence Monday night, he is what this show is all about. Sometimes the cliches are correct.
It's worth noting he also had to shove some lemons in his butt last night. Forget #TeamLadyAndTheGramp; they should be #TeamTartFarts.
Why he'll lose: As the title suggests, "Dancing with the Stars" is a dancing competition. And as I may have casually mentioned, David Ross is the worst dancer on the show. Charm's gotten the sixth-best dancer in the contest into the final three; I think the audience is savvy enough to allow that to be a well-earned far enough.
2. Rashad Jennings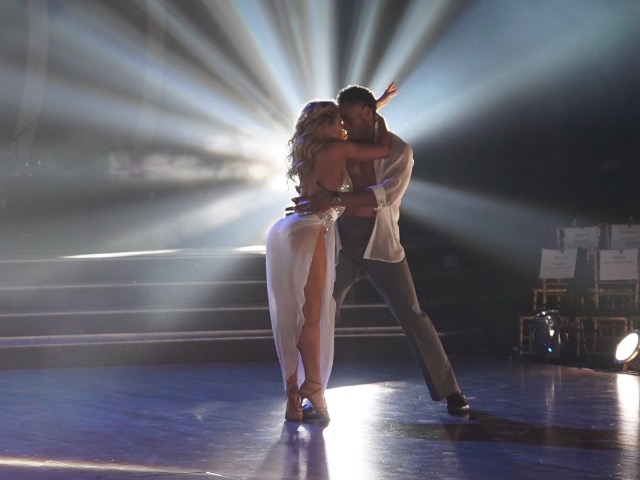 Dances: Rumba and quickstep
Judges' score: 38 out of 40; 39 out of 40
Why he could win: It's hard to be surprised anymore when football players pop on "Dancing with the Stars" and step with impressive skill and smoothness. And yet, from day one, Rashad's stunned the judges and the audience with just how slick he is on the dance floor – whether it's a fun, fast quickstep like last night (which, what a brutal final routine to have!) or his breathtaking contemporary piece from a month back that's still arguably the season's high water mark. In a year where the guys were the weakest links (how do they outnumber the ladies right now?!) he left the rest of the dudes in the dust – and has done so the entire season.
Plus, his personality has radiated through, both on stage and off. His video packages did a marvelous job telling his incredible story – and then the dances topped off the job by sharing them through art. You can't ask for more ...
Why he'll lose: ... unless you're judge Len Goodman and you saved your harshest criticism of the night for his quickstep, railing on his frame and footwork and then still giving him a nine, so what the hell, Len? The biggest struggle Jennings faces to win, however, might not just be some sketchy steps; unlike David Ross and other sports stars in the past who had raving fan bases to call upon, Jennings is a relatively unknown NFL player – quick: name his most recent team! – and currently a free agent with no squad to help promote his cause.
Hopefully, after this, he'll get picked up – either by a football team or by, say, a touring company of "Chicago"?
1. Normani Kordei
Dances: Viennese waltz and jazz
Judges' score: 36 out of 40; 40 out of 40
Why she could lose: Despite Fifth Harmony being one of the most popular musical groups of the past few years, Normani Kordei is by no means a household name. Still, though, that hasn't been a factor for a while, so ... I guess there's always a chance that most of America's televisions flickered off during her dance numbers Monday night? That would prove to be a problem. Maybe viewers could hold a grudge that "Worth It" got so overplayed last year?
Yeah, I've got nothing.
Why she'll win: Come on, America; this isn't hard. Normani is easily the best dancer and best overall performer on the show – and has been for weeks now. Even an obvious misstep during her opening Viennese waltz couldn't stop the number from being a smooth, cinematic delight. Plus she recovered without a hitch in her jubilant New Orleans jazz routine.
And in case weeks of spitfire, sure-footed dances weren't enough, she brought her grandma on the show last night. And she was delightful. HOW COULD ANYONE VOTE AGAINST THAT GRANDMA!? A-grade grandma game, Normani.
If Simone was still in the contest, my head's vote would've gone to her – bigger name, better final scores – while my heart's nod would've belonged to Normani. But with Simone gone, the pick is easy. Normani Kordei: That's my girl.
Facebook Comments
Disclaimer: Please note that Facebook comments are posted through Facebook and cannot be approved, edited or declined by OnMilwaukee.com. The opinions expressed in Facebook comments do not necessarily reflect those of OnMilwaukee.com or its staff.