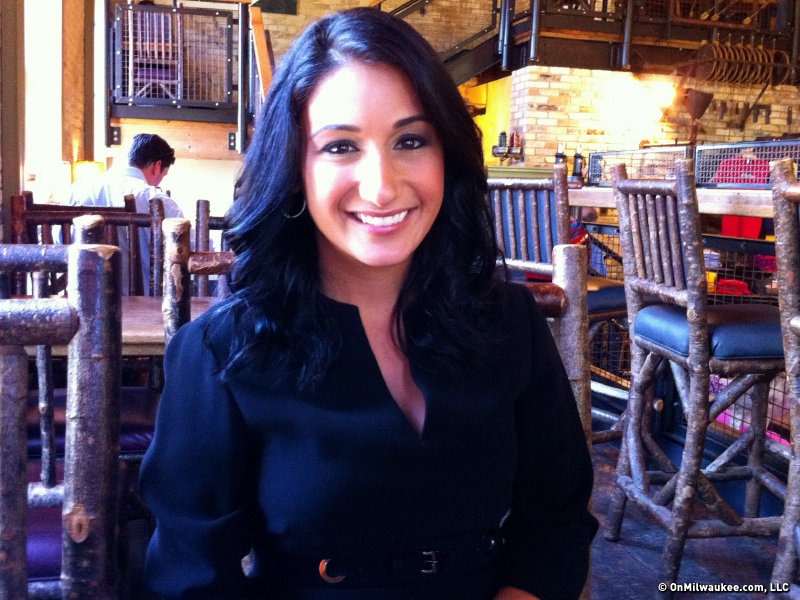 Milwaukee Talks: Diane Pathieu, Channel 4 news
Channel 4 anchor and reporter Diane Pathieu always figured she'd end up working in Milwaukee. The Chicago native visited Wisconsin as a kid, but her career in radio and TV brought her through Iowa before landing here.

A second-generation American, her native language is actually Assyrian, but Pathieu, who joined the station five years ago, has yet to find a way to work it into a newscast.

Pathieu's challenging schedule -- she's up at 2:30 a.m. -- leaves little time for hobbies, but as a self-proclaimed foodie, she's soaking in everything Milwaukee has to offer.

In this latest Milwaukee Talks, we caught up with Pathieu to talk about her career, her hours and how social media has changed the news landscape.

OnMilwaukee.com: Describe for me your career path, please. Compare and contrast the different markets you've worked in.

Diane Pathieu: It didn't start out in television; it started out in radio, actually. When I was in college, I was working three part-time jobs. One was in traffic, for the Shadow Metro Traffic Report in Chicago. I got an internship at the NBC network, WMAQ and ended up staying there throughout my junior and senior years. I was a script buster -- I'd get the scripts ready for all the anchors. Then, I was a field producer. The only thing I wouldn't do is put my face or my voice on TV. That got me my first job out of college, in Dubuque, Iowa. I was an anchor / producer / reporter there, three months out of college.

OMC: What market was that?

DP: At that time, it was like 88. Small, but not tiny. I had a pretty decent tape because I had more experience than all the other people who were applying. I moved there for a year and a half, then I went to Cedar Rapids.

OMC: Was that a step up?

DP: Sort of. Numerically, it's a lateral move, but it's a completely different and bigger audience, with more responsibility. I was there for three years; I got to do a lot of really fun things. And then came Milwaukee.

OMC: As a Chicagoan, had you spent time in Wisconsin?

DP: Oh yeah. Whenever we vacationed, we were one of those families here with the Illinois license plates. The Dells, Elkhart Lake, Paddock Lake. I always knew, going into the business, that I wanted to at one point or another I'd work in Milwaukee.

OMC: Really? Why?

DP: It's close to home but far enough away. It's a good news market. TMJ has a great reputation for being a very aggressive news station, and I really wanted to work for them.

OMC: You have two pretty different jobs you do every day. You switch from reporter in the morning to anchor at noon.

DP: I tell people I kind of have three shifts. I either just report, I report and anchor, or I just anchor. (Sometimes) I fill in at the 3-4 p.m. newscasts, which means I anchor all day. Anchoring and being in the field are two completely different beasts. When I'm in the field, I interact with people and meet people that I otherwise never could. I love both of my jobs them differently, but it's nice when it's snowing out to anchor.

Page 1 of 2 (view all on one page)

Next >>




Talkbacks
pams3150 | Sept. 24, 2010 at 12:48 p.m. (report)
Very attractive girl but she talks tooooooooooooo much and tooooooooooooo fast!
zippywhodawgie | Sept. 23, 2010 at 8:46 a.m. (report)
One of the hottest news chicks in these here parts.
T15 | Sept. 21, 2010 at 3:39 p.m. (report)
"TMJ has a great reputation for being a very aggressive news station, and I really wanted to work for them." You might want to change that to work for John-David Morgan? Just a thought, since they have so much integrity. Great job TMJ.
Facebook Comments
Disclaimer: Please note that Facebook comments are posted through Facebook and cannot be approved, edited or declined by OnMilwaukee.com. The opinions expressed in Facebook comments do not necessarily reflect those of OnMilwaukee.com or its staff.