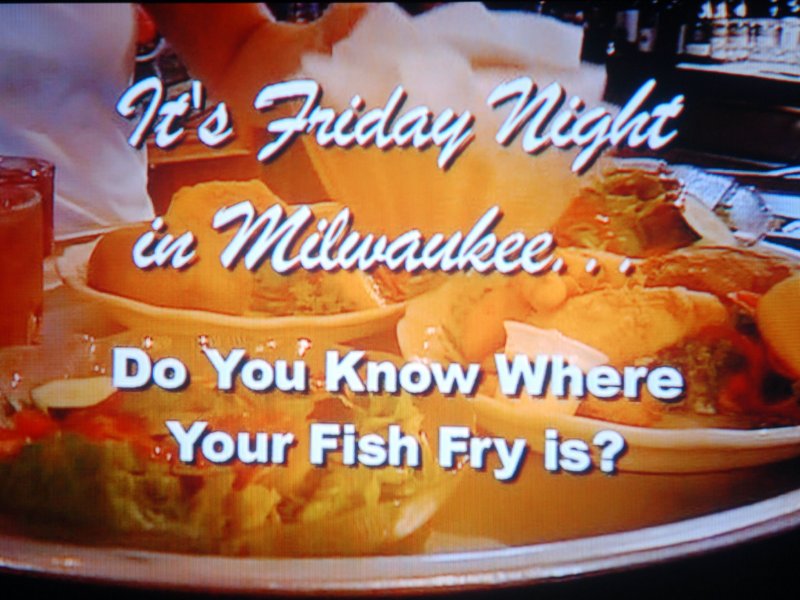 OnMedia: May we have another fish fry, please?
It can be mean to talk about something that aired once on TV and isn't scheduled to air again.
But in this case, I'm doing it because I want Milwaukee Public TV to schedule a second helping of "Fish Fry Night Milwaukee."
It slipped by under my radar, and I didn't write about it in advance of last Thursday's prime-time airing on Channel 10. That's too bad, because it was an entertaining one-hour look at a Milwaukee dining tradition.
"Fish Fry Milwaukee" is the kind of thing I'd like to see more of on Milwaukee television. We have plenty of local news. We need more local stories, longer looks at how we live around here.
My OnMilwaukee.comrade, Bobby Tanzilo, has written about the film, offering this memorable quote from filmmaker Ron Faiola: "It was my dad, who has been living in Pennsylvania for the last 20 years, (who) said something about every place in Milwaukee has a fish fry -- even the ATMs serve fish!"
Anyway, Milwaukee Public TV doesn't have another airing on its schedule. The high-water mark of fish fry season comes this week before Easter, but that doesn't mean the audience won't benefit from a post-Lenten broadcast of the film
The next time it's scheduled, I promise I'll give you advance warning.
In the meantime, here's the trailer for "Fish Fry Night Milwaukee":
A chance to see it on a bigger screen: Two screenings of the film are scheduled for 5 and 7 p.m. Friday at Sheboygan's John Michael Kohler Arts Center, 608 New York Ave. Admission is $8 and tickets are available at the door.
Faiola will answer audience questions after each show.
You can also order the DVD for $19.95, plus shipping.
On TV: Don't be surprised if you see Danny Gokey around town this week. The "American Idol" finalist is filming a TV commercial for Wisconsin Vision.
Channel 6 is picking up Fox's airing of the weekend's rained-out NASCAR race in Martinsville at 11 this morning. It will air as a "breaking" event and Channel 6 will return to its regular schedule when the race ends or if it is rained out again.
If you plan your TV viewing a few weeks in advance, be aware that the return of "Fox's "Glee" on April 13 will air from 8:28 to 9:30 p.m. on Channel 6.
Mayim Bialik, who was the young star of "Blossom," will join CBS' "Big Bang Theory" as a possible girlfriend for Sheldon, played by Jim Parsons.
Nigel Lithgoe of Fox's "So You Think You Can Dance" has been tweeting changes in the summer edition of the show. There won't be a top 20 this year, dancers won't pick their own genre and fewer than four will compete in the finale.
Nikki Finke reports that CBS offered Conan O'Brien the host spot on this summer's Tony Awards. He declined, citing restrictions on his TV appearances until September.
Jack Bauer bound for the big screen: In the wake of Fox's formal announcement Friday evening that "24" was being canceled, Kiefer Sutherland tells TVGuide.com that moving the show to NBC "was never a real possibility for me."
But Sutherland says that a big-screen version of the eight-season show remains likely. Production could start as early as this summer.
Talkbacks
devidia | March 29, 2010 at 12:18 p.m. (report)
So, if we adhere to the time dilation effect of the series, the "24" movie will have to cover two days, right?
Facebook Comments
Disclaimer: Please note that Facebook comments are posted through Facebook and cannot be approved, edited or declined by OnMilwaukee.com. The opinions expressed in Facebook comments do not necessarily reflect those of OnMilwaukee.com or its staff.