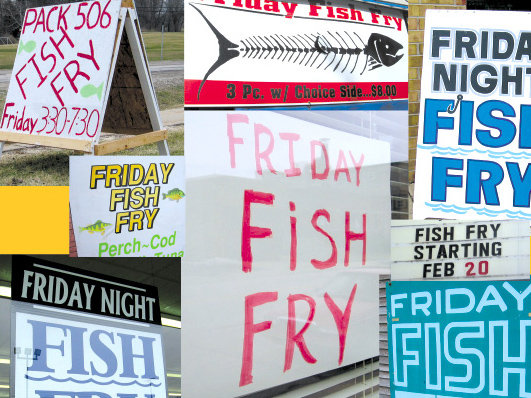 "Fish Fry Night Milwaukee" traces a Brew City tradition
In nearly 10 years at OnMilwaukee.com, I've learned one sure-fire way to draw talkbacks: talk about Milwaukee's traditional Friday night fish fry.
Everyone has a favorite and rarely budges. Some folks -- like me -- have a number of favorites depending on my mood. Among them are Kegel's, the Bavarian Inn, Turner Hall (although I want more pancakes included in the all-you-can-eat) and, these days, Cool Water.
Local musician and filmmaker Ron Faiola is no different. He has a favorite -- although he won't specify -- but, he says, "really, all the places I feature in the movie are my favorites."
The movie is his hour-long documentary, "Fish Fry Night Milwaukee," which made its world premiere in October 2009 at The Times Cinema. On Friday, Feb. 19, it screensat Bushel & Peck's in Beloit at 5 p.m. as part of the Beloit International Film Festival. The film is a finalist for Best of Wisconsin category.
MPTV Channel 10.1 will also air "Fish Fry Night" at 9 p.m. on Thursday, March 25. Faiola will appear on Rick Kogan's WGN (AM 720) radio show on Sunday, March 7 around 7:30 or 8 a.m.
In the film -- as I wrote last fall when first talking about "Fish Fry Night" -- Faiola visits some great area fish fry nights, including ones at Hooligan's, The Packing House, Lakefront Brewery, Cafe El Sol at the United Community Center and Erv's Mug.
Talking to restaurant owners, cooks and customers, Faiola digs in to find out what makes the fish fry so dear to our hearts and what makes the featured versions so special to their devotees.
In an introductory segment, Faiola explains that the fish fry became popular in Milwaukee due not only to a large Catholic community that needed an alternative to meat on Fridays, but also to the availability of inexpensive fish, which allowed working class families to dine out affordably.
Faiola says the idea for "Fish Fry Night Milwaukee" was his, but his dad was also a catalyst for the project.
"I had the idea for about a year but it was my dad, who has been living in Pennsylvania for the last 20 years, said something about every place in Milwaukee has a fish fry -- even the ATMs serve fish! -- who got me going," he says. "After his Christmas visit and fish fry dinner I decided to make the film."
At that point, he wasted little time getting started.
"I started work on it in late January, sending out letters to places I wanted to film. I attended St. Alphonsus grade school and they were the first fish fry I contacted. (There were) 30 on list, 21 letters, 11 in the final (cut), one didn't make the final," he says.
"Most filming was done during Lent. A couple extra segments were shot in June and July, notably the South Shore Frolics. Editing took about six weeks -- July to mid-August."
Faiola reeled in 12 hours of footage and it was at that point that the work crafting the final film really began.
"Editing took forever," he says, because I was doing everything, including trimming audio segments, putting the music loops together, writing the narration script.
"Someone mentioned I should do the narration, too, but that wasn't going to happen. I had always wanted (WMSE DJ) Dewey Gill because of his relaxed, friendly voice and he did a great job."
Faiola says DVDs of the film will be available at the premiere event. The discs have 24 minutes of bonus footage.
And if you want a second helping, he says he might be cooking up sequels ...
"There is a second one on paper... I've been so busy with the premiere and other negotiations for this one that I haven't had a chance to do any filming, but it was always intended to be a series: Fish Fry Night Madison, Fish Fry Night Green Bay or Wisconsin, Cleveland, etc."
bqvtqqbacuxazecescscqfu
bqvtqqbacuxazecescscqfu
Facebook Comments
Disclaimer: Please note that Facebook comments are posted through Facebook and cannot be approved, edited or declined by OnMilwaukee.com. The opinions expressed in Facebook comments do not necessarily reflect those of OnMilwaukee.com or its staff.