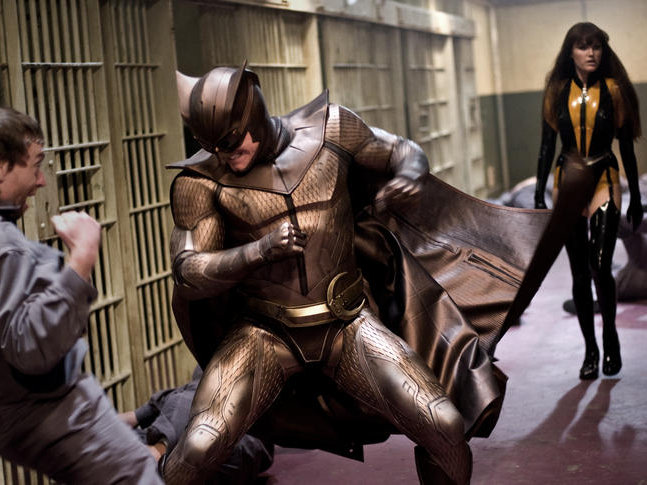 Is the book really better than the movie? Five great novels' transition to film
Turning a book into a movie is guaranteed to be a tough task. Legions of the novel's original fans are expecting something that holds tightly to the story and characters previously created and beloved on the page, while at the same time bringing something new and fresh to the material that makes the retelling worthwhile. It's a tough balance to strike, even more so when it's a legendary classic novel that audiences almost know by heart.
"Moulin Rouge" director Baz Luhrmann is the latest to attempt to cash in on classic literature with his slick, shiny 3-D rendition of "The Great Gatsby," coming out Friday. Before we see how Luhrmann's second attempt at working with legendary source material goes (don't forget "Romeo + Juliet," though I understand completely if you want to), let's take a peek at five other films that boldly attempted to abolish the phrase, "the book is always better than the movie," out of audience's minds.
"Watchmen"
For the longest time, it seemed like a "Watchmen" movie would never happen. Multiple directors – including Terry Gilliam, Darren Aronofsky and Paul Greengrass – were rumored to take a shot at bringing the supposedly unfilmable graphic novel to the screen, and they inevitably fell apart. Then finally, "300" director Zach Snyder accomplished the seemingly impossible and got "Watchmen" to the screen with Malin Akerman as Silk Spectre II and Patrick Wilson as Nite Owl.
Better than the book?: Considering that Snyder's film is almost a shot-for-shot adaptation of the graphic novel, you would think the movie would be a wild success. Unfortunately, pacing and storytelling ideas that work well on a page don't quite translate on the screen, and Snyder doesn't exactly have a reputation for being an actor's director (translation: Akerman is quite bad). That being said, the ambition is impressive, the visuals are even more so and Jackie Earle Haley makes for a chilling Rorschach. It doesn't quite reach the lofty heights of its source material, but it's still worth a peak.
"On the Road"
Jack Kerouac's most famous book and a defining work for the Beat Generation finally made its way to the screen for the first time this past year with Brazilian indie director Walter Salles ("The Motorcycle Diaries") at the helm. The film starred Sam Riley as Kerouac stand-in Sal Paradise. Garrett Hedlund as Dean Moriarty and Kristen Stewart as Mary Lou.
Better than the book?: There might not be four words more devastating to film fans than the phrase "and starring Kristen Stewart," but "On the Road" manages to assuage those fears quite nicely. No, it's not better than the book, but Salles does do a great job of capturing the vibrant, free-flow energy of the Kerouac's novel while also fitting its loose story into a decent narrative. Hedlund, most famous for his work in "Tron: Legacy," also makes for a terrific Dean Moriarty. It may not be better than the book, but it's still a pretty terrific trip off the page and across the country.
"A Clockwork Orange"
Anthony Burgess's two-part tale of a young criminal madman, his group of slang-spewing droogs and free will is one of the greatest novels ever written (I'm currently looking at it now, sitting on my shelf of favorite books). However, it was Stanley Kubrick's controversial 1971 adaptation that skyrocketed "A Clockwork Orange" to iconic status. It is easily one of the most influential films in the director's already ridiculously influential filmography.
Better than the book?: As some of you may know, I'm quite a bit of a Kubrick fan (can I talk about "2001: A Space Odyssey" or "The Shining" again for the 1,065th time?), which may make it surprising that "A Clockwork Orange," one of his most famous films, is also one of my least favorite. In the book, the dystopian future created by Burgess sounds and feels so real, and is therefore more dramatically potent to me, whereas Kubrick's film is trapped in the '70s's version of the future. It just doesn't look or seem like a plausible future to me, and if it doesn't seem real, than the satire and social critique falls apart. It's got enough memorable imagery to fill five movies, but I'd still take the book any day.
"To Kill a Mockingbird"
It's almost a guarantee that, at some point in high school, you'll probably have to read "To Kill a Mockingbird." It's like "Catcher in the Rye" or "The Great Gatsby" in that it's just a classic novel that almost everyone shares in a classroom setting. It's also almost a guarantee that you'll also watch the 1962 black-and-white classic starring Gregory Peck. And if you haven't, well, I guess you have a new thing to add to your summer to-do list because they're both crucial literary and cinematic works.
Better than the book?: It's hard to say the film is better than the book … but this is probably about as close as it gets. Gregory Peck is Atticus Finch; there's simply no getting around the fact that he embodies the character entirely in director Robert Mulligan's film. There's a reason why no one has ever tried making another film version of "To Kill a Mockingbird." Peck's shadow would loom far, far too large. The argument for the movie being better than the book begins and ends with his performance, and frankly, it's a pretty convincing argument.
"I, Robot"
Issac Asimov's "I, Robot" may not be on Time's Greatest Novels list or a book everyone read in high school for class, but it is one of the signature books of the science fiction genre. Everyone who knows and loves sci-fi knows of Asimov's three laws of robotics, and it's Asmiov who helped pave the ground for hard sci-fi … which made it all the more bizarre when we found out the book would be adapted into a summer action blockbuster starring Will Smith.
Better than the book?: No. Don't be ridiculous. "I, Robot" is simply a Will Smith action vehicle that got the title of Asimov's book arbitrarily stapled to it for the sake of name recognition. Well, I suppose there are robots too so there's one similarity, though I don't remember a part in any of the short stories in which the main character dramatically put on a pair of Converse shoes in an example of product placement so blatant, all it needed was a freeze-frame of Will Smith smiling at the camera with the logo at the bottom of the screen and a cute jingle in the background. "I, Robot" is fine for some dumb, silly robot-meet-shotgun summer movie fun, but considering the source material is anything but dumb or silly, it's kind of sad.
Talkbacks
hardgeminiguy | May 7, 2013 at 11:01 a.m. (report)
Why isn't GONE WITH THE WIND on this list?--a fantastic book i read but the movie captures it so well--an amazing movie that was very difficult to make and not disapoint the books readers. it does not disapoint--better than the book!
Facebook Comments
Disclaimer: Please note that Facebook comments are posted through Facebook and cannot be approved, edited or declined by OnMilwaukee.com. The opinions expressed in Facebook comments do not necessarily reflect those of OnMilwaukee.com or its staff.