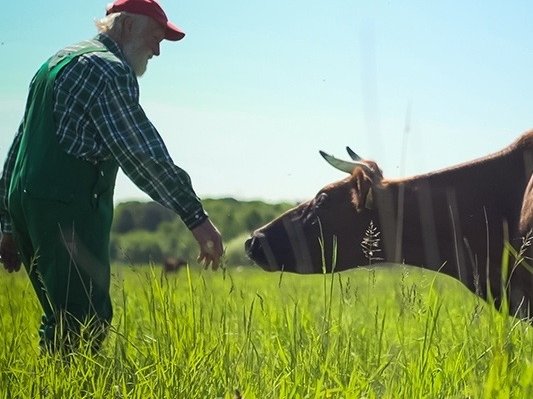 "Good Things Await" paints compelling portrait of biodynamic farming
"For 6,000 years, the original Danish Red Dairy cattle was the dominant cattle breed in Denmark. Now there are only 200 cows left of this race."
In an age of growing awareness of the sustainable farming methods, director Phie Ambo's up-close look at humane agronomy is both inspiring and thought provoking.
The film's message is told through the story of Niels Stokholm, an 80-year-old farmer from Denmark who, with his wife Rita, mans Thorshøjgaard, a biodynamic farm that supplies dairy, meat and cheeses to some of the best restaurants in the world, including NOMA and Restaurant Julian.
Ambo doesn't spend a stitch of time explaining the notion of biodynamics, a method of farming developed by Rudolf Steiner which strives to create a diversified, balanced farm ecosystem through the restoration and harmonization of nature. Instead, the story is told through observation of holistic farming methods, such as the annual preparation of fertilizer through the burial (and subsequent decomposition and fermentation) of manure-filled cattle horns, buried at the start of the cool season and retrieved before spring planting.
But, despite its naturalistic underpinnings, utopian the story is not. In fact, throughout the film, Stockholm's farming philosophies are challenged time and time again, forcing the audience to share in the struggles of a farmer torn between closely held values and the demands of governmental bureaucracy, which threaten to dismantle his way of life.
Cinematically beautiful, the film mounts its claims on the back of visual poetry – from footage of fluttering white moths flying among cattle on a shivering grassy knoll to close-ups of dew-laden greenery and long shots of calm, ruminating cattle.
Meanwhile, powerful scenes depicting the stark reality of farm life – including footage of the breach birth of a calf and the puddles of warm blood left from the respectful slaughter of one of the cows – hold the film back from becoming too idyllic.
Throughout the film, both the storyline and cinematic style benefit from an auditory backdrop features choral works written by Johann Johannsson and performed by Paul Hillier's Theatre of Voices. It's a fitting match to the film's emotionally charged storyline, which depicts the day to day life of a farmer who both feels and acts in deep harmony with nature.
Though set in Denmark, the message for the U.S. is timely. As consumers become more and more conflicted about the pros and cons of "certified organic" produce and an increasing number of small farms struggle with growing food in a sustainable manner, the film presents an alternative to what many have come to know as "big ag."
"Good Things Await": ***
Catch the next showing of "Good Things Await" on Oct. 2 at 7 p.m. at the Times Cinema.
dfcttqxt
Facebook Comments
Disclaimer: Please note that Facebook comments are posted through Facebook and cannot be approved, edited or declined by OnMilwaukee.com. The opinions expressed in Facebook comments do not necessarily reflect those of OnMilwaukee.com or its staff.