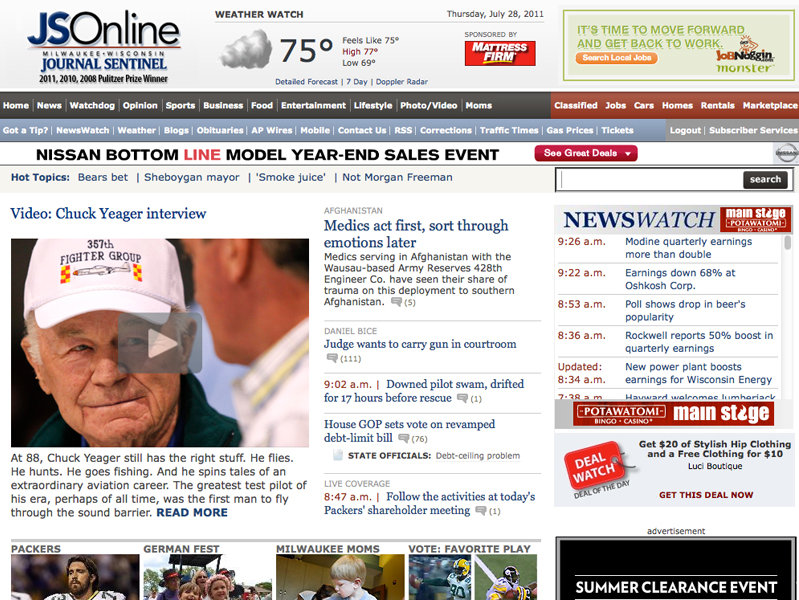 OnMedia: Would you pay to read JSOnline?
It's not a surprise, but the Journal Sentinel has confirmed that it's looking at ways to charge for access to its Internet site, JSOnline.
This week's release of Journal Communications' quarterly earnings report featured a webcast in which Journal Sentinel publisher Betsy Brenner told investors about the search for a way to make more money for the Internet site.
"Growing our digital revenue remains our top priority," Brenner said. "Like many other media leaders, we know the need to monetize our content with consumer revenue.
"We're carefully reviewing a couple of paid content strategies," she said, predicting that a decision should be made by early next year.
In response to a question, Brenner said that newspaper subscribers may be charged more for full access to JSOnline.
Brenner's comments aren't a shocker. It's a main discussion point in the foundering newspaper business, where advertising isn't migrating to the Internet in the same numbers that kept the papers, with their huge staffs and expensive news-gathering operations going.
Most importantly, The New York Times set up a pay wall, which is already being dubbed something of a success. Reuters' Felix Salmon blogs about the paper gathering nearly a quarter million paid readers after four months. The goal was 300,000 in the first year.
But The New York Times is much more than a local newspaper, targeting a national audience.
The Journal Sentinel has its own national audience, with its Packers coverage – some of which is already packaged and sold separately on the Internet.
These pay walls are not the kind of thing you can expect to move to other online publications, like the one you're reading. So I turned to OnMilwaukee.com's publisher and president for their reaction to the issue.
Said publisher Andy Tarnoff: "We don't see a reason to put up a pay wall when magazines like OnMilwaukee.com are continuing to tap into the increasing ad dollars that are migrating from print to online. We're on pace for our most profitable year ever, and we attribute that largely to excellent, free content combined with unique ways to provide value and return on investment to our clients."
Said president Jeff Sherman: "There are places where paid, exclusive content can work. Media entities should lead with digital, treat content with respect and dignity, trust readers, employ agile development and create innovative sponsorships, ad sizes, social media integration and unique revenue streams. We've done this for years, and look forward to continuing to fuel our growth through innovation."
To keep everything on the up and up, I'm a Journal Communications stockholder dating back to my days at the Milwaukee Journal Sentinel, when the stock was a major part of the retirement plan.
Contracts extended at Channel 4: Separate contract agreements will keep Channel 4's top anchors, Mike Jacobs and Carole Meekins with the NBC affiliate for "several" years, according to Journal Broadcast Group. They anchor the 5, 6 and 10 p.m. newscast.
Jacobs has been with Channel 4 since 1977. Meekins joined the station in 1991.
Steve Wexler, Journal Broadcast group executive vice president and general manager, said in a statement, "When you have two people on your team who are so highly regarded at the television station and in the community, it's not a difficult decision to try to keep that relationship going as long as you can."
On TV: To feed the continuing obsession with the late Amy Winehouse, E! Entertainment is repeating a 2008 "True Hollywood Story" on her life up to that point tonight at 9.
Next week's "Mob Week" on AMC - featuring flicks like "The Godfather" - will be hosted by former New York City mayor Rudy Giuliani.
A Smithsonian Channel special on the Sept. 11, 2001 terror attacks will feature an interview with former first lady Laura Bush and former Vice President Dick Cheney, while a National Geographic anniversary special has snared former President George W. Bush.
TLC is actually giving an hour to a look at Pippa Middleton, the sister of Prince William's bride, Kate. "Crazy About Pippa" airs Aug. 9 at 8 p.m.
Celebrating 20 years of Pearl Jam: PBS' "American Masters" plans an Oct. 21 airing for Cameron Crowe's look at two decades of the band Pearl Jam.
Here's the first trailer for "Pearl Jam Twenty":
fateyzaddfyvfrsfcwsyfxzafq
Facebook Comments
Disclaimer: Please note that Facebook comments are posted through Facebook and cannot be approved, edited or declined by OnMilwaukee.com. The opinions expressed in Facebook comments do not necessarily reflect those of OnMilwaukee.com or its staff.