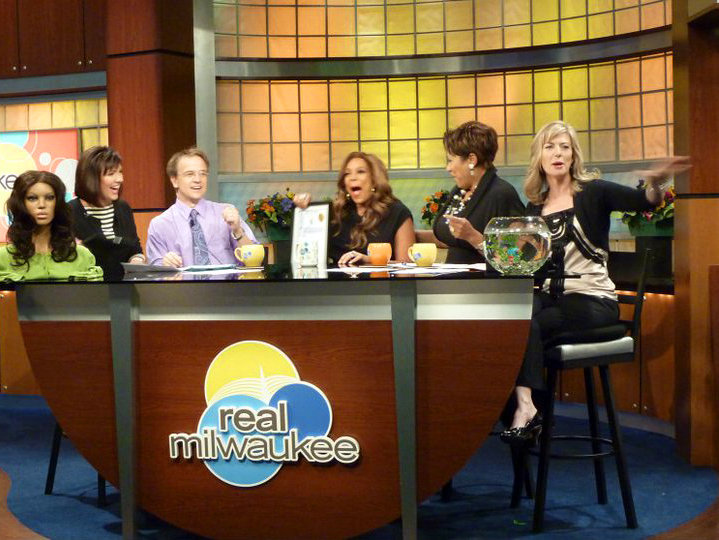 Milwaukee Talks: FOX 6 news personality Katrina Cravy
Katrina Cravy isn't from Milwaukee, but it's as good as home for the California native. It was a job that brought her here, and it also took her away. The FOX 6 anchor and reporter will also admit that it was a man who convinced her to come back to Wisconsin, but ultimately, meeting her husband (and then coworker) is what kept her here for good.
Cravy, 41, is one of the hosts of "Real Milwaukee," the locally-produced morning show on Channel 6. Even though motherhood helped her decide to step away from the evening anchor desk, she also serves the station's consumer investigative reporter through her role as the "Contact 6" point person.
Recently, we caught up with Cravy over lunch to discuss her changing job and the industry as a whole, but also what it's like to share (and avoid "oversharing") details of her life in an increasingly personality-driven business. Enjoy this latest Milwaukee Talks.
OnMilwaukee.com: Usually, when we do a Milwaukee Talks interview with someone in the media, we're revealing a side of him or her that the public doesn't always see. But you, with "Real Milwaukee," are already putting most of it out there, right?
Katrina Cravy: It's different, because I was afraid that no one would care once I put it out there. I'd be doing the news for years, but did anyone care about my personal life?
OMC: Apparently they do. Why do you think so?
KC: In some ways, it's building that commonality. A lady called me the other day and left me a message saying that she used to think I was really uptight, but then she saw me with my neighbor on the first day of school, drinking champagne and Skyping into the show. She said, "Now I know you're really cool." I don't know if I'm really cool, but at least I'm not uptight!
OMC: "Real Milwaukee" must be a pretty dramatic shift from what you did the first part of your career.
KC: It is different. I couldn't have any opinions at all. I was supposed to be unbiased. Then, when they gave me "Contact 6," which I was not expecting when Tom Hooper retired in '99, I thought they were crazy. I was 28, and Tom Hooper had opinions. I thought, "I get to have an opinion now?" Now, they put me on a show where they want my opinion every day.
OMC: Even though you're still young, you've really seen the local news landscape change, right?
KC: It has. When I started at FOX 6, they used to come around and hand us our e-mails on paper. We only had one e-mail address. Now, my e-mail is the bane of my existence. It's great, you want a lot of feedback, but sometimes it's a little much.
OMC: What do you like better? Reporting or the personality-driven stuff?
KC: I like them differently. I like researching, so I like "Contact 6." "Real Milwaukee" is different because I like the producing of it because it's the itty-bitty nuances that can take the conversations somewhere. I have a list of things called "nothings" that will keep us going.
OMC: Are you the official "quarterback" of "Real Milwaukee" or did you just sort of fall into that role?
KC: When the show started, Nicole (Koglin) and Rob (Haswell) were still doing "Wakeup" and were busy up until the start of the show. Cassandra (McShepard) was new to television, and I was the one with the producer in my ear. But after a while, the show kind of morphed, and we realized that it's bad for me to just give out the information and react. Now everyone is bringing stories to the group. We all have different backgrounds and ages.
Page 1 of 2 (view all on one page)
Next >>
Talkbacks
sandstorm | Nov. 3, 2011 at 9:07 a.m. (report)
she seems like a super nice person, but, wow, that show is garbage.
Facebook Comments
Disclaimer: Please note that Facebook comments are posted through Facebook and cannot be approved, edited or declined by OnMilwaukee.com. The opinions expressed in Facebook comments do not necessarily reflect those of OnMilwaukee.com or its staff.