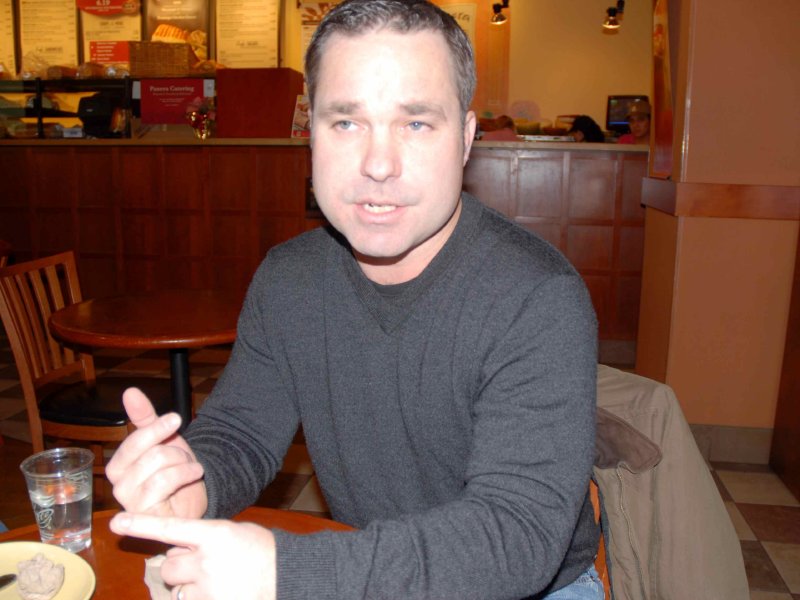 OnMedia: Lance Hill lands at ESPN Milwaukee radio
Former Channel 12 weathercaster Lance Hill will continue to do the weather, as well as sell ads for one of Milwaukee's two all-sports radio outlets, WAUK-AM (540).
The move, which should be formally announced today, brings a familiar personality to Milwaukee's ESPN radio outlet, which will help boost its local identity.
Hill spent a decade forecasting the weather at Channel 12 before leaving the ABC station at the end of his contract in November. He said his TV job was changing into a combination of weather and general assignment reporting.
"Not that there's anything wrong with being a general assignment reporter," He told me last month. "But that just wasn't why I was in TV."
Hill's goal was to remain in the area, not an easy task with the current state of the broadcasting business.
In another bit of news from WAUK, my OnMilwaukee.comrade, Drew Olson and Channel 12's Dan Needles mark the fifth anniversary of "The D-List" radio show today from 11 a.m. to 2 p.m.
Mark Richards stays in radio: Another displaced Milwaukee broadcasting personality has landed a radio gig in the area. Mark Richards started this week as news director at West Bend's WBWI-FM (92.5)/WBKV-AM (1470).
He's a veteran of both WMIL-FM (106.1) and WMYX-FM (99.1). Richards lost his WMIL gig last year when Clear Channel, which owns WMIL, went through a major down-sizing.
On TV: Channel 12's Kathy Mykleby is on the mend after breaking her ankle in a fall while walking her dog near her home last Wednesday. She had surgery Tuesday to put in a plate and some pins. She's recovering at home and is due back at the anchor desk on Jan. 12.
Channel 30, Milwaukee's Christian TV outlet, started broadcasting 24 hours a day, seven days a week, this week.
The Milwaukee Journal Sentinel is charging 25 cents extra per week to subscribers who want the TV Cue section that used to come free with the Sunday newspaper.
Illinois' disgraced but shameless former Gov. Rod Blagojevich will be part of Donald Trump's latest run of "Celebrity Apprentice," which starts March 14 on NBC.
That's our Contessa: One of Milwaukee's favorite TV exports, former Channel 4 anchor / reporter Contessa Brewer did a report for NBC's "Today" last week about unusual first names.
Obviously, she's the best reporter for the job, thanks to her own first name.
Reports Contessa: "When I was a little girl, my parents told me my name, Contessa, meant 'little princess' ... As I got older, I learned it's actually a title, like countess.
"And if my parents were going for royalty, why not aim higher?"
Facebook Comments
Disclaimer: Please note that Facebook comments are posted through Facebook and cannot be approved, edited or declined by OnMilwaukee.com. The opinions expressed in Facebook comments do not necessarily reflect those of OnMilwaukee.com or its staff.