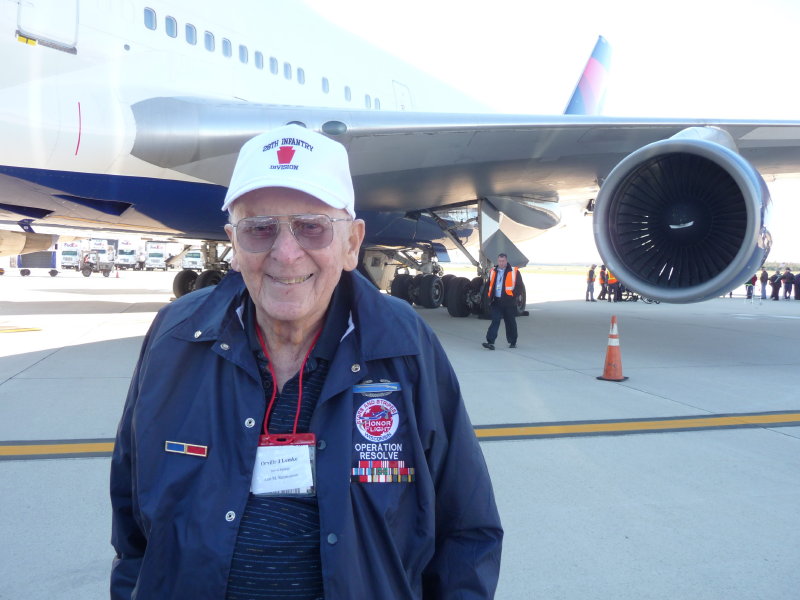 Milwaukee veterans featured in new Honor Flight documentary
When he was 20 years old, Orville Lemke helped saved the world. And for 65 years, it didn't seem that many people had noticed.
The Milwaukee native was drafted into the 28th Infantry Division in 1944 during the twilight of World War II, a conflict that some historians say gave birth to the modern United States as a superpower.
For two years Lemke worked as a communication specialist on the European front. He was wounded by German shrapnel in 1945. All records of this injury were lost in a fire and, despite eight years of letter-writing, when Lemke died in 2010 he had still not received the Purple Heart due to soldiers wounded in the line of duty.
All the United States Army has is Lemke's word. And, unfortunately, one soldier cannot move Congress.
But thanks to the Stars and Stripes Honor Flight and the care of his daughter Ann Rasmusson, two months before his death Lemke did get to see the memorial at the nation's capitol which had been built in his honor – and in honor of the 16 million American men and women who fought in World War II.
"I don't know what the right word to use to describe that day," said Rasmusson, who accompanied her father on the trip to Washington, D.C. "Amazing doesn't even begin to cover it."
Lemke and Rasmusson participated in one of the Stars and Stripes' "Honor Flights," which ferry veterans to the nation's capitol for a whirlwind day-long trip to visit the World War II monument and other landmarks.
Lemke's journey is one of several shown in Freethink Media's new feature-length documentary "Honor Flight," which will make its world premiere at Miller Park on Aug. 11. Freethink filmmakers Dan Hayes and Clay Broga chronicle the work of Stars and Stripes Honor Flights, Inc., a non-profit group in Southeastern Wisconsin run entirely by volunteers.
The mission of Stars and Stripes is to let the veterans of Wisconsin know that a nation is grateful to them, says the website. And the mission of the documentary is to preserve the legacies of those veterans for a nation facing an uncertain future.
"Part of this effort, for us, is to chronicle these stories before they die with them – to be blunt," said Broga. It is estimated that close to 1,000 members of what is often called "the Greatest Generation" are dying each day.
"At a bigger level we view it (the film) as sort of symbolic," Broga added. "You ask people how they view the direction of the country and you use those polling numbers and it's really quite negative. You see these guys – the Greatest Generation – and they're dying.
"And it's like, our county's going this direction people are not feeling positive about and these guys represent greatness for us – so what happens when they're gone? Are their values going to do with them?"
Lemke's Honor Flight took place on Nov. 6, 2010. He died less than two months later, on Christmas Eve. Rasmusson and her family are unwilling to let her father's values die with him. They have kept up the letter-writing campaign to secure his long-awaited Purple Heart, and they will attend the Field of Honor event – along with 160 of their closest friends.
Rasmusson has not seen the full documentary yet but said she does not know how she is going to wait till Aug. 11.
"I wondered what my dad would think of all this," she said. "On the way home from the preview of the movie last December I was saying to my husband and son, 'Do you think he'd be happy? Do you think he'd be proud or mad over all the attention?' And just as I asked that question I saw a falling star. And I said to my husband, 'Greg, there's the answer!' He's happy. He's proud."
Page 1 of 2 (view all on one page)
Next >>
Facebook Comments
Disclaimer: Please note that Facebook comments are posted through Facebook and cannot be approved, edited or declined by OnMilwaukee.com. The opinions expressed in Facebook comments do not necessarily reflect those of OnMilwaukee.com or its staff.