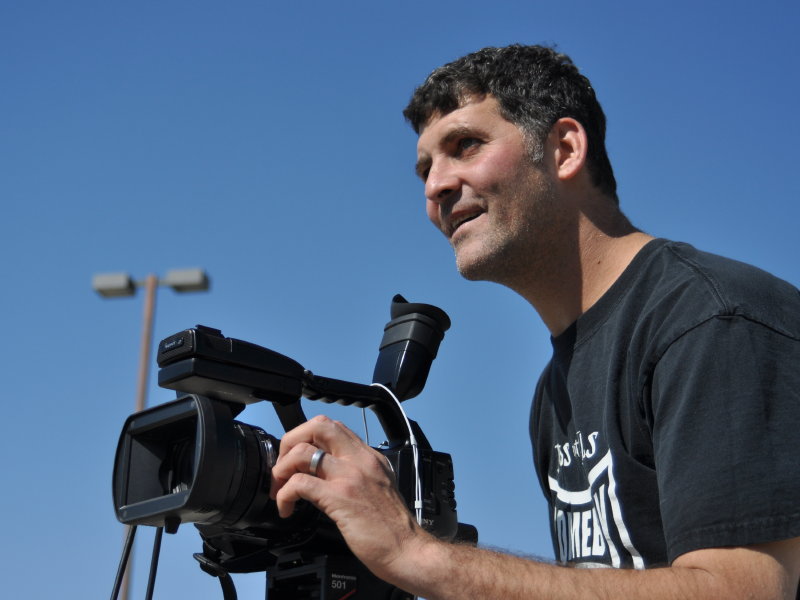 "As Goes Janesville" director brings big discussions to big screen
Throughout their over 100 years of existence, movies have served as one of the world's greatest forms of escapism. Of course, it's terrific when a film can enlighten or create an emotional response in the audience. However, for most people, the movies are the best method of entertaining life's woes away.
And what better thing to want to entertain away than the onslaught of political coverage coming at citizens from every angle. Every television and radio show, Tweet, Facebook post and even YouTube video seems to force political jargon and talking points down the audience's throat in the hopes of swaying one's opinion – and most importantly, one's vote – left or right.
Director Brad Lichtenstein and his new documentary, "As Goes Janesville," have a different goal. Instead of using politics and the economy to get people yelling at one another, Lichtenstein hopes to get viewers to understand one another.
"It's not polemic," Lichtenstein said. "My goal is always to try to give viewers a lot of ways into the movie and the humanize all the characters in the film so that everyone has a lot of empathy for what everyone is going through, no matter what their political feelings are going into the theater."
The documentary follows a collection of characters from Janesville affected by the closing of the town's GM plant. Some, such as Mary Willmer, are from the business side of things, hoping to bring new companies and jobs to town. Others agree with labor's point-of-view, such as Democratic senator Tim Cullen. Even more are workers, trapped between the two battling sides and trying to find a way to make ends meet.
With such a large cast of characters and personalities, it's no surprise that famed film director Robert Altman was one of Lichtenstein's biggest influences on "As Goes Janesville."
"What I really love, admire and think about when I'm making movies is the way in which he creates a place out of a whole array of characters," Lichtenstein said. "It's hard in the editing room."
Other inspirations for Lichtenstein come from his own life experiences, namely working as a teenager with civil rights leader and current Georgia House of Representatives member John Lewis.
"Throughout his entire career, he's always maintained a view that our purpose is to bring people together," Lichtenstein noted. "I think it's unconscious that the filmmaking that I do tends to tell stories in a way that brings together people with very different points of view, but there's something fundamental that unites them."
Lichtenstein starting work on "As Goes Janesville" back in 2008 when the economy, and especially GM, began falling apart. The director, whose wife, Anne Basting, hails from Janesville, realized that the GM plant located in her hometown was likely in danger of closing.
"I started thinking that there was an opportunity to tell an important story," Lichtenstein said.
After the plant closed, the filmmaker toured the town in February and March of 2009, asking people around the city about the story of Janesville and discovering what citizens would make good documentary subjects. He also began filming some business-related events around the city, including a task force meeting whose goal was to bring GM back to the plant.
"I was successful with getting access for about 45 seconds, and then they kicked me out," Lichtenstein said. "But it was this golden moment when everybody – Republicans and Democrats, business and labor – gathered around the table to put together an incentive package to offer GM. Once they weren't successful, though, Janesville and all of Wisconsin started to become more divided, mostly around the iconoclastic figure of Scott Walker."
Much of the early buzz about "As Goes Janesville" came from a notorious scene in which the polarizing governor tells a donor about his plan to "divide and conquer" the unions. The clip gained Lichtenstein's documentary a lot of publicity and caused a great deal of outrage amongst labor supporters.
The film's purpose, however, is not to vilify Walker. In fact, one of the film's most affecting scenes involves Senator Cullen attempting to quiet some labor protesters at a Travel Wisconsin event in which Walker is speaking.
"At the screenings, people who sympathize with labor generally get really excited at the way the governor is being shouted down, and then they're kind of stunned when Tim Cullen says that this isn't the place to do that," Lichtenstein said. "Then they get jolted again when one of the protesters starts yelling at Tim. It gets people going through an emotional roller coaster."
Scenes like that exemplify exactly the emotions and experiences Lichtenstein wants to create in audiences with "As Goes Janesville" and his documentaries in general.
"I don't want the audience to ever be able to sit comfortably with their preconceptions," the director said. "I want to use the film as a way to help people get past all of their political and polarized positions, and to find a way to recognize – even in people they disagree with – a humanity that can lead toward a common purpose."
Part of that mission extends to what Lichtenstein and his production company, 371 Productions, intend to do with "As Goes Janesville." The filmmaker noted that they're taking the film on the road with BizLab, a community engagement program that attempts to bring business and labor together for discussion.
In addition, the film partners with various constituencies on opposing sides in the hopes of stimulating productive conversations, engaging in group activities and inspiring cross-ideology alliances.
"For me, it's not enough to make a film and be in a film festival," Lichtenstein said. "It's what you do with the film."
In the case of "As Goes Janesville," what Lichtenstein is doing is trying to make it safe to talk about politics in Wisconsin again.
bswzubeyeeeufqtavexfxzbwff
Facebook Comments
Disclaimer: Please note that Facebook comments are posted through Facebook and cannot be approved, edited or declined by OnMilwaukee.com. The opinions expressed in Facebook comments do not necessarily reflect those of OnMilwaukee.com or its staff.