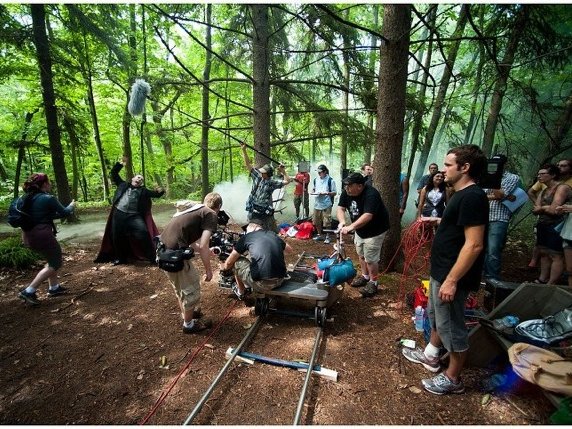 "The Vampire Formerly Known as Dracula" sinks its fangs into Milwaukee Film
In a digital age where the idea of life before the internet is something straight out of "The Flintstones," today's generation doesn't have to go much farther than YouTube to build its own DIY film catalog.
Eventually, though, these big screen hopefuls must acquaint themselves with the more high-end tools of the trade. And, while this usually means a trip to a big-city film school, Milwaukee's aspiring filmmakers are lucky enough to have a full professional arsenal right in their own backyard.
Milwaukee Film's Collaborative Cinema program has been in the business of helping burgeoning filmmakers learn the ins and outs of professional film for years. The educational branch of Milwaukee Film offers high school and college students the chance to work alongside professionals in the industry during its annual summer film shoot.
This year's offering, "The Vampire Formerly Known as Dracula," opened doors for yet another group of program participants – in particular, for screenwriter Ian Walls and director Nathaniel Schardin.
"This is something that's been happening at my school for a few years. I didn't know because I was just a freshman," said Walls, now a sophomore at Milwaukee High School of the Arts. "(Education Director) Susan Kerns came in to talk to the level one theater group about film writing. We watched last year's film, and then she told us that if we wanted to, we could write our own ideas for scripts – a couple sentences – and turn them into her, and if they thought it was a good idea then they would call you back and have you come to a couple workshops."
Walls attended the workshops and fleshed out his script, which tells the comedic tale of a traditional Dracula displaced by contemporary America's fashionable new breed of vampires.
"I always liked vampires, and Dracula especially," explained Walls. "Then 'Twilight' came and I didn't really like what they did to vampires, so I just decided I wanted to bring back the old vampire."
After making it to the top five, Walls' script caught the eye of Schardin, one of five local directors selected by Milwaukee Film for this year's program.
"This is the first year they've opened up offering the director position to recently graduated students," said Schardin, who graduated from MATC in May of last year. "I applied, and I pitched 'The Vampire Formerly Known as Dracula.'"
Schardin is no stranger to the film set. He's contributed to multiple Collaborative Cinema shoots in the past, directed his own work as part of MATC's program and served as a production assistant for "Transformers: Dark of the Moon." Still, being in charge of his first major role behind the camera wasn't easy.
"This is the biggest role I've had, as director," said Schardin. "At first it's a really daunting task. You think, 'How am I going to coordinate all these people at one time?' But, from being on sets in the past, I had a good idea of how directors have done it, and also the professionals who were working on set had no problem giving me advice and kind of tutoring me as to how to do this."
Milwaukee Film amasses a mix of students, emerging talent and top local professionals to execute its Collaborative Cinema production each year – which not only helps contribute to Milwaukee's original film scene, but also to the development of the program's younger talent.
"The film industry in Milwaukee is a really tight-knit group," said Schardin. "They'll have college interns do work under them so the college interns can learn. We also have a select group of high school interns that were a part of the screenwriting workshops beforehand, so we bring them on to also teach them how to make a film. It's a great collaboration between everyone in the film community here in Milwaukee."
In addition to contributing the screenplay and collaborating with Schardin, Walls also got a hands-on perspective of his film being made by taking on an intern role, too.
"We would basically go around to the different departments and they would teach us about what they were doing and let us help out," he said. "Any time I was on set listening to (filming), there was a moment where I was thinking, 'Did I write that?' because it sounds so different when people are actually saying it."
"The Vampire Formerly Known as Dracula" will premiere during the Milwaukee Film Festival's presentation of The Milwaukee Show Thursday, Oct. 4 at the Oriental Theatre. The movie will screen at 7 p.m. With less than a month to go before his big-screen debut, Walls is understandably excited.
"Yeah, I'm going to invite as many people as I can."
Facebook Comments
Disclaimer: Please note that Facebook comments are posted through Facebook and cannot be approved, edited or declined by OnMilwaukee.com. The opinions expressed in Facebook comments do not necessarily reflect those of OnMilwaukee.com or its staff.