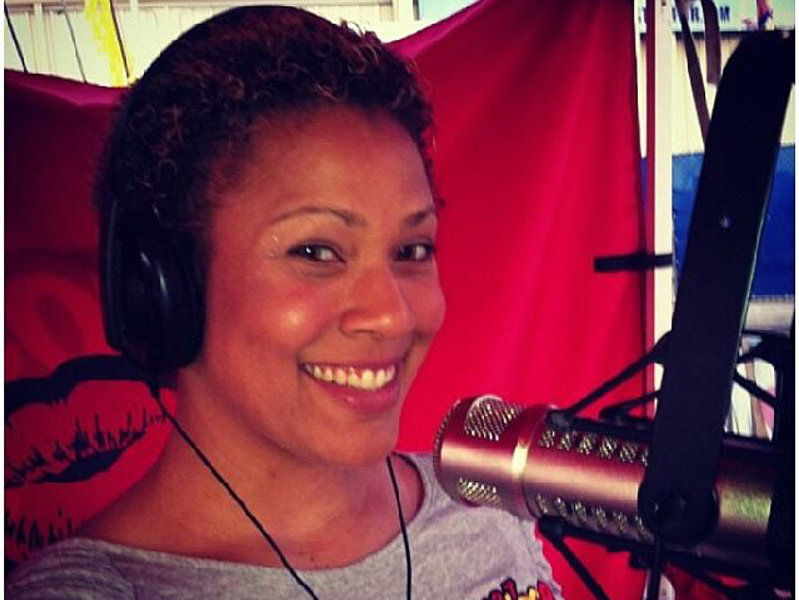 McKnight signs off at WXSS-FM 103.7 Kiss FM
There is a multitude of reasons that may cause a person who works in media to move to a different market. But when the opportunity arises in radio for a better time slot and the ability to be closer to home, that's a hard one to pass up.
For Michele McKnight, the evening host on WXSS-FM 103.7 Kiss FM, that's exactly what happened. She signed off in Milwaukee for the last time on Monday night.
"I've been here for two years and it's been great," McKnight said. "The people here in Milwaukee are so nice and welcoming."
McKnight will be the mid-day DJ at KTFM-FM 94.1 in San Antonio, which allows the Texas native to be closer to friends and family.
"My mom posted how excited she was when she found out," she said. "I couldn't say anything because I had to wait for the official announcement. But, you know how moms are."
KTFM was recently acquired by L&L Broadcasting, which has a commitment to live and local broadcasting. McKnight was the first of more hires to come at the contemporary hits station, which has a playlist very similar to the Top 40 that KISS FM plays here in Milwaukee.
"Thank you to Milwaukee for treating me to the best beer and cheese I've ever tasted," McKnight posted to her fans on Facebook. "To the snow and -50-degree windchill ... sorry you won't be missed and don't expect a card EVER. To my listeners, I love you all and … appreciate you for taking the ride with me every night at 7 on KISS."
Brian Kelly, the vice president of operations for Entercom, has started his search for the new night DJ at Kiss FM, according to the RAMP radio industry newsletter.
BUCKY: Dennis Krause and JP Cadorin of Time Warner Cable SportsChannel will travel to Dallas to cover the University of Wisconsin's men's basketball team as it heads into the 2014 NCAA Final Four on Saturday. The channel will air a special episode of "Sports Weekly" and "The Roundtable" all week, and special reports starting Thursday in Texas.
If the Badgers advance to the NCAA Championship Game, SportsChannel's special programming will continue next week.
"The Roundtable," which debuts nightly at 4:30 p.m. with re-airs at 5:30 and 9:30 p.m., will provide an in-depth preview of the Kentucky match-up tonight, and Thursday and Friday's shows will include special content, including player features, exclusive interviews and commentary from Cadorin and Krause as they report from Dallas with the team.
ON TV: TBS and CBS will have the bulk of the coverage on Saturday and Monday of the 2014 NCAA Division I Men's Basketball Final Four and National Championship. Connecticut faces Florida and Kentucky will play against Wisconsin in Saturday's semifinals on TBS. Coverage will start around 5 p.m.
WDJT-TV CBS 58 airs the championship game coverage on Monday night starting around 7:30 p.m. from AT&T Stadium. Tipoff is set for 8:10 p.m.
On Saturday, Jim Nantz will call the action with analysts Greg Anthony and Steve Kerr, along with reporter Tracy Wolfson. Ernie Johnson will host studio coverage from the Final Four and National Championship with analysts Charles Barkley, Clark Kellogg and Kenny Smith – joined by Greg Gumbel and analysts Reggie Miller, Seth Davis, Grant Hill, Doug Gottlieb and college coaches.
But if you want a local flavor, you may want to check out the special "teamcasts." These team-specific presentations will be custom for each team participating in the Final Four. TruTV will be the home for the Badgers with a familiar voice leading the coverage.
Packers Radio Network play-by-play announcer Wayne Larrivee, will provide the play-by-play for the Wisconsin-slanted broadcast on Saturday. He has called Wisconsin games on the Big Ten Network this season, and will be joined by former Badger Mike Kelley, who was with the team in the Final Four in 2000.
ON THE RADIO: WOKY-AM The Big 920 will have the broadcast of Saturday's Final Four match-ups. Coverage is scheduled to start at 2:30 p.m. with the University of Wisconsin game coverage at 6:30.
There are also a number of digital viewing options of the games, and you can find more details here.
Facebook Comments
Disclaimer: Please note that Facebook comments are posted through Facebook and cannot be approved, edited or declined by OnMilwaukee.com. The opinions expressed in Facebook comments do not necessarily reflect those of OnMilwaukee.com or its staff.