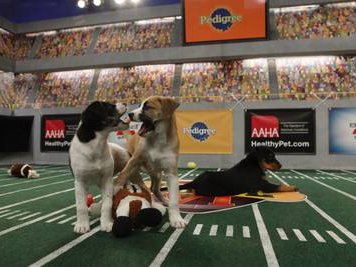 OnMedia: Five alternatives to the Super Bowl on TV
No, you don't have to watch Sunday night's Super Bowl, although the majority of TV viewers will be tuning in for at least part of the game -- or the commercials.
And the networks aren't making it easy, offering mostly reruns. But there are some choices to tempt you away from the game.
Here's a handful of alternatives:
1. Animal Planet's "Puppy Bowl" has become something of a Super Bowl Sunday tradition. Now in its sixth year, the latest version will feature rabbit cheerleaders and hamsters piloting a blimp.
Yes, hamsters.
The two-hour show starts running at 2 p.m. and repeats until 4 a.m.
2. ABC is offering reruns of its Wednesday night sitcoms, including four episodes of the best of the lot, "Modern Family," at 7, 8 9 and 9:30 p.m; the best is the Christmas episode at 8 p.m.
Take that, innocente!
3. MTV repeats the season of "Jersey Shore" from 8 a.m. to 5 p.m., and then repeats "Teen Mom" from 5 to 11 p.m.
4. If you want to go old school, Hallmark Channel offers a black-and-white "I Love Lucy" marathon from 8 a.m. through midnight.
5. TBS also takes us back to a far simpler time, when James Cameron's characters were all wet and shivering, rather than blue and spiritual and under threat from evil corporate interests. Cameron's "Titanic" airs at 6 and 10 p.m.
Vote for WKLH: Since there aren't any other Milwaukee stations in the race, I don't feel any reason not to urge you to vote for WKLH-FM (96.5) as North America's "Most Caring Radio Station."
You can find details here for the competition, which could yield $50,000 for Children's Hospital of Wisconsin.
You can vote until 11 tonight. And you can vote 10 times. Just like in Chicago.
The Super Bowl en Español: If you're looking for the big game in Spanish, WJTI-AM (1460) airs the game Sunday evening.
On TV: Former Channel 6 anchor Dawn Hasbrouck joins Chicago Fox affiliate WFLD-TV next week to co-anchor the noon newscast. She was most recently at Boston's WBZ-TV.
Wednesday night's fourth episode of the BBC's very funny teen sitcom "InBetweeners" has a subtle dig at Brew City, closing with a reference to one of the gang taking his geeky young date and her mum to a "Milwaukee Fried Chicken." It doesn't sound like a classy place for a meal, although I bet the cheese curds are great.
With ratings up for its ongoing fourth season, HBO has ordered a fifth season of "Big Love."
Despite what the National Enquirer says, CNN's Anderson Cooper tweets that "while the plight of children in Haiti has touched us all, stories about me adopting a baby are completely false."
Ashton Kutcher hosts this weekend's "Saturday Night Live" at 10:30 p.m. on Channel 4. Them Crooked Vultures are the musical group.
A Super Bowl ad teaser: If you are watching the Super Bowl for the ads on Sunday -- which I'll be live-blogging -- here's a teaser for one of the spots that look worth a look, Betty White for Snickers.
And as long as we're talking about the Super Bowl commercials, feel free to post your comments on the ads as I'm live-blogging the game starting at 5 p.m. Sunday right here at OnMilwaukee.com.
Facebook Comments
Disclaimer: Please note that Facebook comments are posted through Facebook and cannot be approved, edited or declined by OnMilwaukee.com. The opinions expressed in Facebook comments do not necessarily reflect those of OnMilwaukee.com or its staff.