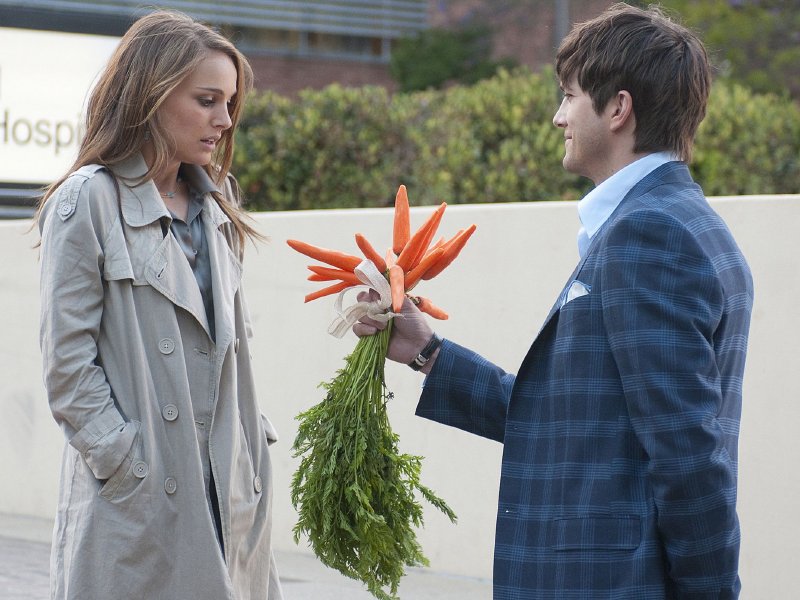 OnMedia: A Natalie Portman sex comedy?
Fresh from her critically acclaimed serious role in "The Black Swan," Natalie Portman is showing a different, far more commercial side in the new "No Strings Attached," opening in theaters today.
The talented Portman plays a dramatically different character from the tortured ballerina of "Black Swan" in this sometimes-raunchy Ivan Reitman sex romp, and she's among the executive producers of the film. Here's she's something of a cold fish, unable to get emotionally connected to others -- or, at least, that's the set-up.
She finds herself in the same town as Ashton Kutcher, who she's met a couple times since they were teens at camp, and they hook up for a romance-free sex-buddy relationship.
How long do you think that can last?
The movie's supporting cast is surprisingly strong, including the dry Mindy Kaling (of "The Office"), the wonderful Greta Gerwig (the only good thing in Ben Stiller's "Greenberg"), and a hilariously aging Kevin Kline, as a fading TV star who is the father of Kutcher's character.
Kutcher is surprisingly likable here, although the script requires two characters to remind us that he has a really, really good heart.
As for Portman, she's cute as a button, although not quite believable as the ice queen she's playing. This one won't be on anybody's awards' list for next year.
Still, this entertaining romantic comedy is a fine date-night diversion, and is likely to do some good business as we head to Valentine's Day.
Here's the trailer, which lays things out pretty well:
On TV: While the Milwaukee audience for the Wednesday night opening of the Simon Cowell-less "American Idol" was up, with about one in five area TVs tuned to the season premiere, the Nielsen Media Research numbers were substantially down nationally, 13 percent lower than last year's figure. Expect big numbers in southeast Wisconsin at least through Wednesday's Milwaukee audition episode -- unless a local singer makes it through.
Channel 58 is planning two specials to air before Sunday's Packers-Bears Midwest Super-Duper Bowl. "Sports Fanatics: Turf Wars Special" airs at 7 p.m. Saturday, featuring former players from both teams talking about the rivalry. "Sports Fanatics," the CBS station's new weekly half-hour show, airs at 10 a.m. Sunday.
Channel 4 says a Packers win on Sunday will lead to an extended 10 p.m. newscast that night.
Here's a reminder that Channel 12 expands its weeknight 10 p.m. news to an hour starting Monday. Weather guy Mark Baden will give up Sunday nights and move to a Monday-Friday schedule. Jeremy Nelson will take his place on Sunday nights.
Milwaukee Public TV will air today's first Milwaukee County executive forum from Marquette University's Eckstein Hall. The noon forum, moderated by Mike Gousha, will air at 9 tonight on Channel 10.2 over the air/Channel 976 on Time Warner Cable, and noon Sunday on Channel 10.
Roger Ebert reports that he'll be wearing a prosthetic chin on his new "Ebert Presents at the Movies," which premieres tonight at 11 on Channel 10.
Ricky Gervais dusts off his David Brent character to visit Thursday's edition of NBC's "The Office."
That naughty Rob Lowe: If you're a fan of NBC's "Parks and Recreation," which finally returned to the lineup last night, you may enjoy this mock promo, featuring a far different side of new cast regular Rob Lowe (be warned that the language in this Funny or Die video would not make it on network TV).
Facebook Comments
Disclaimer: Please note that Facebook comments are posted through Facebook and cannot be approved, edited or declined by OnMilwaukee.com. The opinions expressed in Facebook comments do not necessarily reflect those of OnMilwaukee.com or its staff.