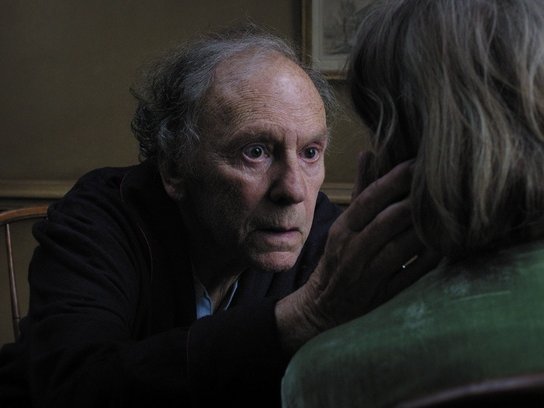 As usual, Oscar nominations create their own drama
Another year, another step toward irrelevance.
Earlier this month, I publicly promised to not get mad and aggravated by the Oscars anymore, and despite the tone of that opening sentence, I think I've been able to keep that resolution. I'm not so much mad at the Academy Awards nominations, released bright and early Thursday morning, as I am amused, in the same way a drunk guy at the bar embarrassingly trying to impress a group of laughing women amuses me.
The ceremony itself is still over a month away, but the nominations have certainly provided enough drama and storylines to keep conversation going until Feb. 24 (or at least to distract audiences from the usual dearth of good new releases coming out).
The Best Picture nominees actually went pretty accordingly to plan, with the favorites ("Lincoln," "Zero Dark Thirty," "Argo"), the dark horses ("Les Mis," "Silver Linings Playbook," "Life of Pi," "Django Unchained") and the cute indie surprises ("Amour" and "Beasts of the Southern Wild") all in place. Even the acting awards went by pretty uneventfully.
Of course there were a few gripe-worthy snubs. Many may have been wondering where the love was for "The Master," which missed out on Best Picture, Best Director and Best Cinematography. Its absence wasn't a massive surprise, however. The Academy doesn't normally go for more abstract and frankly strange films like "The Master," and it came out in September, which may not seem like a long time ago, but for Oscar voters easily distracted by the latest shiny Oscar bait, it might as well have been a decade ago.
Personally, I would have loved to have seen Leonardo DiCaprio get a nomination for his half amusing, half terrifying turn in "Django Unchained," a role he quite literally put his blood into. Some love for "Looper" in the original screenplay category would have gotten a hearty smile out of me as well, but these would have been pleasant surprises rather than things I expected.
Then we reach the Best Director nominations, and things get a bit hairy. Ang Lee and Steven Spielberg – for "Life of Pi" and "Lincoln" respectively – are no surprise. David O. Russell from "Silver Linings Playbook" isn't an unexpected shock either. Enter Michael Haneke and Benh Zeitlin, two names as confounding to pronounce as they are to see on this list.
Don't get me wrong. I quite enjoyed Zeitlin's vibrantly imaginative "Beasts of the Southern Wild," and while I haven't seen "Amour" yet, I've heard marvelous things, and I've loved Haneke's work (namely "The White Ribbon") in the past.
The problem is the names left off the board. Ben Affleck, Kathryn Bigelow, Quentin Tarantino and Tom Hooper were all left having terrible mornings, seeing the nominees' names get announced without hearing their own. Hooper, who directed "Les Miserables," isn't a massive surprise. His techniques, including constant close-ups and Dutch angles, were very hit-or-miss for viewers.
The other three, however, are shocks. Affleck and Bigelow were pretty much considered locks for their work on "Argo" and "Zero Dark Thirty," which were two of the most critically lauded films of the year, mainly due to their direction. And while Tarantino wasn't considered a lock – he was also passed over for a Directors Guild Award nomination – he was certainly more expected than Haneke or Zeitlin.
In this critic's humble opinion, all three snubs are glaring oversights and only serve to baffle film fans. Affleck has now been passed over for just a Best Director nomination twice (the same happened in 2011 with "The Town"). More upsetting, however, is Bigelow, who does phenomenal work in "Zero Dark Thirty." The saddest thing is the potential reasoning. Voters, using their aged, addled minds' silly sense of logic, may have held back on Bigelow since she already has her Oscar. Punishing current genius because of past success? Sounds like the Academy Awards all right.
One thing, however, is made very clear by these Best Director nominations: "Lincoln" is in the driver's seat for Best Picture. The historical biopic was in a three-horse race with "Zero Dark Thirty" and "Argo" for the big prize, but now that they're missing Best Director love, their odds take a massive hit. No movie has won Best Picture without at least a Best Director nomination since "Driving Miss Daisy" in 1989. The time before that? "Grand Hotel" in 1933.
Perhaps the only film standing in Spielberg's way to a second Best Picture win is the "Silver Linings Playbook," which had a very strong showing, snagging a nomination in each of the major categories. If I put my nose up in the air and take a few sniffs, however, its success smells more like a Weinstein concoction rather than a truly great, deserving film.
Harvey Weinstein is known for his crafty awards season tactics and campaigns, and they've worked in the past. He helped "Shakespeare in Love" overcome ridiculous odds and win Best Picture over "Saving Private Ryan," an unarguable modern classic. His tactics also helped turn middling Oscar bait, like "The Reader," into Best Picture nominees.
My eyebrow raised this year when I saw Jacki Weaver nominated for Best Supporting Actress. Weaver is in "Silver Linings Playbook" for maybe fifteen minutes. The same could be said of her previously nominated role in 2010's "Animal Kingdom," but in that film, she made an impact. If I didn't know any better, I would've forgotten she was in Russell's film altogether.
Now, I liked "Silver Linings Playbook," and I have no problem with Lawrence, De Niro and Cooper receiving praise for their performances. I don't even mind the Best Picture nomination. It's a smart, pretty satisfying rom-com made for adults. However, "Silver Linings Playbook" is also a movie about a man who cures his mental illness by dancing with his quirky romantic foil. It's fun and cute, but it also doesn't gel with the rest of the movie, which takes Cooper's mental illness seriously and not as something that just requires a good waltz.
The ability for the Oscar nominations to turn movies I like into movies I despise for being overrated, a thing completely out of the film's power (see also: "The King's Speech," "The Artist"), is big problem, but that's more of a personal qualm. The bigger problem for the Oscars themselves is the young, hip audience they're so desperate to get. And based on these nominations, they certainly won't.
I just don't know what the Oscars are trying to achieve anymore. Every year, they attempt to draw younger audiences, but if so, why nominate "Amour," a foreign film that younger audiences wouldn't usually touch and take away nominations from movies that they, and mass audiences, would care about, like "Argo" or "Zero Dark Thirty?" No combination of cool, hip hosts – whether it be Jon Stewart, the failed Franco-Hathaway tandem or Seth McFarlane – will bring them to their TV sets.
At the same time, if the Academy is trying to play to the artistic cinephile audience, why bother nominating "Amour" or "Beasts of the Southern Wild" if we all know they stand no chance of winning? It's nice to give them the nod, but the gesture seems rather disingenuous at the same time when it's almost a certainty they'll select something far more standard and far less challenging.
As a result, the Oscars are currently stuck in an awkward shifting balance between pandering and pretentiousness. The voters' affinity for Oscar bait and their own delusional sense of self-importance throws a wrench into that dysfunctional machine as well. They want to be artistically relevant while also being pop culturally relevant, and in trying to do both, they're becoming irrelevant.
Okay, maybe the Academy Awards are not completely irrelevant. As an accurate representation and arbiter of the finest cinema has to offer, they're pretty much useless. But as a conversation starter? Well, I've just written 1,308 words that would suggest the Oscars are doing just fine.
Facebook Comments
Disclaimer: Please note that Facebook comments are posted through Facebook and cannot be approved, edited or declined by OnMilwaukee.com. The opinions expressed in Facebook comments do not necessarily reflect those of OnMilwaukee.com or its staff.