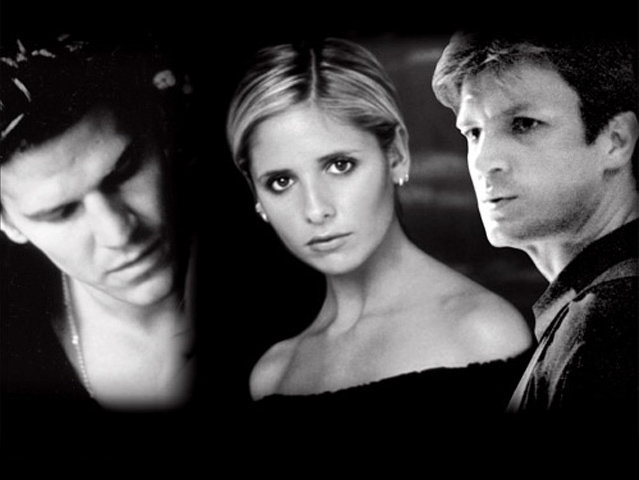 "The Philosophy of Joss Whedon" explores higher aspects of the pop culture icon
Writer/director Joss Whedon is considered by many fans to be a master of his craft. Known for piloting the hit cult television series "Buffy the Vampire Slayer" and its spinoff, "Angel," his credits also include sci-fi drama "Firefly" and the mini-series "Dr. Horrible's Sing-Along Blog."
Whedon has also been a hot topic in the movie world lately, having written "The Cabin in the Woods," in theaters today, as well as Marvel Comics' much-anticipated "The Avengers," which he also directed.
But for a select group of fans, Whedon's string of storied accomplishments doesn't end with his work on script and screen. To them, it could also be considered philosophical commentary – and it has, in a new and locally generated anthology appropriately titled "The Philosophy of Joss Whedon."
"Just as we read Plato, we can "read" somebody like Whedon in a similar way – watch his pop culture artifacts to try to better understand the ideas and the storylines as they are expressed," said University of Wisconsin-Waukesha Associate Professor of Philosophy Dean Kowalski, who co-edited and contributed to "The Philosophy of Joss Whedon" with fellow Wisconsin Colleges Associate Professor of Philosophy S. Evan Kreider of UW-Fox Valley.
Kowalski is no stranger to merging the realms of pop culture and philosophy. As an avid pop culture fan and academic, he has previously edited and contributed to "The Philosophy of The X-Files" and "Steven Spielberg and Philosophy," in addition to contributing to "James Bond and Philosophy" and "The Philosophy of Martin Scorsese."
"Originally, these books were just an interesting way to learn about philosophy through the lens of your favorite TV show, or your favorite music group, or your favorite movie," he said. "But, over the years what's happened is more and more scholars are interested in treating, say, Joss Whedon, as a philosopher, and trying to figure out what Whedon is after in this movie or in this TV show, and whether or not any common themes pop up."
It was in this vein that Kowalski and Kreider approached "The Philosophy of Joss Whedon."
"One thing that sometimes gets overlooked is that the kind of research these books are really after is to treat whatever pop culture medium you're working with as a thing unto itself," said Kowalski. "Although there still are some people who are very serious about 'Buffy' and 'Angel,' there really wasn't a great deal of coverage of his latest stuff. We were hoping, then, to fill the gap in the literature in terms of focusing on his post-'Buffy' work."
In addition to contributing essays themselves, Kowalski and Kreider also recruited 12 other professors to complete the anthology, including five fellow pop culture associates from the UW college system and Marquette University.
"It's probably no accident, I think that's fair to say," said Kowalski of this arguably Wisconsin-centric collaboration. "To be perfectly honest, I wasn't bothered by that, the reason being it takes a great deal of trust between editor and author for it all to go smoothly. You both want the best chapter that you can write, but when you're working with people you don't know, sometimes that gets a little tricky."
Even with a solid blend of friends, fans and scholars, compiling "The Philosophy of Joss Whedon" still required a few concessions.
"Half of the chapters in the book have something to do with 'Firefly.' Everybody wanted to write on 'Firefly.' I wanted to write on 'Firefly,'" joked Kowalski. "But, (as an editor) you really want to make sure you have enough coverage of all the shows. You want at least one chapter to cover all of the really important shows, and even within the chapters you want to make sure there isn't too much overlap in the content."
Nevertheless, putting together the collection took care of itself for the most part, according to Kowalski, thanks in no small part to the subject matter.
"Whedon's stuff is, I think, inherently philosophical," he explained. "Of all the filmmakers and the moviemakers, there are just some that kind of stand out as being philosophical. Because his corpus is so rich in philosophical ideas, it was sort of a no-brainer in some regards.
"A lot of his shows touch on the human condition, and he seems very interested in human relationships and ethics of friendship. If you watch some of Whedon's stuff carefully, it's pretty obvious that he has some interest in philosophy. He's not really suggesting certain philosophical themes, but he's actually trying to defend them."
And if nothing else, this is the main point Kowalski, Kreider and their fellow contributors hope comes across in "The Philosophy of Joss Whedon."
"It's using philosophy to better understand the pop culture medium, instead of using the pop culture medium to better understand philosophy," said Kowalski. "This volume is purposely and intentionally trying to treat Whedon as something of a modern-day Socrates – somebody who is out in the public arena trying to get us to think more deeply about what's really right or what's really good."
Facebook Comments
Disclaimer: Please note that Facebook comments are posted through Facebook and cannot be approved, edited or declined by OnMilwaukee.com. The opinions expressed in Facebook comments do not necessarily reflect those of OnMilwaukee.com or its staff.