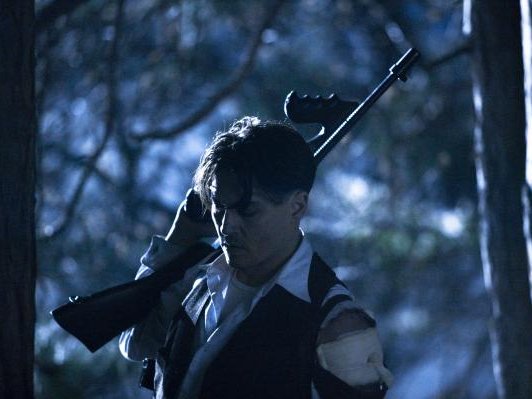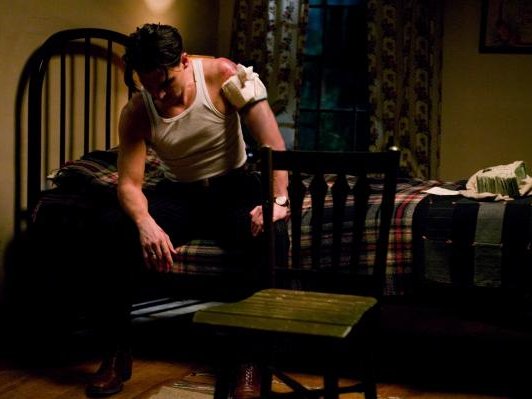 Critical mass: The experts review "Public Enemies"
Here is a look at what movie critics from around the country wrote about the new movie "Public Enemies," which was filmed in Wisconsin by director Michael Mann and stars Johnny Depp as John Dillinger.
David Denby
The New Yorker
"For all its skill, "Public Enemies" is not quite a great movie. There's something missing-a sense of urgency and discovery, a more complicated narrative path, a shrewder, tougher sense of who John Dillinger is. The bank robber had a brief run as a national figure. Paroled after nearly nine years in the Indiana pen, on May 10, 1933, he rampaged his way around the country, often living openly in Chicago and smaller cities, and was shot dead by a variety of cops and agents fourteen months later, on July 22, 1934. As the movie tells it (Mann wrote the screenplay with Ronan Bennett and Ann Biderman, adapting Bryan Burrough's 2004 book, also called "Public Enemies"), Dillinger was a gentleman thug, loyal to his friends and to his hat-check girlfriend, Billie Frechette, played by Marion Cotillard with a combination of desperate hope and fear that is enormously appealing. Relaxed and assured, Depp, with his fine, sharply cut features and lithe body, turns Dillinger into a supremely confident young man. "What do you want?" Cotillard asks him. "Everything, right now," he says. It's the quintessential movie gangster's demand, although Depp speaks softly, without the snarling boastfulness of the great actors (Paul Muni, James Cagney, Edward G. Robinson) who played gangsters when Dillinger was alive. There's a faint tone of mockery in Depp's mildness, in his secret half smile, though his face can darken with rage. Mann and Depp's idea of Dillinger as an unruffled prince of crime is extremely enjoyable. Yet, as the movie goes on, you begin to question whether it makes much sense."
Roger Ebert
Chicago Sun-Times
"This Johnny Depp performance is something else. For once an actor playing a gangster does not seem to base his performance on movies he has seen. He starts cold. He plays Dillinger as a Fact."
Manohla Dargis
New York Times
"A grave and beautiful work of art. Shot in high-definition digital by a filmmaker who'€™s helping change the way movies look, it revisits with meticulous detail and convulsions of violence a short, frantic period in the life and bank-robbing times of John Dillinger, an Indiana farm boy turned Depression outlaw, played by a low-voltage Johnny Depp....
"... Much of what makes the movie pleasurable is the vigor with which it restages our familiar romance with period criminals, a perennial affair. But what also makes it more than the sum of its spectacular shootouts is the ambivalence about this romance that seeps into the filmmaking, steadily darkening the skies and draining the story of easy thrills."
Kenneth Turan
Los Angeles Times
"Mann often wants to do traditional films but do them differently, do them better, enabling the audience to feel both the newness and the tradition. With "Public Enemies," he has made an impressive film of great formal skill, one that inescapably has a brooding dark-night-of-the-soul quality about it..."
"... A restrained performance like that only succeeds when it's given by an actor as intrinsically charismatic as Depp. His Dillinger can be as ruthless as the next guy and handy with a submachine gun when his bank robbery spree demands it, but what we end up admiring are his nerve, his style, his long gabardine overcoats (reminiscent of the long dusters worn by those other Midwestern movie outlaws, the James gang) and his hip, round sunglasses. This is star power acting with magnetism to spare."
Claudia Puig
USA Today
"Director Michael Mann mounts a technically proficient, visually enthralling crime drama anchored by the low-key but captivating performance of Johnny Depp as legendary bank robber John Dillinger."
Peter Rainer
Christian Science Monitor
"Hollywood has made so many 1930s-era gangster movies that the only excuse for a new one is novelty. Why else endure yet again all those rat-a-tat shootouts? Nostalgia has its limits.
Michael Mann's "Public Enemies," starring Johnny Depp as John Dillinger, doesn't attempt to break new ground. It tills the old ground, albeit with new-style star power and Mann's signature cinematic flourishes. But Depp is unduly subdued and Mann's cape work is oversold."
Page 1 of 2 (view all on one page)
Next >>
Theaters and showtimes for
Public Enemies
Talkbacks
High_Life_Man | July 5, 2009 at 12:35 p.m. (report)
I thought it was fantastic. Even the sound was impressive (especially the shootouts in the forest). Like most of Mann's movies, it'll be appreciated more as the years go by.
adrienneleamuller | July 4, 2009 at 11:23 p.m. (report)
This movie is nothing but a disappointment from the start. I wanted to see it because it was filmed in Milwaukee and other WI locations - but I could just go over to the historical society building and have a better time. The costumes and sets are awesome - Johnny D. and Christian Bale are excellent. Just one thing was missing - plot! This movie is predictable and cliche - Attempts to build suspense failed horribly. The romantic story line had absolutely no depth or believability. I wish I could get my money back - but at least I can save others from the pain and anguish of waiting what seems like an eternity through this movie for the possibility of a story to materialize.
Facebook Comments
Disclaimer: Please note that Facebook comments are posted through Facebook and cannot be approved, edited or declined by OnMilwaukee.com. The opinions expressed in Facebook comments do not necessarily reflect those of OnMilwaukee.com or its staff.