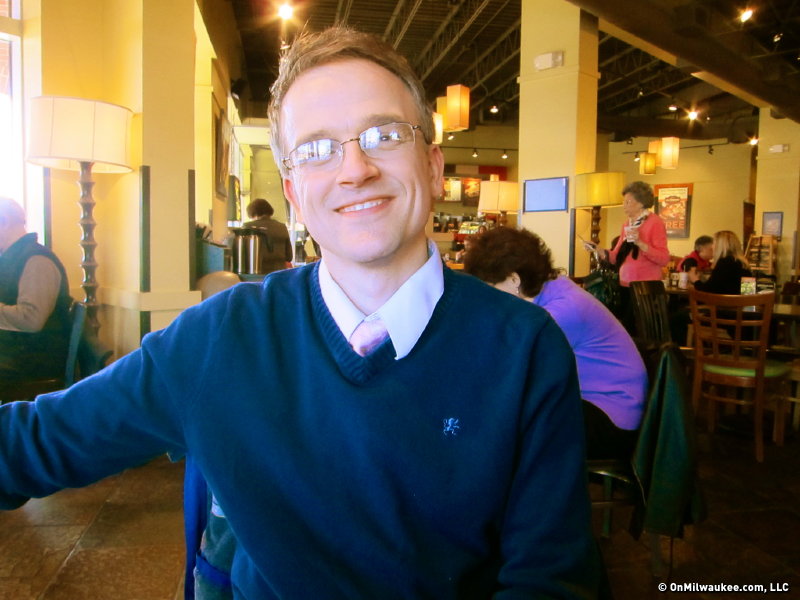 Milwaukee Talks: FOX 6 meteorologist Rob Haswell
Rob Haswell didn't dream of becoming a meteorologist when he grew up. Rather, the Canadian native wanted to be a comedian, studying with Second City, north of the border, until he saw what life was like for a friend in Los Angeles trying to make it in showbiz.
So Haswell opted for "Plan B," a job in radio that eventually gave way to a career in TV meteorology that ultimately landed him in Milwaukee. Now married with three kids, Haswell also co-hosts "Real Milwaukee," and credits his training in improv comedy for his ability to find his timing on a crowded desk with three outspoken female co-anchors.
Last week, we caught up with Haswell, who spends most of free time on a hockey rink coaching his kids. We talked about the business of weather forecasting, competition with Siri and what's the deal with that chicken tattoo on his ankle. Enjoy this latest Milwaukee Talks.
OnMilwaukee.com: I have to start you off with a tough question. Every morning, I ask my iPhone what the weather will be like today, and it tells me. Why should I watch you on TV?
Rob Haswell: Actually, that's pretty easy. Siri is probably getting "her" data from an out-of-state source, like AccuWeather out of Pennsylvania or The Weather Channel out of Atlanta. Her ability to forecast on a local level like we do and to know the local terrain like we do is pretty limited. On a day like today, when it's sunny and 38, she's probably 100 percent right. But when we start getting into severe weather season, particularly blizzards, you're not going to turn to a phone to know what's going on.
OMC: So being in a market where you know its intricacies has an effect on your forecasting accuracy?
RH: Absolutely. It's one of the very few parts of our business that's growing in size. At FOX 6, we've actually added a meteorologist, which I never thought would happen in a million years. We did it because the level of interest in what we provide is one of the few things you can't get but on the local stations. Ultimately, I believe, people watch people.
OMC: Even when it's something as straightforward as the weather?
RH: Sure. People connect with that personality, and they like the voice. Not the sound of the voice, but they like what you're saying.
OMC: But is it an outdated idea to expect people to wait until 10:18 p.m., for example, to learn what the weather will be the next day?
RH: Especially in the morning, because morning television is essentially radio with pictures, people tune in and out. It holds up pretty well. I think the evening is changing, but people are still tuning in.
OMC: OK, my questions get easier from here. Doing my research on you, I learned that you grew up on a turkey farm in Canada. Really?
RH: It's true. My father was a research farm manager. It was not your typical farm; they were researching (turkeys) to be bigger and better. As kids, we would help feed them occasionally. The farm was only five to six acres, but we had 5,000-10,000 turkeys.
OMC: Did you grow up in London, Ontario? I had breakfast there once on the way to Cooperstown.
RH: I was born there, but the farm was not too far from London.
OMC: So what happened to your Canadian accent? I don't detect one at all.
RH: When I was in Rochester, N.Y., the news director there was adamant that I had to drop the accent. No "aboots." I've lived in the U.S. for 10 years now, so when my family comes to visit, it's just a kick. You don't notice it until you sit down in a conversation. I start giggling; I can hear it now.
OMC: Speaking of Canadian accents, I understand you have some experience with the "SCTV" guys.
RH: My little claim to fame. I did all of the Second City stuff when I was in Toronto. My first dream was to be in "SNL;" to be a stand-up comic. I quickly found out that wasn't for be, but in the meantime, I went through all the training courses at Second City and did some shows with them. I performed with my own comedy troupe. Along the way, I took a course with Joe Flaherty.
OMC: He's a hilarious guy.
RH: Hysterically funny, and just as big a character in real life as he portrayed on-screen. He was between gigs, so I was first to sign up. Took two or three classes, got to know him a little bit. It was just cool.
OMC: You're a couple years older than me, and I remember "SCTV," so as a Canadian, you must've been in heaven.
RH: It was huge. Canadians exporting television was unheard of before that.
OMC: So you're training to be a comedic actor, then what? Just said, "Forget it, I'll do the weather?"
RH: It didn't quite go that way. I was prepared in my last year of high school to go to L.A. and try my luck. One of my best friends did just that and probably saved my life. We went to visit him, and when I saw the way he was living, I realized that I need a Plan B. That's when I decided to go to "university," as Canadians say, and take communications at Ryerson University in Toronto.
My first love, to this day, is radio. I fell in love with Toronto and spent most of my 20s there. I was in radio there, and did it for five or six years. In this business, you kind of know when the writing's on the wall; management starts to change. I knew my days were numbered, and I was offered a position working part-time at Canada's weather network.
The job was what I had been doing in radio, but only reading weather news. I was like, "Sweet, I'll take that." I got there and they said I looked better on the green screen and I should do the maps, but I didn't know anything about the weather. They said they'd train me through their in-house weather school. That's where I got the bug. I was just fascinated by the whole concept. I'd always been a bit of a sci-fi nerd, anyway.
OMC: How old were you at this point?
RH: It was '98, so I was 27. I went back to school part-time to get my meteorology education. That took a while, because I was doing a couple of courses a year, because, you know, radio and TV pay so well!
OMC: But you do have a credited movie role. You were in a JFK, Jr. story?
RH: "America's Prince," which is why I'm only two degrees of separation from Kevin Bacon.
OMC: I didn't see any clips on YouTube ...
RH: You won't see any clips of it anywhere, although it must be airing somewhere because I occasionally get residual checks for $14. I was typecast as an entertainment reporter. My visual got edited onto the cutting room floor, so you only hear my voice during a montage scene. My credit is called "Follies Host."
OMC: You came to Milwaukee in 2005. How's that going?
RH: I love it here. It's a lot like where I grew up. Down to earth. I miss some things about Toronto, the multi-cultural stuff. But there's some; I love Indian food. I love our festivals here. I don't think a lot of the people know how good it is.
OMC: And now you see a different side of the city through "Real Milwaukee."
RH: You know, "Wakeup" always afforded me the opportunity to do something other than weather. I love the weather, and that's always going to be my bread and butter. The other stuff is just a bonus. "Real Milwaukee" is a whole hour of it. It's great that we get to chat about politics then spitting on your cell phone.
OMC: Did your training in improv comedy help you prepare for this show?
RH: Obviously. If you can think on your feet, it's key to this kind of show. What's made me fit in with the group on "Wakeup" is being able to go with the flow. If I took anything away from Second City, it's the "yes ... and" philosophy of comedy. You can apply it to anything. If you can listen, take what the other person is offering you and build on it, you can do anything.
OMC: Having guest-hosted your show three times, I find the timing part to be especially hard.
RH: Being the only guy gives me an edge, because I get a unique voice in that group. My trump card is that none of them know what's it like to be a guy. Improv is a little like jazz. If you try to structure it, it's not going to work. When it works, it's awesome. When it doesn't, eh, we try again next time.
OMC: Is it more or less fun than doing the weather?
RH: It's different fun. The weather side services my science geek side, and I love teaching people. The "Real Milwaukee" thing lets me go off on other tangents.
OMC: Do you do a lot of prep work for "Real Milwaukee," or do you just react?
RH: It depends on the day. If it's something that I want to talk about, then yeah. I would say more so than anything, I try not to over-prep.
OMC: All three of your kids' names begin with the letter "N." What's the story there?
RH: It was kind of an accident. Noah was my choice. I really wanted a Biblical name, because they stand the test of time. We couldn't agree on a girl's name for my first daughter. My wife wanted Stella. "Stella Haswella?" That's not gonna work. She remembered someone she knew who had a daughter named Nyla, which means "Egyptian princess." And once you have two, what are you gonna do? Gertrude? When Nadia came along, and it was one of the few names we agreed upon.
OMC: Crazy morning schedule and three kids ... do you have time for any hobbies?
RH: I do, actually, and having three kids was not an accident. My wife always wanted three kids, so I knew when I put the ring on her finger. I play guitar, but I rarely pick it up because I have so much going on. Right now, the biggest extracurricular hobby is coaching both of my kids' hockey teams. I'm at the Ozaukee Ice Center sometimes six days a week.
OMC: Good to see you representing your Canadian heritage.
RH: I wanted my kids to be more active than I was. In my 20s, I was a sloth. We tried soccer and little league baseball, but my son got beaned. He was a ball magnet. He got hit by a ball from the outfield.
OMC: Are your kids American citizens?
RH: The girls are. Noah will be when we are, but it just takes forever.
OMC: Is that something you're working on?
RH: That's the plan.
OMC: You have a Far Side chicken tattoo, I heard ...
RH: Yeah, I was a 18-year-old moron, that's what that adds up to.
OMC: You were almost on a Bobcat Goldthwait show?
RH: I was on a Bobcat Goldthwait show! That one doesn't get credited anywhere because it was a pilot. He's insane. It was kind of a "Gong Show" thing.
OMC: Do you still have the acting bug?
RH: It's the retirement plan. If I'm graced with the ability to actually retire in the future, I would love to be that old guy character actor. Like the dad from "Frasier." I would love to do that in my old age. But with three kids, you have to have a real job and healthcare. That's something that actors just don't have.
Facebook Comments
Disclaimer: Please note that Facebook comments are posted through Facebook and cannot be approved, edited or declined by OnMilwaukee.com. The opinions expressed in Facebook comments do not necessarily reflect those of OnMilwaukee.com or its staff.