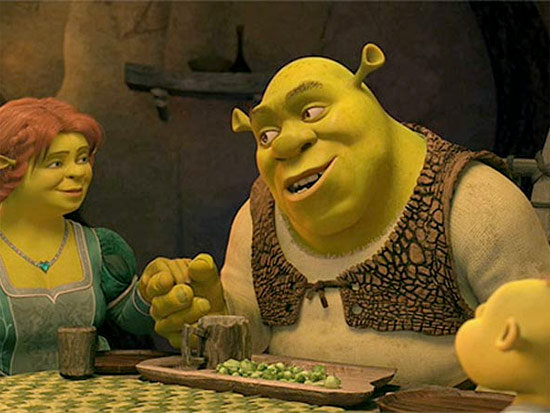 Shrek goes out with a bang in his final feature film
It ain't ogre 'til it's ogre. The fourth and final Shrek film opens in theaters today and thanks to some great use of 3D technology, the lovable green ogre goes out on top.
I took one of my tots to get a sneak peek at "Shrek Forever After" last weekend and it didn't matter that we'd never seen any of the first three films: "Shrek," "Shrek 2" and "Shrek the Third." If we missed any inside jokes because of that, it didn't affect our enjoyment.
And, the great 3D technology out there now -- and director Mike Mitchell's exciting use of it in some scenes (like the opening shot when a horse-drawn carriage comes racing right at us as top speed!) -- combined with a classic frog and prince style fairy tale storyline make the film a hit with kids.
Having suffered through a few minor 3D revivals over the years -- all of which were rotten and utilized glasses that only made only headaches -- not action -- super vivid, I was skeptical. But the unflimsy glasses were comfortable and the 3D effects stunning without causing me to reach for the ibuprofen.
The film's PG rating ("for mild action, some rude humor and brief language") was a concern, but there wasn't much to upset most young viewers. Although one child -- not seated nearby -- did cry repeatedly during the film, I can't report on the age of the kid nor even if the film caused the woe.
My young movie companion didn't flinch at any of the action, humor or language. And he had little trouble grasping the storyline.
When townspeople ask him to sign their pitchforks, rather than run away in terror, Shrek fears he's becoming too domesticated, too tame and isn't really an ogre anymore.
So, to try and get his roar back on for a day, he makes a deal with slickster Rumpelstiltskin. But, don't you know, it's all a trick and Rumpelstiltskin uses the agreement to wrest control of Far Far Away.
To return things to the way they were -- and to the great life that Shrek couldn't appreciate while he had it -- Shrek has to share "true love's kiss" with Fiona before the day is done. Otherwise, it's curtains for our beloved ogre.
Can he do it? Will this be the end of Shrek?
The fact that a fifth installment of the film was scrapped could be a clue. Or could it? Would DreamWorks Animation end the series with the death of Shrek?
We, of course, will not spoil it here.
One more question: Why does Shrek have a Scottish accent (other than the fact that most every Mike Myers character has one)?
Theaters and showtimes for
Shrek Forever After

OnMilwaukee.com Rating:
Facebook Comments
Disclaimer: Please note that Facebook comments are posted through Facebook and cannot be approved, edited or declined by OnMilwaukee.com. The opinions expressed in Facebook comments do not necessarily reflect those of OnMilwaukee.com or its staff.