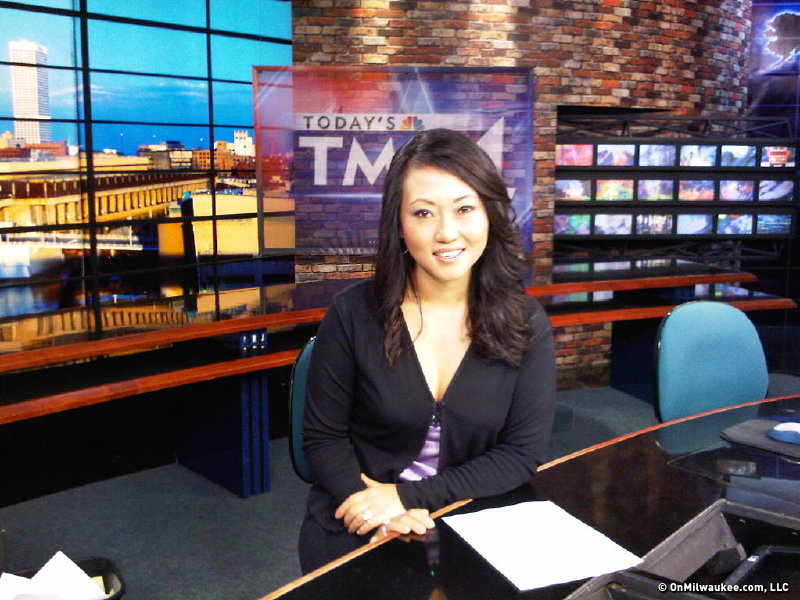 Milwaukee Talks: Channel 4 anchor Susan Kim
Podcast:
Susan Kim talks about what's next in her career
Subscribe
to OnMilwaukee.com Podcasts




(page 2)




I feel that it's something that's made a difference here in the community. And for me it's made me a better person.

OMC: Has Twitter changed your media life?

SK: Oh, I think absolutely. I just started in March. Jim Thomas at our station approached Vince and I, had us check it out because it was a totally new concept.

Vince started doing updates once in a while and I asked what he was doing. And now we're both on Twitter and can talk to viewers almost instantaneously (during the show and breaks). I started tweeting good morning to people who would follow me and then they'd say good morning back. And I thought wow -- immediate viewer feedback.

There's a group called "Day Breakers." They all tweet and just chat it up. Definitely helps build that connection and passion.

There's a whole community out there of people that you would never actually may meet, unless it was on Twitter. I do enjoy it very much.

OMC: Are you a sports fan?

SK: Yes, (a) big-time sports fan. I watch a lot of games. Big Brewers' fan, watch a lot a Brewers' games; my little 5-year-old is a huge baseball fan so we watch a lot of games. Every Packers game, obviously. Bucks fan, too.

My husband is a Bengals fan, though. So, it's a somewhat divided loyalty (laughter) because he was at the Bengals-Packers game dressed in full Bengals gear and I think it got a little testy there at the end, but he said everybody was very cordial to him and he was cordial to others.

And golf. I'm a huge golf fan. I love watching golf on TV, playing it and thinking that someday I will be good. I don't know when that will be.

OMC: What about TV? Do you have certain shows that are on the DVR that you're passionate about and really like? Or is there just no time for that?

SK: Not really. I do watch "American Idol," I like to watch that with my kids. I used to watch "Dateline" but I don't watch it anymore because it's on too late. I couldn't get into "Dancing With the Stars."

I love HGTV, shows about makeovers in homes and ESPN.

OMC: Do you have time to read books? What was the last book you read?

SK: I read parenting books. And right now I'm reading "This I Believe," a bunch of short stories by people about things in their life that have shaped their opinions. It was a public radio series. I like books about inspiration, roads less traveled, things like that.

OMC: Do you have any favorite restaurants in the area or favorite types of food?

SK: Yes, I eat out a lot. Unfortunately. I love -- stereotypical, but I love -- Asian Fusion: Umami Moto. The Kobe beef sliders are to die for; they have fabulous spicy tuna and its sea bass is amazing.

I love a good steak so my husband and I like to try steak all over the place. Eddie Martini's steak, I think, is fabulous. For my birthday I like to go to Bacchus. They have really good scallops. For Mexican I like La Fuente and Charro in Brookfield.

Have you been to Kurt's?

OMC: Yes, we have, it's a favorite of my parents. My dad is a huge Kurt's fan.

SK: What is it like $12.95 now for a little filet or something like that? One of these hole-in-the-wall kind of places that (only) the neighbors know about, but it's great.

OMC: If you had a magic wand for the greater Milwaukee area and you could wave it and ask for two things, what would they be?

SK: If I could change anything I would change (some) peoples' attitudes about Milwaukee. I guess that's my biggest frustration. People like to be down on themselves because "we're Milwaukee" and criticize it too often.

But, Milwaukee is such a great place. We have great restaurants, great theater, cool places to live. And I know this is one of those age-old arguments but I think that until we see ourselves differently it's going to be hard for the rest of the nation to see us. And part of this falls under the stereotypes and stuff like "Laverne and Shirley" and "Happy Days," beer and and the like. Let's embrace that stuff and still appreciate how far and how different we are now.

OMC: Define "success."

SK: Success, to me, is finding happiness in who you are and peace with where you are in life. That is success to me. I think if you happy with where you've come in life, you're happy with where you are, the people and the life that you're living,

It doesn't mean bigger, better, more, this, that or whatever, it just means being happy.

OMC: Finally, what's next for you?

SK: I love the show the way it is right now. I'm having a lot of fun with Vince and Craig, and Caitlin just started so I think we have a really dynamic group going. I love mornings because it's a mix of news and personality; it's not just straight news, it's not just read what happened today.

<< Back

Page 2 of 2 (view all on one page)


Facebook Comments
Disclaimer: Please note that Facebook comments are posted through Facebook and cannot be approved, edited or declined by OnMilwaukee.com. The opinions expressed in Facebook comments do not necessarily reflect those of OnMilwaukee.com or its staff.