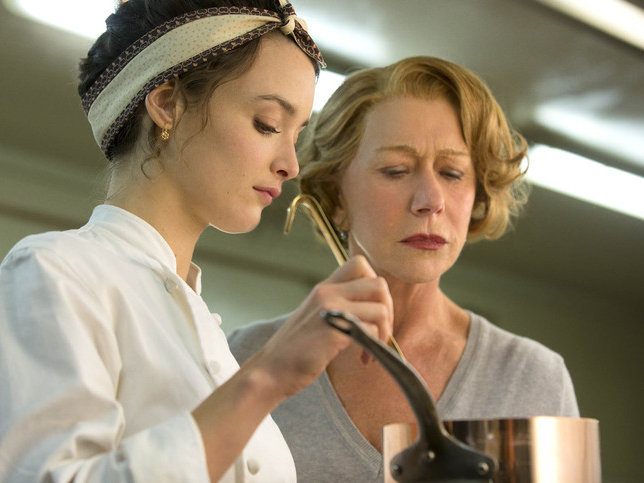 "The Hundred-Foot Journey" goes a few feet too far, but still charms
After a summer filled with computer-generated friends and foes of all shapes and species, it only seems fair to let Helen Mirren and some actual human beings take the screen. That's the job of "The Hundred-Foot Journey," a pleasant dose of late summer counter-programming that's guaranteed to be voted the best movie of the summer by your neighborhood book club and your grandma.
But hey, they deserve movies too, and as far as safe, predictable middlebrow literary entertainment goes, "The Hundred-Foot Journey" is one of the more satisfying entries. Even if you can see exactly where each foot of the journey is headed, the film is disarmingly sweet and charming, and it delivers enough delectable food porn to make one lament their box of Milk Duds.
Adapted from the Richard C. Morais novel of the same name, the Oprah / Spielberg production follows an Indian family searching for a new start after tragedy struck back in their native country. After England proved to be too rainy and drab – one family member notes, "The vegetables here lack soul" – the clan heads off to France, where fate drops them off in a picturesque village.
There, the assured family patriarch Papa (Om Puri) finds an abandoned restaurant that he buys up in the hopes of turning it into an Indian restaurant, with his wildly talented, food-minded son Hassan (Manish Dayal) working the kitchen. There's just one problem: Their new restaurant – and its loud music – lands right across the street from one of the finest French restaurants in the country and its chilly, scheming pursed owner Madame Mallory (Mirren).
After one too many culinary backstabbings and mildly racist jabs, their simple competitive rivalry soon turns into all-out, snobs-versus-slobs war – with recipes stolen away, produce deviously bought up and the town mayor hassled about chicken vaccinations and noise complaints.
While the two culinary families duke it out, a sweet romance blossoms between Hassan and Marguerite (Charlotte Le Bon, a graduate of the Audrey Tautou school of big eyed French adorableness), one of Madame Mallory's young sous chefs. The two meet up to teach Hassan, a food junkie, the ways of fine French cooking, all while their respective restaurants basically rename themselves the Café du Capulet and Maison Montague.
The story, adapted by an only slightly slumming screenwriter Steven Knight ("Eastern Promises," "Dirty Pretty Things"), is as utterly predictable as it is charming. The script plays on one's emotions like a drum, and mushy book club veteran Lasse Hallstrom – a two-time Nicholas Sparks victim with "Dear John" and "Safe Haven" (woof) – doesn't bring a ton of his own flavor to the proceedings, but he gets the crowd-pleasing stuff done right. The sun-dappled rustic visuals, the gorgeous storybook Southern France country vistas and of course the food are all sumptuously luxuriated over. Whatever you ate before "The Hundred-Foot Journey" will quickly seem inadequate.
The film's not-so-secret ingredient for success, however, is its cast. Dayal is a sweetly magnetic lead, carrying a lot soul in his expressive eyes, and Le Bon (co-starring with Joseph Gordon-Levitt next year in Robert Zemeckis' "The Walk," about high-wire performer Philippe Petit) is a winsome romantic interest. Puri is excellent as well as Hassan's loudly stubborn but quietly heart-aching father.
The real star, however, is Mirren. For the first half of "The Hundred-Foot Journey," the Oscar winner gleefully digs into her delectably hateful role, smirking down at the everyday plebeians across the street and snidely crossing off a whole country's cuisine – and seemingly the whole country with it. For 60 minutes, she's the best villain of the summer movie season (second only to dwindling blockbuster box office returns).
One doesn't have to be Nostradamus to predict Madame Mallory's cold, callous heart growing three sizes by the time the end credits roll (hell, it's on the poster). As it turns out, the character resembles one of Hassan's beloved sea urchins: prickly on the outside, but soft and tender inside. Mirren's trick, however, is making her transition from deliciously evil to sweetly won over by her rivals feel authentic and making both sides of the emotional pendulum feel sincere.
It adds up to a light, surprisingly agreeable – if rather familiar – 90-minute feel good movie about people overcoming their cultural differences and past emotional wounds thanks to the universal salve that is food. The only problem: It's 120 minutes long.
After nicely winning over the audience, "The Hundred-Foot Journey" spends its final half an hour tumbling its way to the finish line, hurriedly stumbling its way through a bunch of additional hurdles and subplots. Now it's about a quickly established rivalry tearing Hassan and Marguerite apart. Now it's about Madame Mallory's quest for another Michelin star. Now it's about Hassan in the big city.
To be fair, this is where some of the script's meatier material lies, going into the immigrant struggle of not only maintaining one's culture in a new country, but also between generations. Early on, Papa's haggling tactics, common in Indian markets, are seen as embarrassing for his kids in this new country, and his daughter has to be goaded into wearing a traditional Indian outfit. Meanwhile, Hassan keeps his interest in French cuisine almost a secret.
These are interesting themes and developments, but when they're given some spotlight by the end, they're rushed through. I'm left wondering why we spent so much time with such fluffy, predictable material when the final act's plot points needed more time to really marinate. They're left undercooked while what the audience became attached to in the first place gets left in the cold. The most glaring screenplay casualty is the Indian restaurant, whose fate is seemingly forgotten. It winds up leaving an odd taste in the end message: Assimilation and cultural intertwining, but at the cost of the immigrants, left drained of their talent and culture for the sake of a swanky French restaurant's continued success.
No amount of tripping at the finish, however, can completely erase the delightful cast and the film's cozy, comfortable charms. Between this and Jon Favreau's much more successful, deliciously warm "Chef," one could quite happily binge on the cinematic equivalent of comfort food.
Theaters and showtimes for
The Hundred-Foot Journey

OnMilwaukee.com Rating:
Facebook Comments
Disclaimer: Please note that Facebook comments are posted through Facebook and cannot be approved, edited or declined by OnMilwaukee.com. The opinions expressed in Facebook comments do not necessarily reflect those of OnMilwaukee.com or its staff.