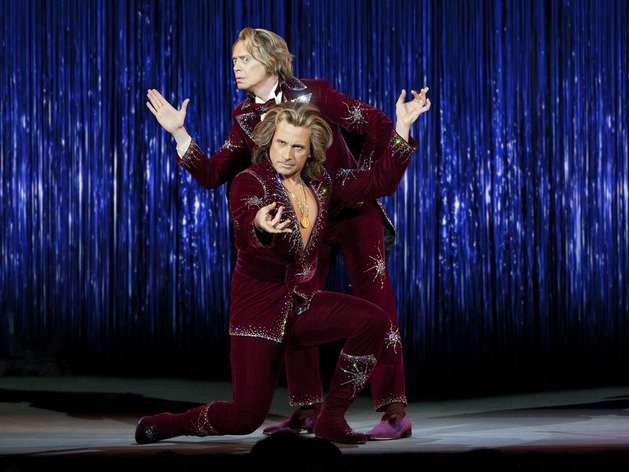 "Burt Wonderstone" fails to make movie magic despite cast
"The Incredible Burt Wonderstone" features a deep cast of comedic all-stars and a premise with tons of potential (think "The Prestige" but funny). Yet somehow it lands with a sickening thud, like a magician's guillotine trick gone horribly wrong. It's certainly not incredible, and the only wonder to be found is in wondering why a comedy with massive promise resulted in such an inconsistent amount of laughs.
We first meet Burt as a young child, getting picked on by the dorky lead from "Diary of a Wimpy Kid" (I appreciate the meta irony). In his hopes to become loved by others – including his own mother, who leaves him a box of cake mix for his birthday – he picks up magic from a kit sponsored by legendary magician Rance Holloway (the always amusing Alan Arkin). With his newly trained magical powers, he impresses a new friend named Anton, and the two become partners, mystifying the school.
The duo grows up into star magicians Burt Wonderstone and Anton Marvelton (Steve Carell and Steve Buscemi), performing sold out shows in their own theater in a casino owned by Doug Munny (James Gandolfini). Unfortunately, fame has gone to Burt's fluffy haired head, and he's become insufferable to work with.
Their act is dated, Anton and their new assistant Jane (Olivia Wilde) – or Nicole, as Burt prefers to call her – can't stand to work with Burt after he ruins a high-profile new trick and a street magician named Steve Gray (Jim Carrey, channeling some David Blaine/Criss Angel hybrid) has overtaken Burt's reign over the magic world with his dangerous stunt magic.
Most movies would get run through this material in about 15 minutes, setting up a little background and then jumping straight into the character's downfall. "Burt Wonderstone," as penned by John Francis Daley and Jonathan Goldstein, takes most of the film's 100 minute running time to establish all of this.
Some of it is sweet, and some of it – namely a brief appearance by Gillian Jacobs from "Community" – is even quite funny, but it's hard to escape the feeling that the movie is wasting a lot of time and moving nowhere particularly fast.
Veteran TV director Don Scardino may be attempting to create a leisurely, natural flow or pace to the film's events, but it feels more like easily distracted meandering. He and the script want to give the absurd magic shows and tricks their time to shine, but in doing so, "The Incredible Burt Wonderstone" slows to a crawl. A good comedy is barely ever described as laborious, but that's really the only way to describe much of the movie.
By the time the film moves past these hit-or-miss comedic set piece moments and finally gets moving toward Burt's redemption and the big magic competition against Steve Gray, it feels less exciting than simply inevitable. It plays like one of Burt and Anton's magic shows: a lot of dancing around and lead-up before it gets to what the audience came for, and when it does, it's not all that great of a trick. As with most of the film, Scardino lingers on the punchline just a bit too long.
It's quite an understatement to say "The Incredible Burt Wonderstone" would be nowhere without its cast. Carell milks Wonderstone's fractured ego for all its worth – it's a role right in his wheelhouse – and Buscemi is constantly amusing as his frustrated but big-hearted partner. His highlight moment involves traveling to a hungry African country to bring trucks of … magic kits.
As is usual with mainstream comedies, the lone female's main job is to be flustered by the goofy guys, but when Wilde gets a chance to be funny, she is. Gandolfini gets to steal a few laughs too as he continually can't remember anything about his son, and Brad Garrett and Jay Mohr briefly show up as an accountant delivering humorously bad news and an easily flummoxed fellow magician with the great fake magician name, Rick the Implausible.
And then there's Jim Carrey. You may be wondering if the world really needs a David Blaine/Criss Angel parody five years after either of the two were relevant, but Carrey's turn is pretty hilarious, combining the actor's famous physicality with the stunt magicians' famed moody pretentiousness.
The cast is game, eager and more than capable to make some memorable laughs. They get the most out of this material as possible, even when there's not much there to begin with. The rest of the film, however, is just too stodgy, predictable and paceless to take advantage. It should've been comedy magic, but instead, "The Incredible Burt Wonderstone" is abracada-blah.
Theaters and showtimes for
The Incredible Burt Wonderstone

OnMilwaukee.com Rating:
Talkbacks
Photodavie | March 15, 2013 at 2:32 p.m. (report)
I agree with the pace of the film being a little wandering. But if you like Steve in "the office" you'll love his charator here (it's basically the same). And the supporting cast does a good job playing along. Fresh off the Academy awards I can see why one would be disapointed by this film. If you go into it with no expectations, I think you'll be pleasantly surprised. Especially if you didn't watch too many of the trailers.
Facebook Comments
Disclaimer: Please note that Facebook comments are posted through Facebook and cannot be approved, edited or declined by OnMilwaukee.com. The opinions expressed in Facebook comments do not necessarily reflect those of OnMilwaukee.com or its staff.