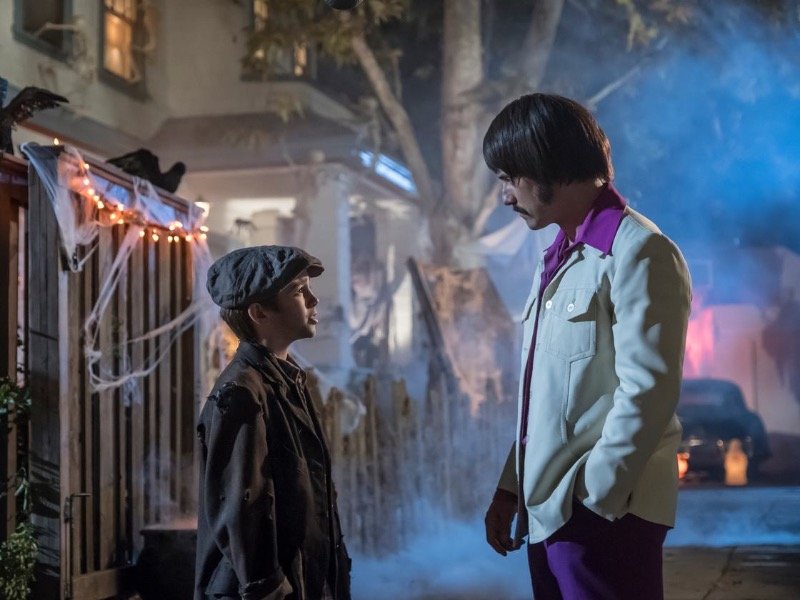 "This Is Us" recap: A trip to the Big Three's 20s is no trick, all treat
It's a cute coincidence that, while everyone is debating the big one-off '80s gang episode of "Stranger Things" this week, "This Is Us" decided to also depart from its main storylines, taking a little break and exploring a completely new chunk of Pearson timeline.
And boy, unlike the now-infamous episode seven of "Stranger Things 2," did it work.
Some of that's because of the inherent time-jumping setup of "This Is Us" and its story about the way our stories change, intermingle and echo over time, which allows more for this liberating sense of freedom, hopping around time whenever it particularly feels and wherever the ripples take it. Some of its success is also credit to being a classic weekly TV show; while a tangent episode can feel like a major detour well into a nine-hour binge-a-thon, when you're forced to watch a season week by week and take several days to digest an episode, the pace is already more relaxed and loose.
But let's not get distracted and lose sight of what really made this hour of "This Is Us" soar: Mandy Moore knocked this episode out of the goddamn park. I know I usually save my glowing performance praise for Sterling K. Brown – and that Moore saw the return of her high school production of "Our Town" old-lady makeup – but this was the kind of showcase episode that nabs award nominations. And deservedly so, in this case.
So it's Halloween on "This Is Us," and instead of candy, the episode – warmly directed by actress Regina King ("American Crime," "Ray") – treated us to a new era of the Pearsons: the Big Three's 20s.
Kevin is struggling to pay rent in Los Angeles while washing hair, complaining about all the Tom Cruise notes he gets from casting directors and living with a fellow actor, one who's getting the big breakout – including a role in a Christian Bale movie (that apparently was a Kevin Spacey movie before the headlines earlier this week) – that he feels like he deserves.
His desperation brings him to a Hollywood party – and a new ugly low, as he attempts to swindle his roommate's role away from him while chatting with his director, who is having NONE OF IT. There's no future there for Kevin – and now no roommate either.
If only he had a sister going through some tough times who could use a fresh start in a sunny, beautiful coastal city ... oh hai, Kate! She's not quite crushing her 20s, either – she's waitressing and sleeping with a cute flirty customer who, dammit, is also married – but things have been worse, I suppose. Still, her life needs a jumpstart, and Los Angeles with Kevin is providing it.
As usual, these two plots aren't the most essential. Most of this storyline shading is fairly predictable and not all that eventful, just filling in the gaps of how they got to where they are now. We now know how Kevin got into that improv group – which seems TERRIBLE; never show any of that again – and how Kate got out to Hollywood with her twin, but none of it changes things too much.
There is, however, the smallest of Jack death clues tucked away in here, for those piecing that puzzle together: Kate was apparently in a car right in the street witnessing the Pearson house burn down – and assumably her dad die. That ... doesn't really move our investigation forward much, but it's another part we now know, I guess.
Randall in his 20s, however, is a completely different person from the guy we know today. They're a mere day away from the induced birth of their first child, and as Beth noted in a previous episode, her husband had a breakdown that briefly blinded him, a memory that may be in the past, but Randall's far from recovered.
Gone is the effervescent smile and nerdy fun we know from the present plot; Randall is stressed and obsessive-compulsive – even for Randall. He's snapping at faulty ceiling fans and even at Beth for getting fun size candy bars, not the regular size ones, for Halloween. The tension and awkwardness is perfectly captured – of somebody unable to let their stresses go, whether small like the ceiling fan or big like the pregnancy concerns – growing to the point where Randall harrumphingly leaves his very pregnant wife and Rebecca to chat while he gets a new fan that might actually work.
Instead of a fan, however, he gets some sage advice from the home improvement store clerk, a scene that could've been cliche and cloying – especially considering Randall's asking a Middle Eastern man for spiritual guidance, dangerously close to The Helpful All-Knowing Minority Character trope – but instead it's rather sweet and just knowing enough to avoid going all trite talk and tears.
Plus, as good as the advice is about the baby coming with the answers you're uncertain you have, it ends up being somewhat useless as Randall's calm and new plan gets immediately interrupted by the news that the baby is tired of waiting for tomorrow's appointment and wants out now – right in their living room.
It does at least realign Randall and help turn him into the wonderful, supportive husband we know today, helping deliver the baby and finally seeing Beth again truly after his stress-induced blinding. The home improvement story visit also provides them with something even better than a fan: the name for their child, Tess, the fancy special ceiling fan Randall almost bought before the baby wanted out. It's all very cute, very "This Is Us" convenient and very wonderful.
Well, maybe not all wonderful. Rebecca was there for the birth, and while it is a remarkably joyful moment for her, it's also one that makes her sad and reminds her that Jack isn't there to share it with her.
It's a feeling that ties into the 1990 Halloween story spread throughout the episode, when Rebecca had to take Randall aside during his precise trick or treating plan (complete with a map with estimated arrival times in Eastern Standard Time; I love that child) and explain to him the full story of his adoption and the third triplet that tragically never was – all without Jack's help since he's watching Kate go through a haunted house with a cute popular boy she has a crush on.
She pulls it off – complete with a shared Twix bar moment that I'm sure the Nestle company was happy they bought – but she wanted Jack to be there for that big moment, that new chapter in their story. 18 years later, she again wishes Jack could be there for this monumental part of their collective story.
But she moves forward in both storylines, past and present, concluding with a massive monologue introducing herself to baby Randall and baby Tess.
Now, one of the most impressive things about "This Is Us" is the cast. From the stars to the child actors, everyone is terrific, and even when the script doesn't quite work or pushes the emotion too hard, the actors are there to keep the show on the ground. "The 20s" was no different, whether it was Milo Ventimiglia sweetly watching with nervously excitement from a distance as Kate made her way through the haunted house (he's got a mean moonwalk too) or young Niles Fitch as 1990s Randall, juggling a lot of complicated emotions while still seeming like a kid who loves candy on Halloween.
And yet even so, Mandy Moore – one of the two glue performances, along with Ventimiglia – tends to get the short straw when it comes to performance praise. I'm guilty of it; I spend most of these recaps heaping more praise onto Sterling K. Brown and Susan Kelechi Watson (all totally deserving).
But this was Moore's episode to shine, and my word, did she. Her speech to both Randalls young and old are lovely, but it's the final moments where Moore truly rules over your tear ducts. That final monologue in the hospital, introducing herself to both Randall and Tess, could've been such a clunker. It's almost comically long – maybe five-to-ten minutes, spread across two timelines – and it's the kind of talk to my baby moment that could totally come off cliche and contrived if executed wrong.
Instead, it was a total cry fest, as Moore hit every note beautifully, the joy taking the place of the wounded hurt. In a season fairly low on the signature sobbing people loved from the first season, "The 20s" was a downpour – and better yet, it earned those tears thanks to Moore's sensitive, warm performance as a woman realizing not once, but twice, that she can be a capable parent on her own and that she can still live her life, her story, on her own.
But maybe not for long because, in patented "This Is Us" twist form, she gets a Facebook chat from future husband Miguel, checking in on her after years apart. Not that we figured she'd hopped right into his arms after Jack's death – and not that she wouldn't have the right to – but it is nice to make it official that several years went by before the two seemingly got together.
Now I'm eager to see their first dates – so many the 20s weren't such a one-off after all.
This Is Sadness rankings
If you didn't cry – either during the speech to Randall on the stoop during Halloween, during the birth sequence with Randall finally coming back to Beth or during the final montage monologue, you're probably just an actual monster. You might've even cried laughing at Jack saying his Sonny Bono costume looked like "Rhoda with a mustache" without his Cher. No matter what, here are the tears you were looking for this season – and not even brutal sadness tears! So I give it a Laugh-Crying Kristen Bell:
So, like, an 8 out of 10.
cqwwxzcausfqus
cqwwxzcausfqus
Facebook Comments
Disclaimer: Please note that Facebook comments are posted through Facebook and cannot be approved, edited or declined by OnMilwaukee.com. The opinions expressed in Facebook comments do not necessarily reflect those of OnMilwaukee.com or its staff.