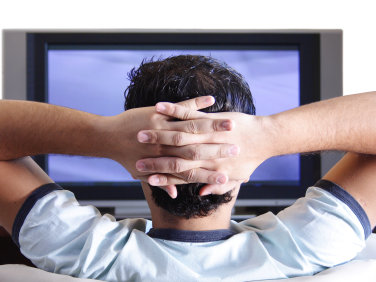 OnMedia: We're watching more TV than ever
Maybe the economic mess is to blame. Or we could just be getting too lazy to do anything else.
But whatever the reason, new numbers show that TV viewing has reached a new high, according to statistics from Nielsen Media Research, which has been keeping these numbers for 60 years.
Nielsen says an average American spent four hours and 49 minutes a day in front of the television during the 2008-09 season, up four minutes from the previous year and the highest number ever.
The average household had the TV turned on eight hours, 21 minutes. In the 1949-50 season, the average household had the TV on four hours and 35 minutes. Of course, there were far fewer TVs and only a couple channels to watch at the time.
Prime-time viewing is unchanged from last year.
Saying goodbye to Melodie: Services will be held Saturday at Waukesha's Elmbrook Church for former Milwaukee TV anchor Melodie Wilson, who died Monday. Visitation starts at 10 a.m., with the funeral service at noon. Both are open to the public.
Interment at Forest Home Cemetery will be private.
The family suggests memorials to After Breast Cancer Diagnosis, the organization she began.
On TV: Forbes posted its list of best-paid men in prime-time TV this week, with Simon Cowell on top at $75 million. Donald Trump is second, with $50 million, and Ryan Seacrest brought in $38. Charlie Sheen of CBS' "Two and a Half Men" was fourth with $21, followed closely by Steve Carell, of NBC's "The Office," with $20 million.
There's buzz out there that ABC's decision to let "Eastwick" burn off its remaining episodes could open the 9 p.m. Wednesday slot for "Ugly Betty," which is dying on Friday nights. ABC's comedy lineup leading into the 9 p.m. hour didn't help "Eastwick," but could re-ignite "Betty."
Two new channels have popped up on Time Warner Cable's high-definition lineup: the HD version of Turner Classic Movies on 1276 and HLN (the current name for CNN's Headline News) on 1351.
Broadcasting & Cable reports that Monday's debut of George Lopez' "Lopez Tonight" pulled in 3.2 million viewers, according to Nielsen numbers. That's a great number for a TBS talk show, but the premiere was also aired on sister channels TNT and truTV. It airs at 10 p.m. weeknights.
Nora moves up: Brookfield's Nora Collins has made it into the top 16 in Country Music Television's "Music City Madness" competition with the video of her song "Don't Slow Down."
You can watch the talented 15-year-old's video and vote here to keep her going. Voting in this round ends Monday.
Another one of her videos, "Red Chuck Taylors," follows below.
Talkbacks
ndf2 | Nov. 11, 2009 at 11:50 a.m. (report)
Five hours PER DAY watching TV? That's 1/5 of the entire day. wow. Take out 6-7 hours for sleep and that means we spend almost 1/3 of our day (life) watching TV? Crazy. Turn the tube off for a while and get out and exercise or something.
devidia | Nov. 11, 2009 at 11:47 a.m. (report)
A comedian once asked, "Are there more senseless acts of violence, or country music awards shows?" I forget who it was.
Facebook Comments
Disclaimer: Please note that Facebook comments are posted through Facebook and cannot be approved, edited or declined by OnMilwaukee.com. The opinions expressed in Facebook comments do not necessarily reflect those of OnMilwaukee.com or its staff.