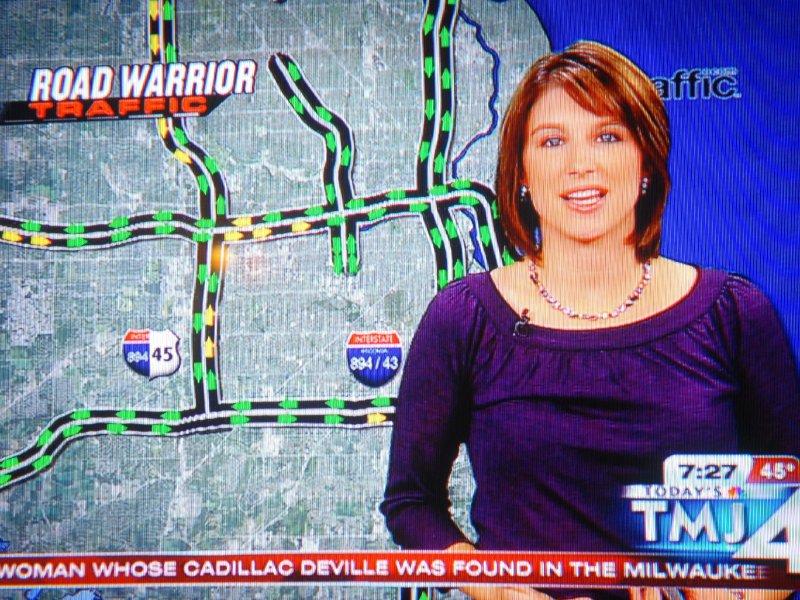 OnMedia: Using Twitter to broadcast your goodbye
Channel 4's morning traffic reporter, Lisa Manna, became the second Milwaukee broadcaster in a month to announce a departure via Twitter.
She said it was her decision to leave the job.
"So I wanted to let you guys know, my last day doing traffic is October 30th," she tweeted around 6 this morning. "Has nothing to do with Susan's computer, or Vince's plaid suit."
Susan Kim and Vince Vitrano anchor Channel 4's morning news from 5 to 7 a.m. weekdays.
In a series of 140-character messages to her 744 Twitter followers, Manna tweeted that she was hoping for "freelance/corporate video etc to keep my toes in TV until I figure out what's next," and said she was going to "enjoy sleeping in past 3am and staying up past 8pm."
Last month, Phil Cianciola announced his firing by WTMJ-AM (620), and he's used Twitter to help bring followers to his podcast.
"Don't you think Twitter has become the new way to sort of let everybody know what you're doing -- whether anybody cares or not," Manna told me in a phone conversation this morning. "I remember when I left Green Bay, they didn't have me say anything until my last day."
Before coming to Milwaukee three years ago, Manna had worked at Green Bay's WBAY-TV, including four years as a morning news anchor.
Manna's leaving to spend some time at home with her two kids, Matt, who'll soon turn 8, and Maggie, who just turned 1. "And she is a piece of work," cracks Manna about the baby.
At 33, she's not retiring and wouldn't mind some freelance work. And having done a lot of radio during her years in Green Bay, she's open to radio work here, as well.

As for traffic, it's a major component of morning newscasts, which has been one of the few growth areas in local TV news over the past few years.
"Research always show that the two things people always want to know about in the morning: traffic and weather," said Manna, who was actually employed by Traffic.com, which supplies traffic information to Channel 4.
Coincidentally, Manna was filling in on Channel 4's "Morning Blend" today, where she was able to show a bit more of her on-camera personality than she could doing the traffic.
And she'll keep tweeting even after she leaves Channel 4.
SPEAKING OF TWITTER: You can follow me on Twitter, and Facebook as well.
ON TV: Fox Reality Channel disappears March 31, to be replaced by "National Geographic Wild," a channel devoted to wildlife programming.
It's not clear if he'll be allowed to do it, but Illinois' disgraced former governor, Rod Blagojevich, is on the cast list for Donald Trump's third run of "Celebrity Apprentice" due to start in March on NBC. Blago is scheduled to appear before a federal judge today in Chicago, and the matter may come up.
Nielsen Media Research numbers show about 5 million viewers tuned in for Friday's launch of ABC's once-hot "Ugly Betty." That's a pretty average Friday night number.
The Hollywood Reporter quotes John Wells, executive producer of NBC's canceled "Southland" as saying two cable channels are interested in picking up the cop show.
BAD TASTE OR NOT, IT'S FUNNY: ABC late-night talker Jimmy Kimmel's take on the late TV pitchman Billy Mays last week may cross the line of good taste, but that's what late-night TV is frequently about.
Anyway, the video, which gives new meaning to the words "Tombstone Pizza," follows below and you can decide if it's over the line.
Talkbacks
AndreasMom2U | Oct. 22, 2009 at 8:17 p.m. (report)
The Billy Mays video IS funny. I think Billy would approve. He was the ultimate pitchman...and always will be. Please don't let his poor judgments and drug abuse overshadow the great man he was. Remember all he did for his viewing public.
Facebook Comments
Disclaimer: Please note that Facebook comments are posted through Facebook and cannot be approved, edited or declined by OnMilwaukee.com. The opinions expressed in Facebook comments do not necessarily reflect those of OnMilwaukee.com or its staff.