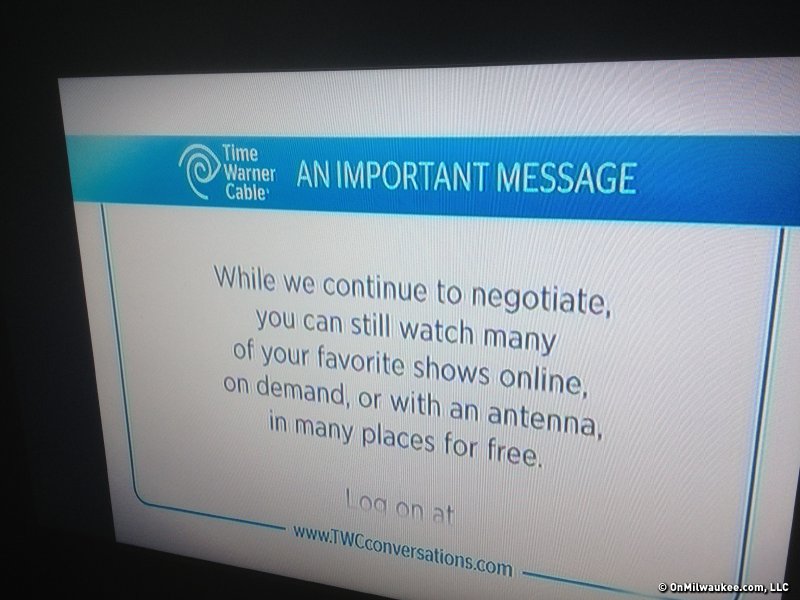 WTMJ-TV signal off air for Time Warner Cable customers
If you have already flipped through your dial – well, gone through the electronic guide – you may have noticed that WTMJ-TV Ch. 4, the NBC affiliate owned by Journal Communications, has been replaced with a TWC.
If you are a Time Warner Cable subscriber, and move to where Ch. 4 was, you'll be greeted with "an important message," sending people to TWCconversations.com/local for more answers.
"The Journal Broadcast Group is deeply disappointed to announce that Time Warner Cable has put aside the needs of our local viewers and taken our stations off their systems serving the Milwaukee, Green Bay/Appleton, Omaha and Palm Springs DMAs," read the statement from Journal Communications.
Steve Wexler, the GM of WTMJ-TV, sent over the document. He's been appearing on air on the station's newscasts explaining the negotiations for retransmission rights.
"Milwaukee, Green Bay/Appleton, Omaha and Palm Springs DMAs. By refusing to return to the bargaining table, Time Warner Cable has jeopardized the opportunity for viewers to watch the award-winning local news and weather coverage, NBC programming, Green Bay Packers pre-season football and Olympics in our markets. We stand ready to return to the bargaining table to resolve our differences and resume serving the Time Warner Cable customers in our markets," the statement read.
Time Warner Cable continues to run the scrolling message where the stations once stood.
"Journal Broadcast Group, Inc., the owner of several local broadcast television stations, has unfortunately decided to pull their remaining programming from Time Warner Cable customers," said Mike Hogan, a spokesman for Time Warner Cable.
"It is unfortunate that Journal has decided to pull their programming from our customers' line ups. Journal is demanding more than a 200 percent increase over previous compensation."
In our area, the stations affected by Journal's decision are: WTMJ (NBC) (dropped July 25), WTMJ D2 (dropped July 10) and WTMJ D3 (dropped July 10).
"We continue to take a stand against unreasonable fee increases by local broadcast TV stations. We are pushing back against these broadcasters, such as Journal, that demand massive price increases without delivering more value," Hogan said.
"Switching to another TV provider doesn't protect consumers from blackout as broadcasters, like Journal, have caused 84 blackouts of programming over the past 18 months."
The contract with Journal Communications affects the Green Bay market in the state, as well as two other markets in the nation.
Journal reports that the stations affected in total are: Stations affected by this take down action by Time Warner Cable are: WTMJ-TV (NBC), Milwaukee; WGBA-TV (NBC), Green Bay/Appleton; WACY-TV (My Network), Green Bay/Appleton; KMTV (CBS), Omaha, Neb.; KMIR-TV (NBC), Palm Springs, Calif.; KPSE-TV (My Network), Palm Springs, Calif.; and the related digital multicast channels associated with these stations.
Journal has offered its take on the talks at JBGanswers.com.
"Our offer is in line with the fair-market value already being paid to stations across the country. Until this unfortunate take down action by Time Warner Cable, Journal Broadcast Group had successfully negotiated more than 140 contracts with other distributors without any interruption in service," Journal Communications said in its statement.
From the perspective of the viewer, when the talks get to this sort of level, we are the ones who suffer. Our programming is lost, and in some cases, our viewing habits will change.
It will be interesting to see how long this will go. When Hearst was in the same sort of talks with Time Warner Cable last year, WISN-TV Ch. 12 was off the air for a week.
The looming deadline, it seems, is the Packers game against Arizona set to air on Aug. 9. We'll see if a deal is reached before then.
Talkbacks
keno55 | July 26, 2013 at 7:02 a.m. (report)
Thankfully, I am not a Time Warner customer. How interesting it is to sit back and watch both sides try to spin the story in their favor. Trying to convince us that it's "all the other guy's fault". JBG asks for a 200% increase? Wow, no way I'd pay that increase if I was TWC. Sounds to me like JBG made a bad agreement years back on it's contract with TWC and now they are trying to catch-up all at once. Perhaps not the smartest approach. Thanks to On Milwaukee for providing some unbiased reporting on this story.
milROCKeeguy | July 25, 2013 at 2:33 p.m. (report)
Or you can go to ATT? Better system, better service. Took $75 off our bill and added a lot of premium channels. Good luck TWC subscribers!
Facebook Comments
Disclaimer: Please note that Facebook comments are posted through Facebook and cannot be approved, edited or declined by OnMilwaukee.com. The opinions expressed in Facebook comments do not necessarily reflect those of OnMilwaukee.com or its staff.