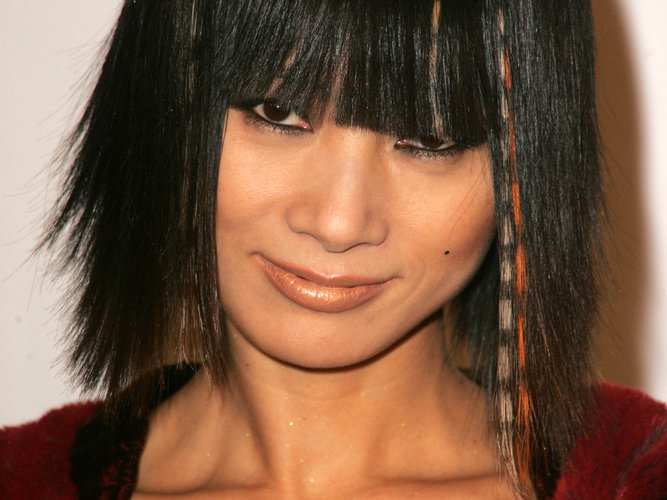 Bai Ling stars in Milwaukee filmmaker's new movie
Ten years ago, the story of The Stranger came to Milwaukee filmmaker Ross Bigley.
"Ross is a big fan of the Sergio Leone westerns and he happened to have just read a book that described the Chinese immigrants of that era, the 1860s," recalled friend and colleague Glen Popple. "He kind of combined (the two) and came up with the story of The Stranger."
Bigley sat down and began to flesh out the character of The Stranger, a Chinese immigrant-turned-wanderer with a broken heart and a murky past. The Stranger's exploits in the town of Holsum, where she defends a community of oppressed fellow immigrants, eventually became the script for the feature film "Yellow Hill."
The Stranger existed only in Bigley's head, however, until he worked with Chinese actress Bai Ling on the 2010 film "Petty Cash," on which Popple was the director of photography. Bigley showed Ling the script.
"She was fascinated," said Popple. "And we took off from there."
The three are now co-owners of Yellow Hill Investments, a production company which recently shot and produced the short film "Yellow Hill: The Stranger's Tale," which will premiere at the Milwaukee Art Museum's Lubar Theater this Saturday, Nov. 10 at 6:45 p.m. as part of the Milwaukee Short Film Festival.
Popple, the film's producer, described the project as a "teaser to introduce the character" that is separate from the feature film, which the group hopes to film next year. "Yellow Hill: The Stranger's Tale" is produced in conjunction with Chicago multi-media company Stormynight, which is run by Cyn Dulay and Robert Parsons, who also appear in the film.
"This wasn't something we planned originally," explained Popple. "We did this teaser with Stormynight. Cyn Dulay and Robert Parsons are terrific people; we've all worked together before, and Ross was down in Chicago last year just to work on some stuff, nothing going on, and all of a sudden I'm getting these calls. 'What if we did this with The Stranger?' And we ended up doing this teaser."
The film was shot in May in 1880 Town, an attraction outside Murdo, S. Dak., featuring over 30 buildings built between 1880 and 1920.
"They gave us the run of the place – closed things off; they were just terrific," Popple said. "The scenes were shot there mainly and in the Badlands. And then we did come back and do a little bit of the pickup stuff here in Milwaukee – in Muskego, actually."
Because, as Popple put it: "There's a little Wisconsin in everything that we do."
The 30-second trailer for "The Stranger's Tale," which runs 15 minutes with credits, can be viewed at the movie's website. Popple said that the short film will delve into the backstory of The Stranger, focusing on her search for her father. It is a storyline that was originally a flashback in the script for the feature-length film.
"It's very much an action movie, which Bai can perform very well," said Popple. "She is someone that, I don't think, gets enough credit for her acting ability. The stuff we shot in a very, very rough two days, she just pulled off phenomenally."
Bai Ling overcame a difficult childhood in Communist China to find fame in America in 1999's "Anna and the King." But she is also well-known for her antics in mainstream media. In 2008 she was arrested for shoplifting batteries and magazines from an airport in Los Angeles. She has struggled with addiction and appeared last year in VH1's "Celebrity Rehab With Dr. Drew."
Most famously, she has repeatedly claimed to be from the moon, where she says her grandmother still lives.
But her talent as an actress is undeniable, Popple said, and her passion for this project is plain to see.
"I think that it'll be a little bit of a surprise (for audiences to see her this way)," said Popple. "There is a particular scene – that I'm not going to blab out to you – that she added and wrote herself that will really be a surprise. It's really impressive and adds quite a bit to the story."
Another surprise is Ling's secret love of all things Milwaukee.
"From the first time she came here, she loved Milwaukee," said Popple. "She loves to come down in the Third Ward; Artasia is one of her favorite stops. The owner speaks such fluent Mandarin, as she does of course, that they just converse and have a ball."
And her favorite baseball team? The Milwaukee Brewers, of course – or, rather, the team that she affectionately refers to as "The Milwaukee Milk Boys."
"Because to her, this is Milk Town – because she saw so many cows here – so it's Milk Town," Poppled laughed. Ling even attended a Milwaukee Bucks game in San Diego to show her support.
Popple is glad to share Ling with Milwaukee audiences, as well as to expose the talent of this region.
"The upper Midwest has a pretty phenomenal amount of talent," he said. "You don't have to leave anymore to go to the West Coast or the East Coast. It's easier, of course. But if you happen to like it here, there's no reason not to stay."
He cited the short film's actors Tom Reed, Bruce Spielbauer and Dan Katula – all local talent – as an impressive sampling of the region's artistic prowess.
"These people can make it anywhere, but they're hanging around Milwaukee," he said. "They want to be here."
Bai Ling and the supporting cast of "Yellow Hill: The Stranger's Tale" will appear at the film's premiere Saturday night at the Milwaukee Art Museum's Lubar Theater and be available for a Q&A session afterwards. Many of the actors will also eventually appear in the feature-length film, for which Popple and Bigley will start to seek investors after the premiere.
It will all help to complete the story of The Stranger and the people she protects.
"It's really kind of a different take from the perspective of the Chinese immigrant and what they had to go through back at that time," Popple said. "We still haven't lost prejudice in this country, but it was real bad back then. It's kind of a dying town, and you see what they have to do to survive."
Talkbacks
TosaJim | Nov. 11, 2012 at 2:35 p.m. (report)
I watched the trailer teaser...movie looks bad...I saw Bai Ling...she looks great....kinda like watching a Halle Berry movie....not very good, but the visuals are delightful.
Facebook Comments
Disclaimer: Please note that Facebook comments are posted through Facebook and cannot be approved, edited or declined by OnMilwaukee.com. The opinions expressed in Facebook comments do not necessarily reflect those of OnMilwaukee.com or its staff.